The fourth City of Medieval Delhi 'Jahanpanah' (Asylum of the World) was founded by Sultan Muhammad bin Tughlaq in 1327 AD.
Sultan Muhammad bin Tughlaq (Reign 1325-1351)
In March 1325, after the death of Ghiyas-ud-din Tughlaq, his conspirator son, Jauna Khan ascended the throne of Delhi as Sultan Muhammad bin Tughlaq at Tughlaqabad Fort.

Of all the monarchs of Delhi, Sultan Muhammad bin Tughlaq, was a true oriental despot. Without a doubt, he was a brilliant failure in India's Medieval History, in view of the stirring events of his reign.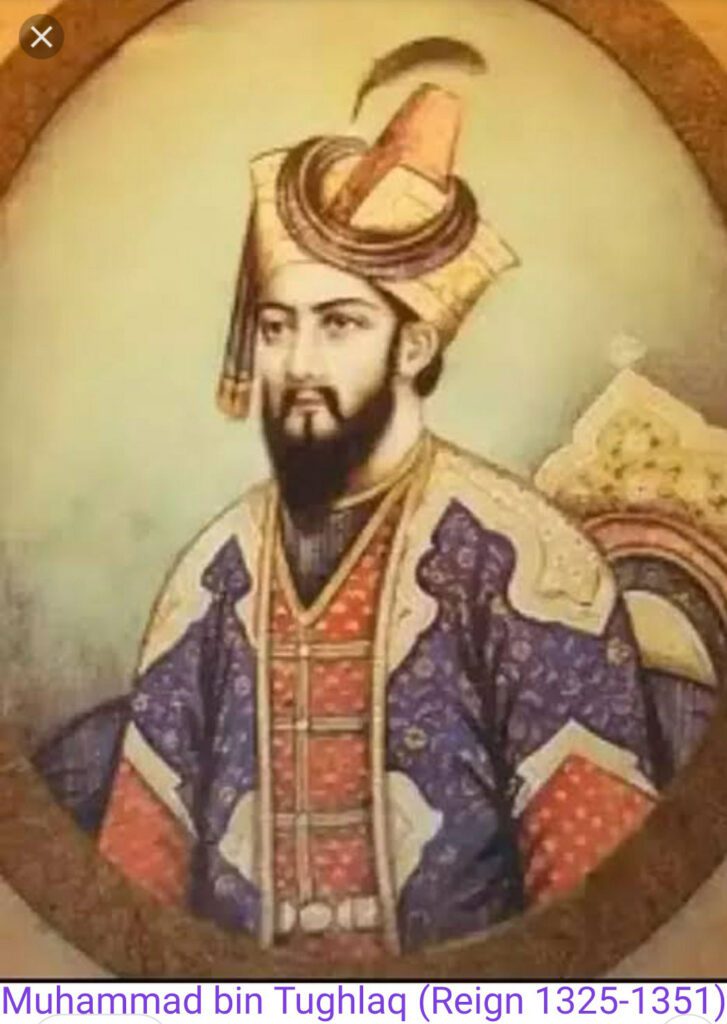 Atrocities of Muhammad bin Tughlaq
Medieval chronicles describe several accounts of savagery of Muhammad against his own subjects, slaughtering them indiscriminately. Here are some gruesome acts of his tyranny as described by Ibn Battuta in his "Rihla 1325-1354".
Executions in Jahanpanah

were carried out on all days except on Fridays (a day of respite for prisoners). The executed corpses are flunged at the royal palace gate. With attention, they are deterrent to disobedience against Sultan.

In  1327 AD, Baha-ud-din Gurshasp, Sultan's cousin (the Iqtedar of Gulbarga) rose in revolt. He is flayed alive. His flesh is cooked with rice and is sent to his family.

 In another case, a pious and venerable Muslim described the sultan as a tyrant and charged him. He is chained and starved to retract the charge. Even after a fortnight he didn't listen. After that, Sultan ordered to feed him human excrement.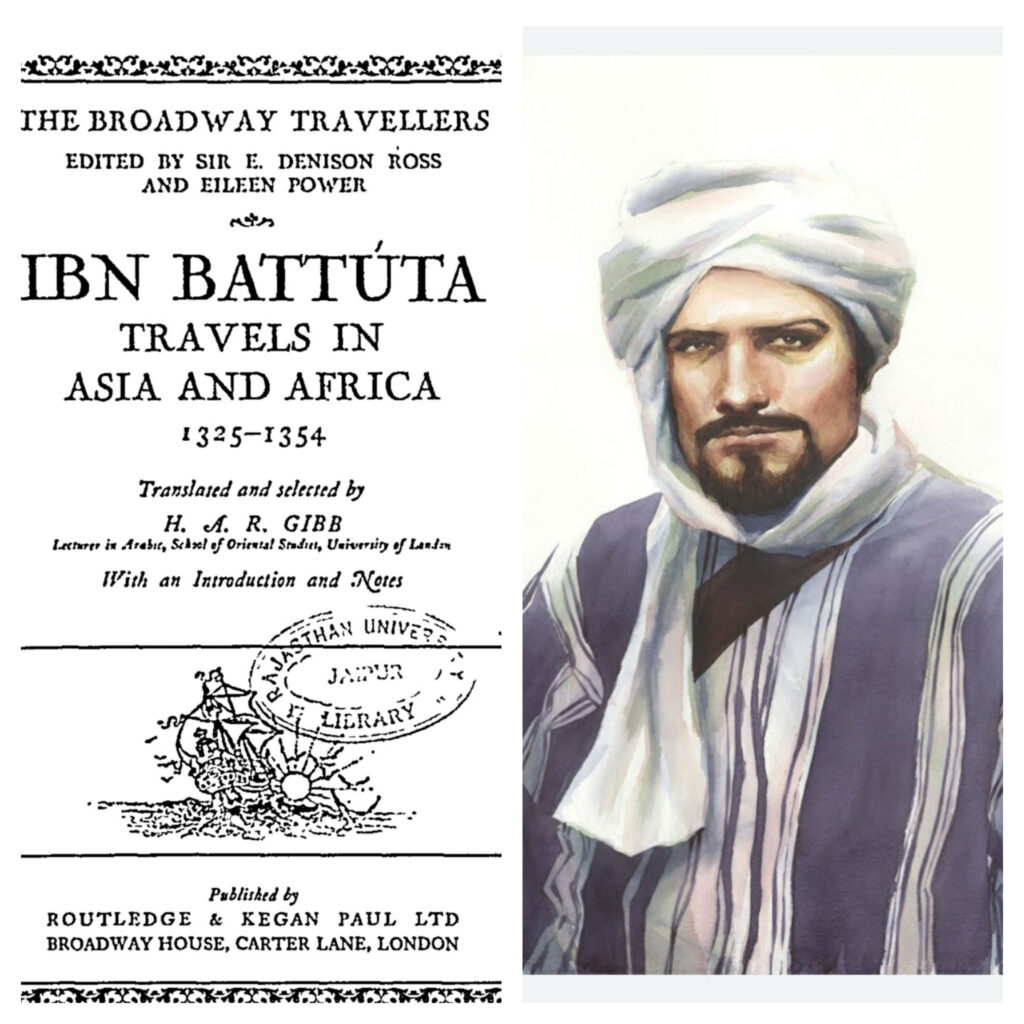 Policies of Muhammad bin Tughlaq
1) Shift of the capital to Daulatabad
During his reign, the Mongol invasions stopped. Delhi Sultanate reached the southernmost extremity of India. The importance of Delhi as the capital city diminished. For this reason, a more central capital became a necessity. 
Accordingly, Muhammad abandoned Tughlaqabad in 1327. He shifted his capital from Delhi to Daulatabad (Devgiri). As, there was paucity of Muslims in the Deccan, he wanted to make Daulatabad a center of Muslim culture. Hence not only the capital, but the entire population of Jahanpanah was forcefully shifted. Thousands of people perished on the way.
In 1335, Muhammad shifted his capital back to Delhi. The reasons for the re-shift were not known. 
2) Shift of the capital to Svargadurai
Again in 1336 AD, because of the famine in Delhi, Muhammad shifted his capital to Svargaduari (near ancient Khor) on the river Ganga. The fertile Gangetic plains offered prosperity. As a result the people were happy with the shift this time. This time, they are troubled by the governor of Oudh – Ainu-i-Mulk. Thus, they returned to Delhi soon.
3) Indiscriminate Taxation
During his reign, the treasury was always lacking. He needed large amounts of money for his ambitious plan to conquer the whole world. Thus, he increased the taxes in the Doab indiscriminately to raise money. As a result people suffered.
4) Token Currency
When the people revolted, he introduced Token Currency (brass or copper coins ) on par with the value of his Silver Tanka coins. People counterfeited the coins and paid their revenues in the token currency.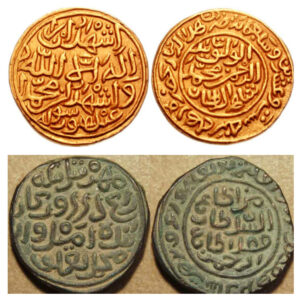 When Muhammad found that his experimental project had failed, subsequently he abandoned it. He proclaimed that whoever possessed copper coins should bring them to the treasury and receive gold [or silver] coins in exchange. Undoubtedly, that was disastrous. As a consequence, forged useless coins filled the treasury of Jahanpanah.
Muhammad never saw the failure of his schemes, as his failure in their execution, instead he blamed it on the intractability and lack of vision of his subjects.
Finally, he freed the people from his terrible rule of 26years on March 20, 1351. He died en-route Thatta, Sindh by fever. Upon bringing brought back to Delhi, his corpse was interred in Darul Aman beside his father.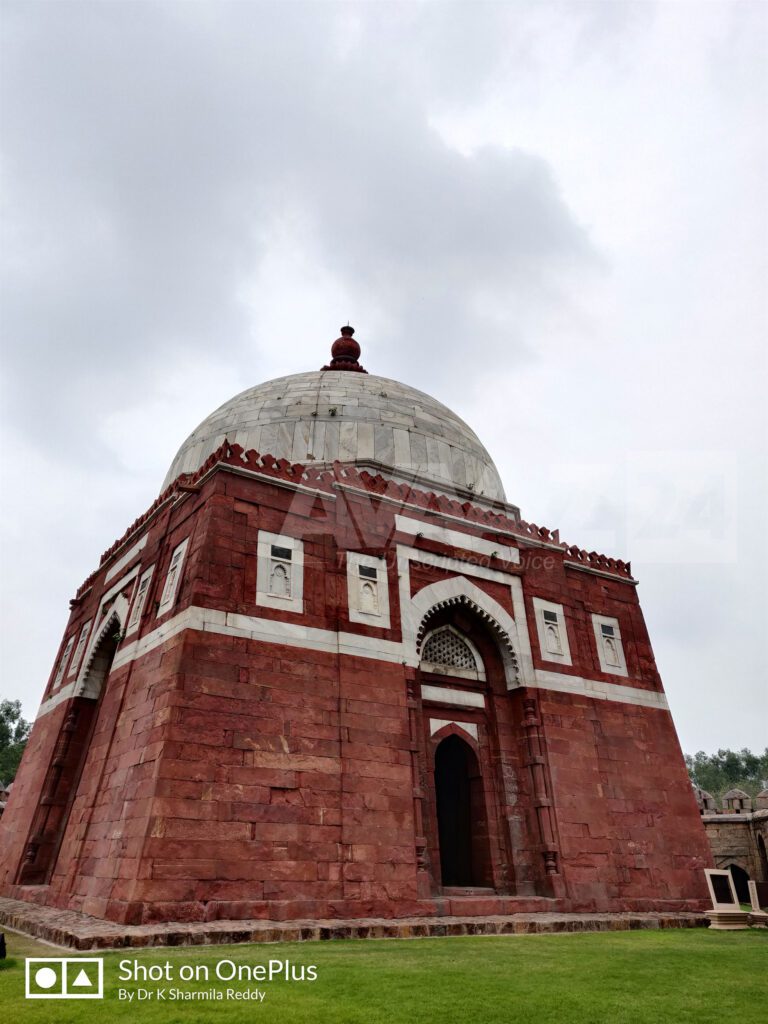 His cousin and successor Feroz Shah Tughlaq, who had witnessed with sorrow the cruelties of Muhammad in Jahanpanah, obtained deeds of forgiveness from those who had suffered at Muhammad's hands. He duly got them attested by witnesses and buried them in a chest at the head of the his tomb at Darul Aman 
(Islamic Law believes that pardon reduces some portion of punishment to the offence)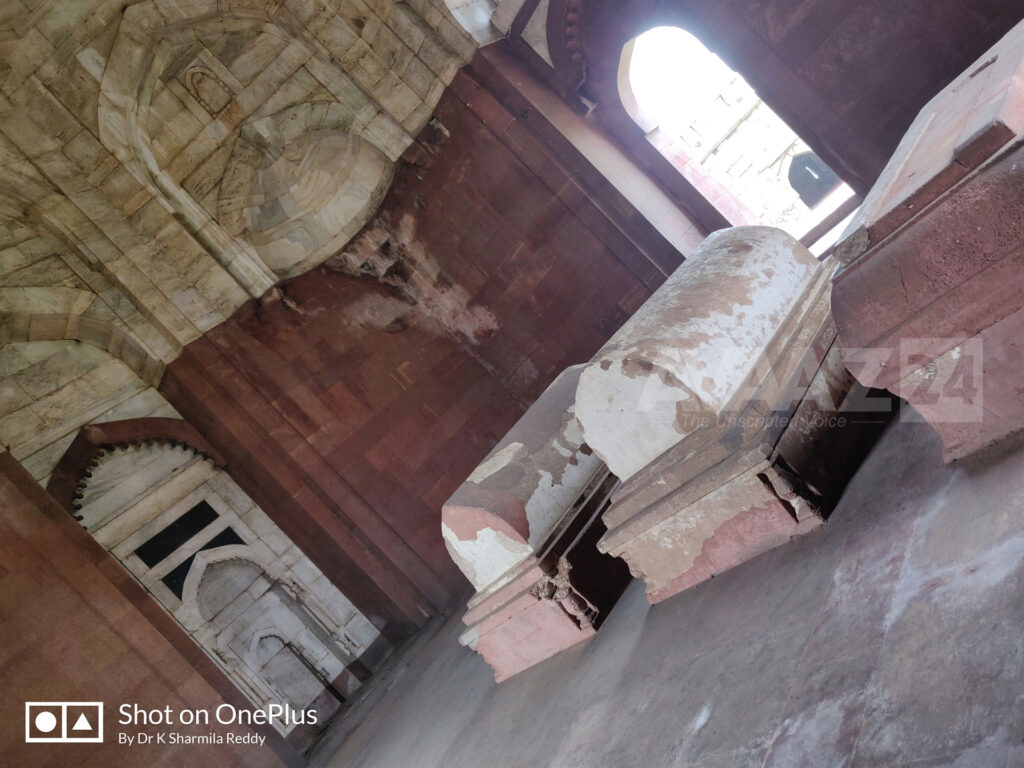 Jahanpanah: The fourth medieval city of Delhi
Sultan Muhammad bin Tughlaq, built the fourth medieval city of Delhi, Jahanpanah in 1327 AD with a view to enclose  all the four existent cities of Delhi (Qila Rai Pthora, Siri, Tughlaqabad , Adilabad) together by one wall. But, he abandoned Jahanapanah's construction before completion, owing to its enormous expenditure.
Concept of Jahanpanah
During those days the suburbs of Delhi, Qila Rai Pithora and Siri were unsafe because of the regular intrusions by Mewati Rajputs from the neighboring state of Rajasthan. Though, they came on the pretext of drawing water, they robbed, plundered and even abducted women.
With this in mind, the enclosing walls of Jahanpanah provided the people much needed security. It boosted the morale of the populace. People found asylum here- hence the name Jahan Panah- "Protection" or "Asylum of the world".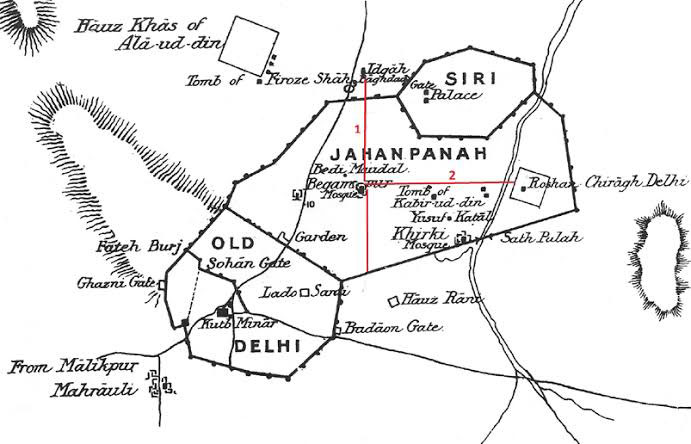 The city of Jahanpanah had 13 gates. The modern day "Jahanpanah" has the following monuments:
Adilabad Fort

Serai Shahji Mahal

Hazrat Nizam-ud-din Dargah

Hazrat Nasir-ud-din Chirag Dehlavi Dargah

Lal Gumbad

Tomb of Yusuf Qattal
The Begumpur Mosque, the Khirki Mosque, the Chirag Delhi Dargah and the Lal Gumbad are additions to Jahanpanah by Feroz Sha. The Tomb of Yusuf Qattal is of Lodi era.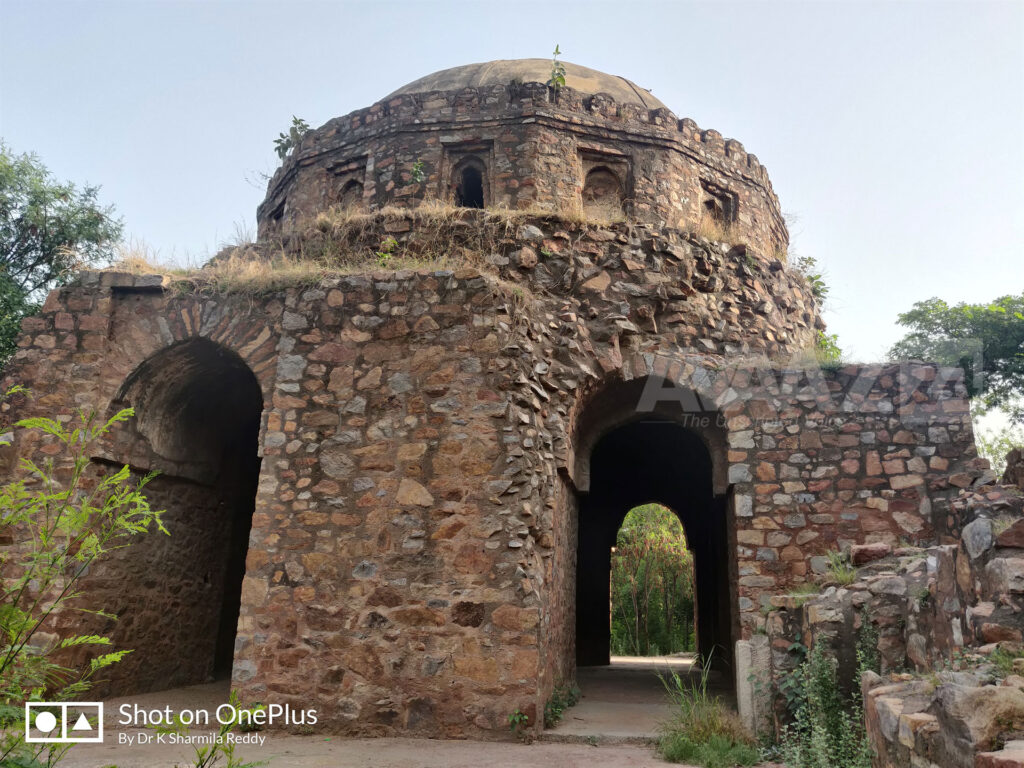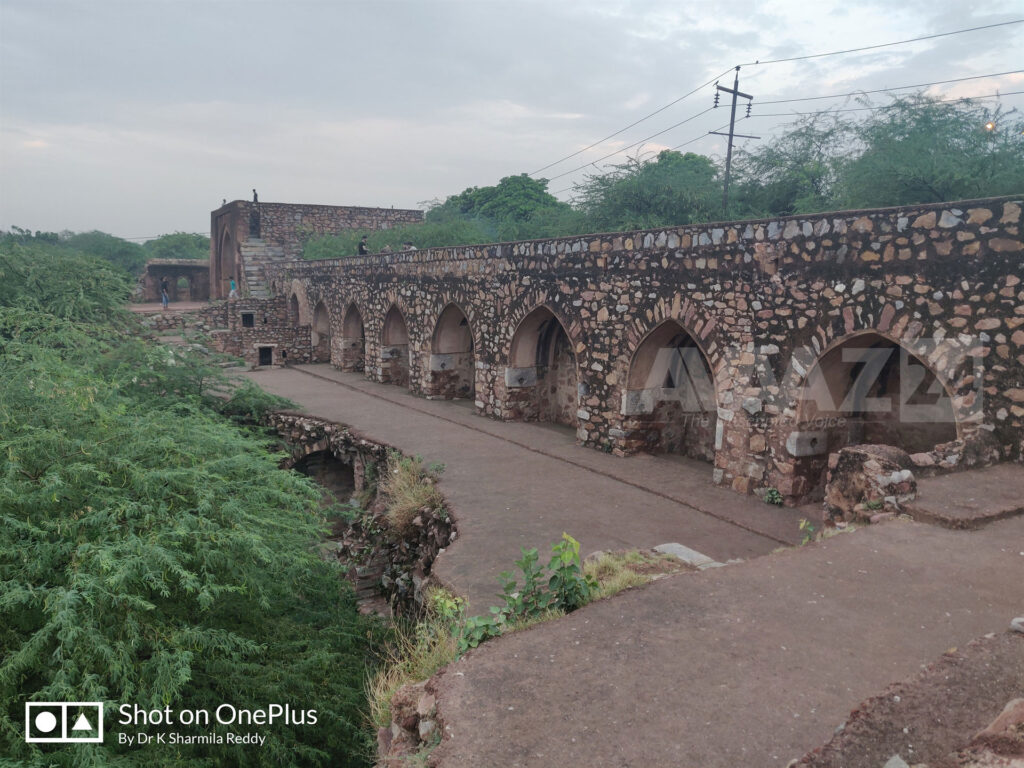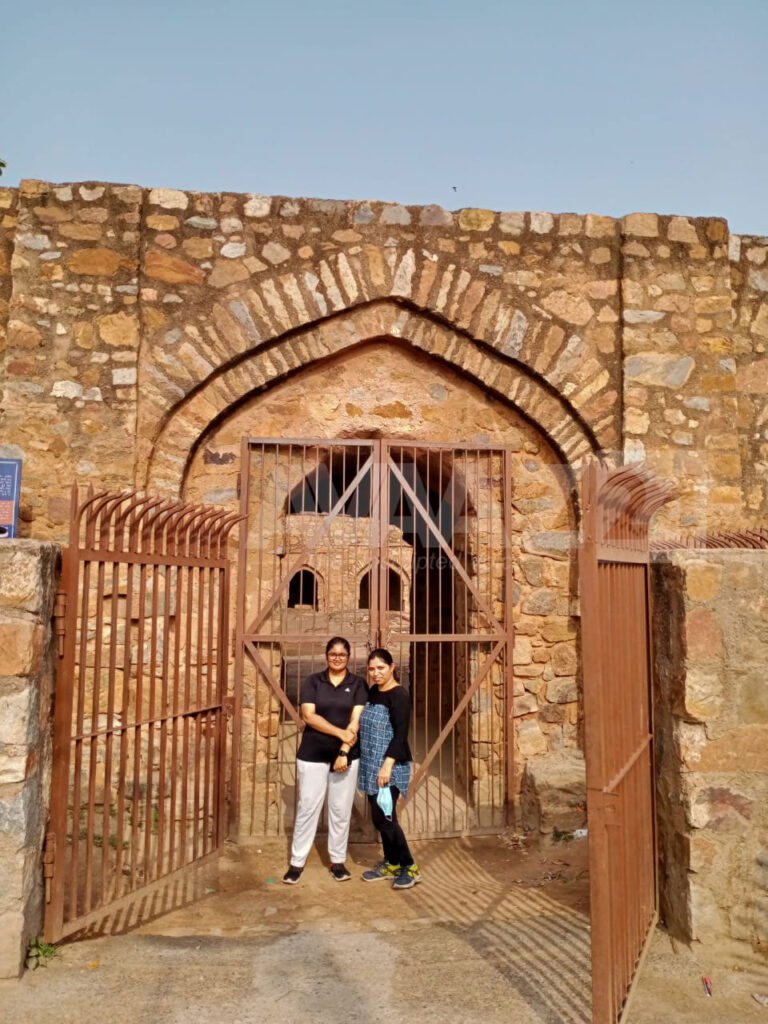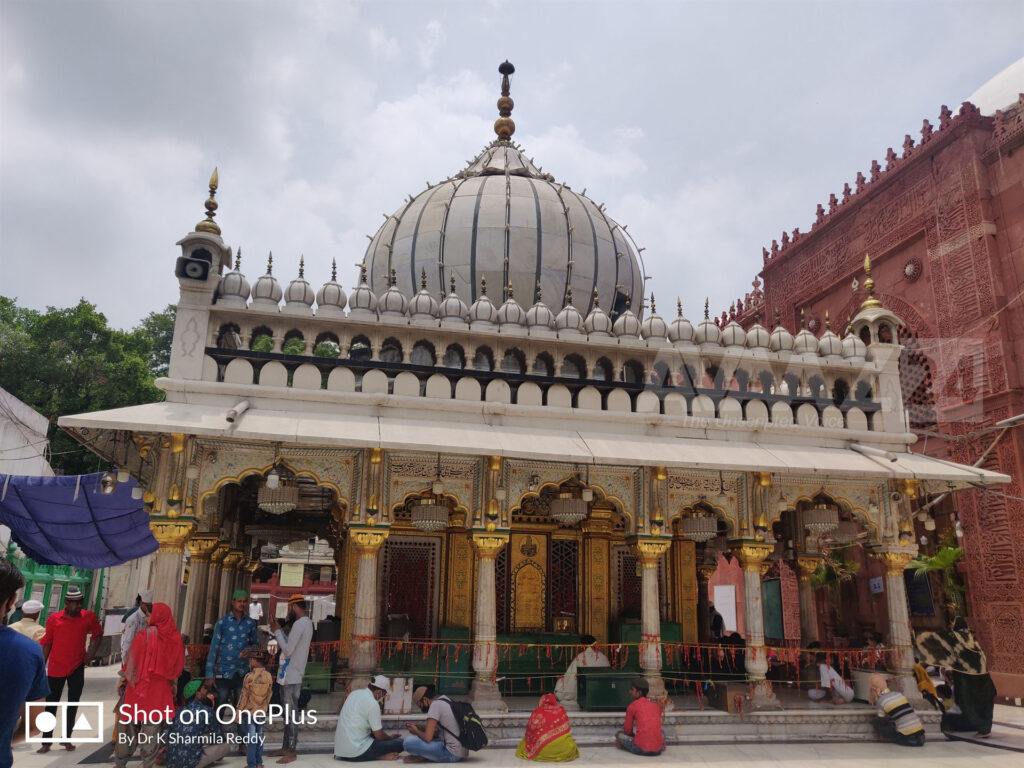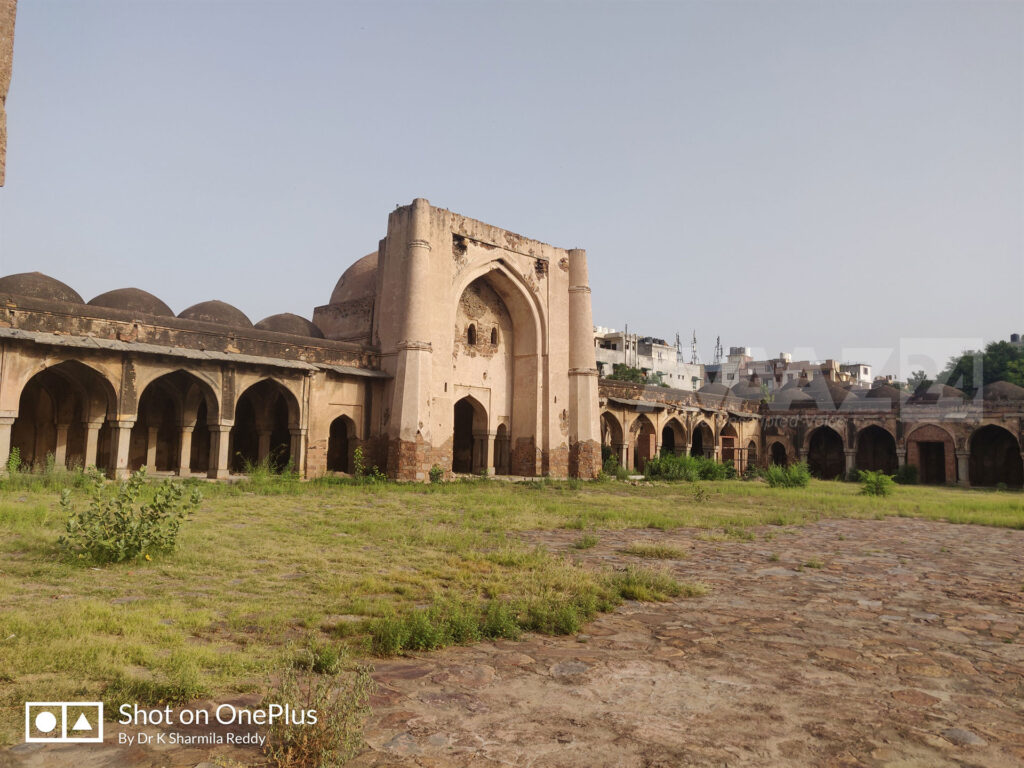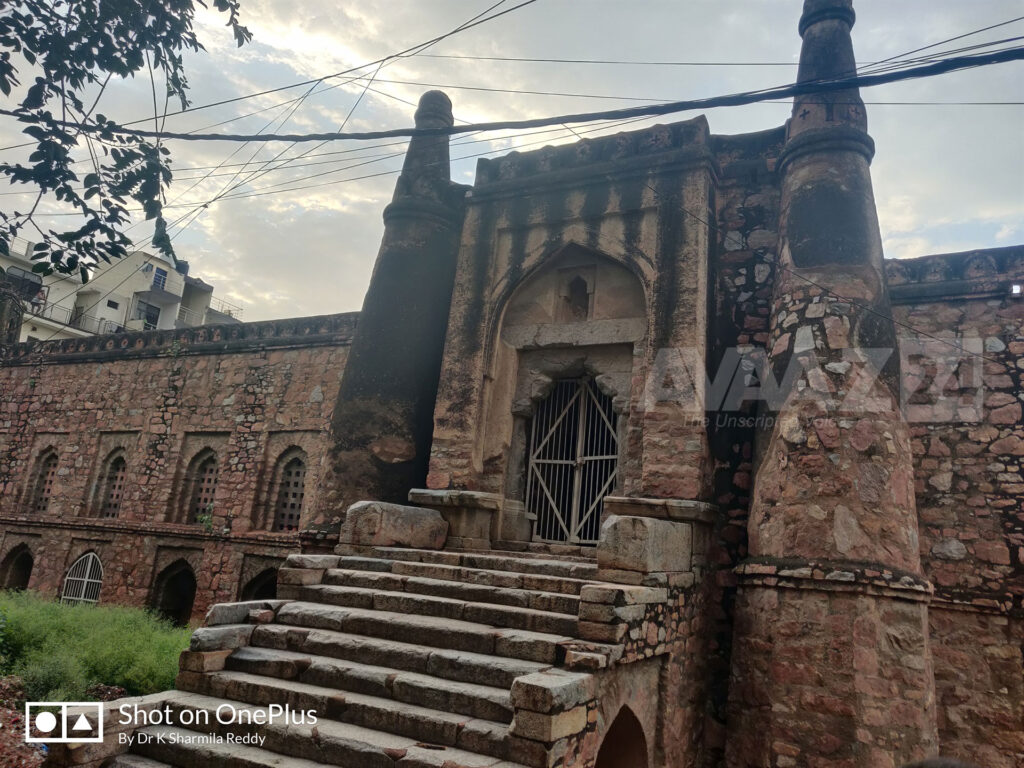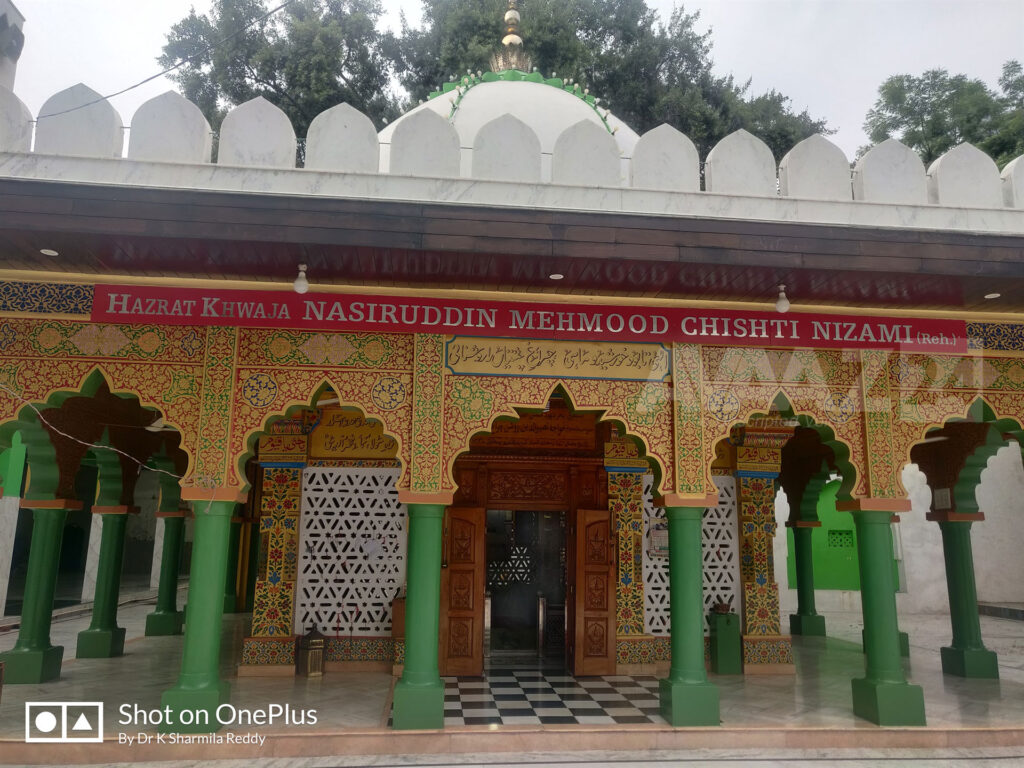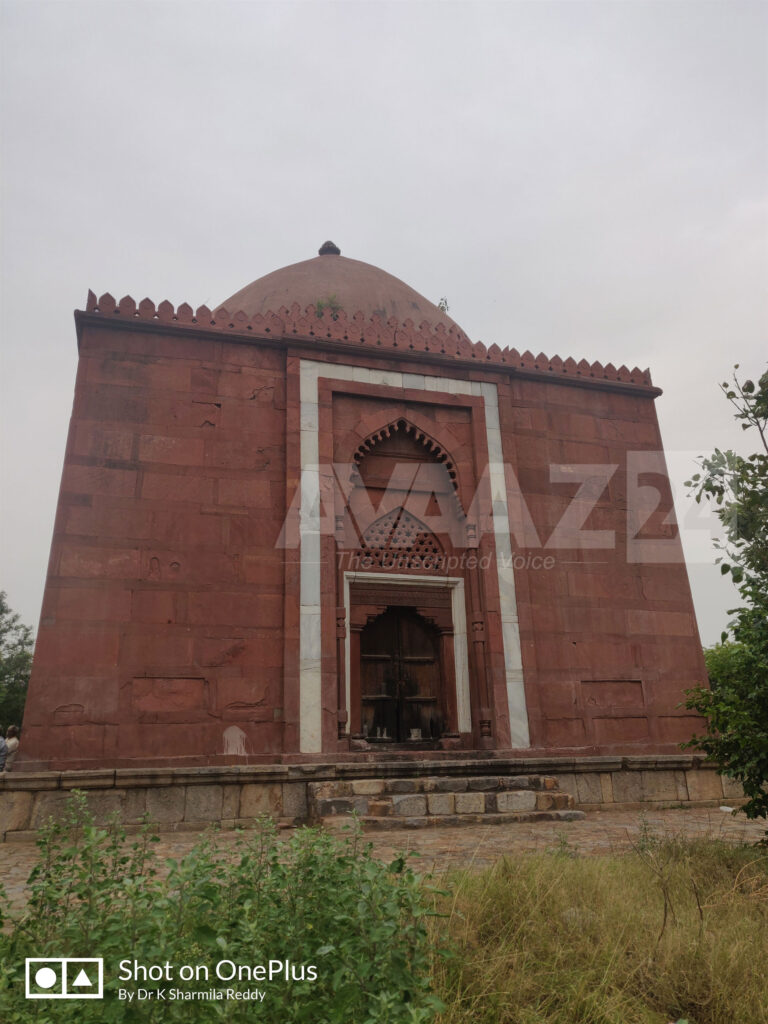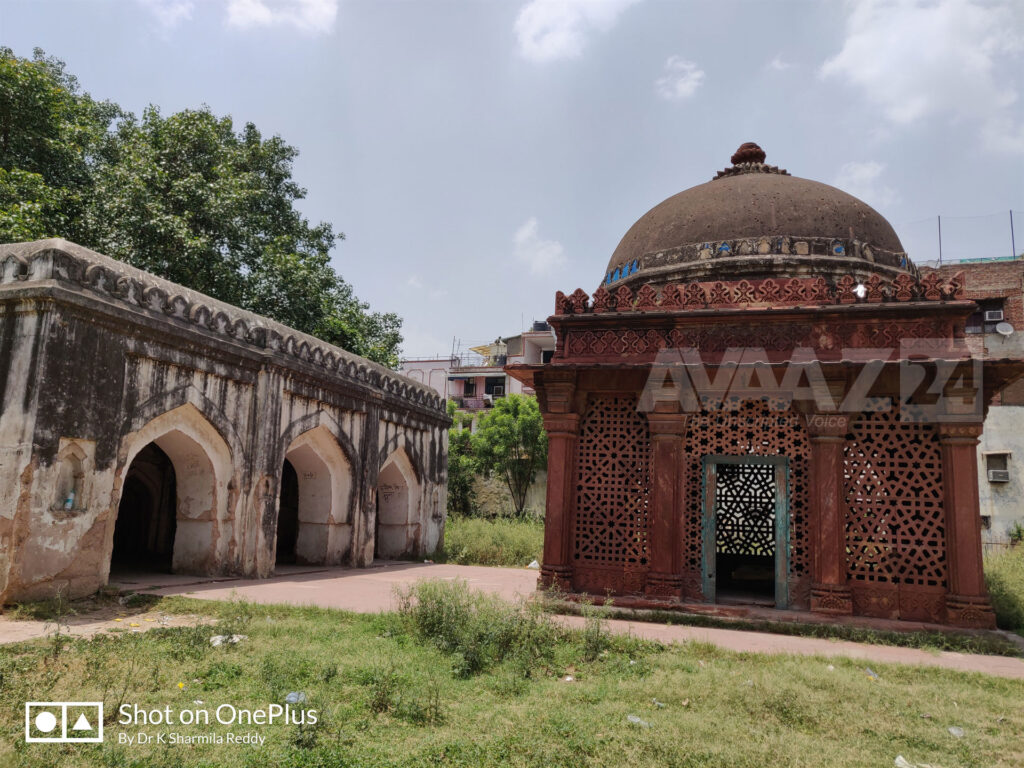 ADILABAD FORT
Towards the southeast of Tughlaqabad Fort, there exists a fort of similar style with sloping walls of huge rocks called Adilabad. 
Previously, there existed a rubble masonry  causeway which connected Adilabad Fort with Tughlaqabad Fort .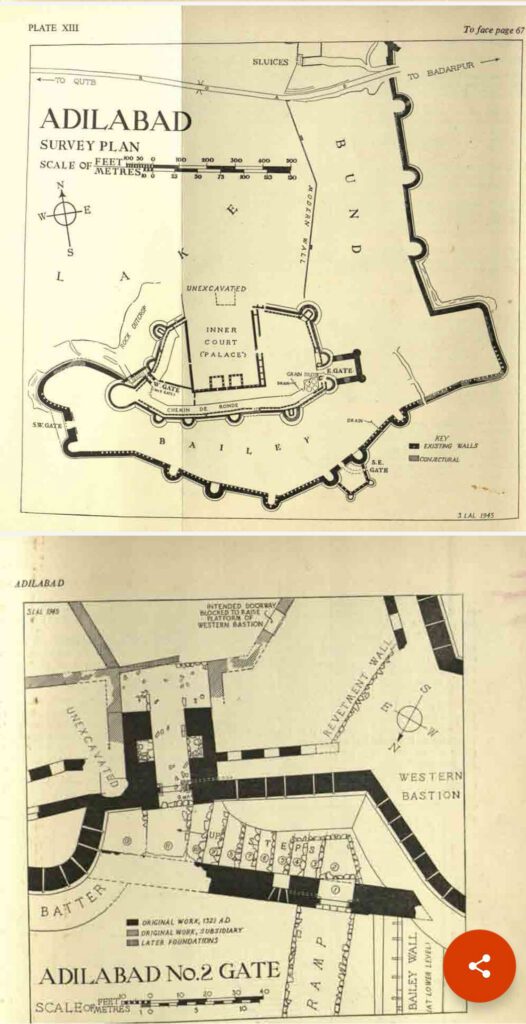 Adilabad takes its name from "Adil"- the title of Muhammad bin Tughlaq who built it in 1327 AD allegedly as a symbol of his own might and power.
It is also called as Muhammadabad– again owing to his name Muhammad.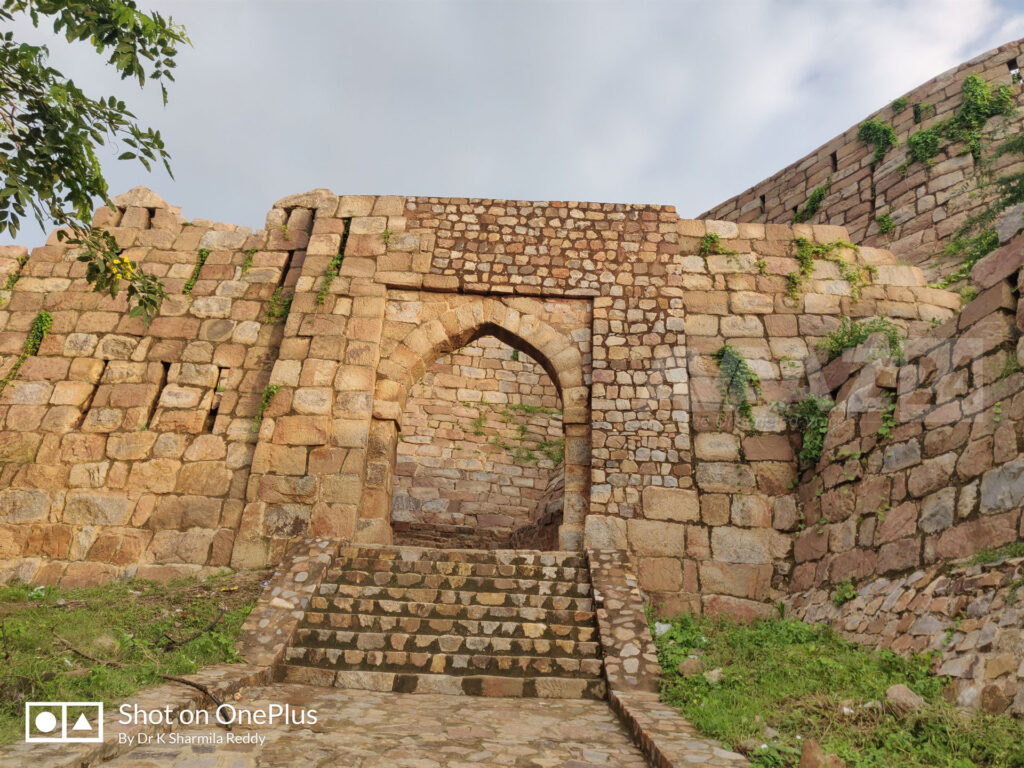 Around the Adilabad fort, there is an artificial lake. Therefore it may be  a water palace.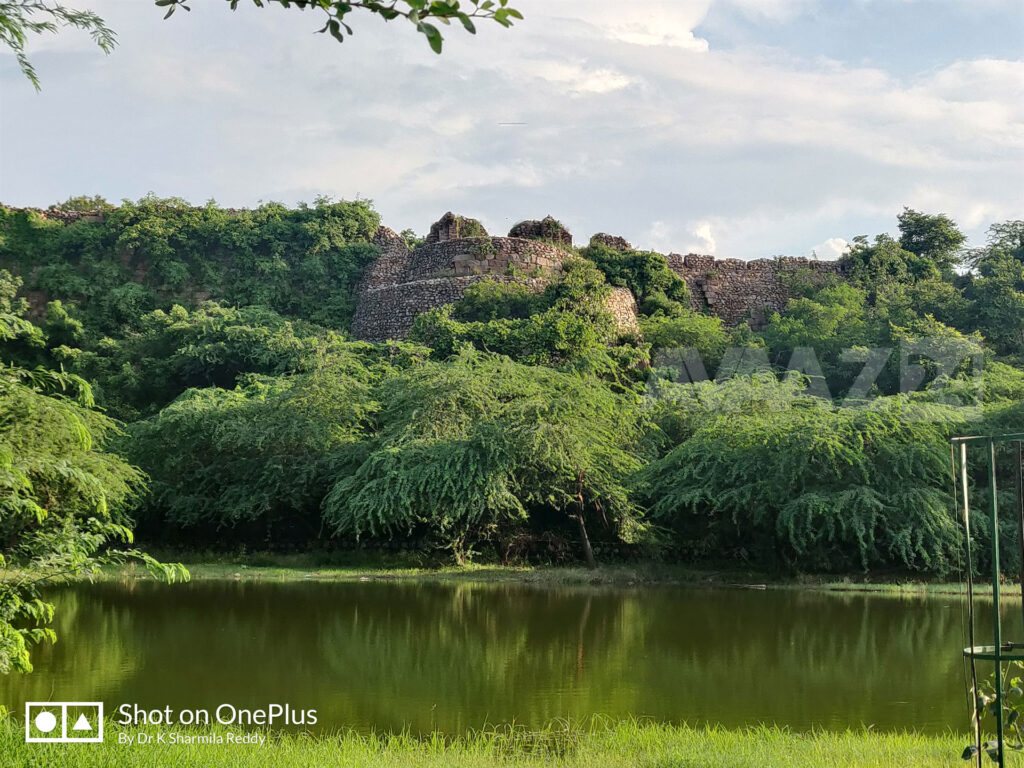 Towards the North-west, a massive ramp leads to a Trabeate arched entrance. From here an elevated walkway leads to the main entry, about 30 feet above the ground.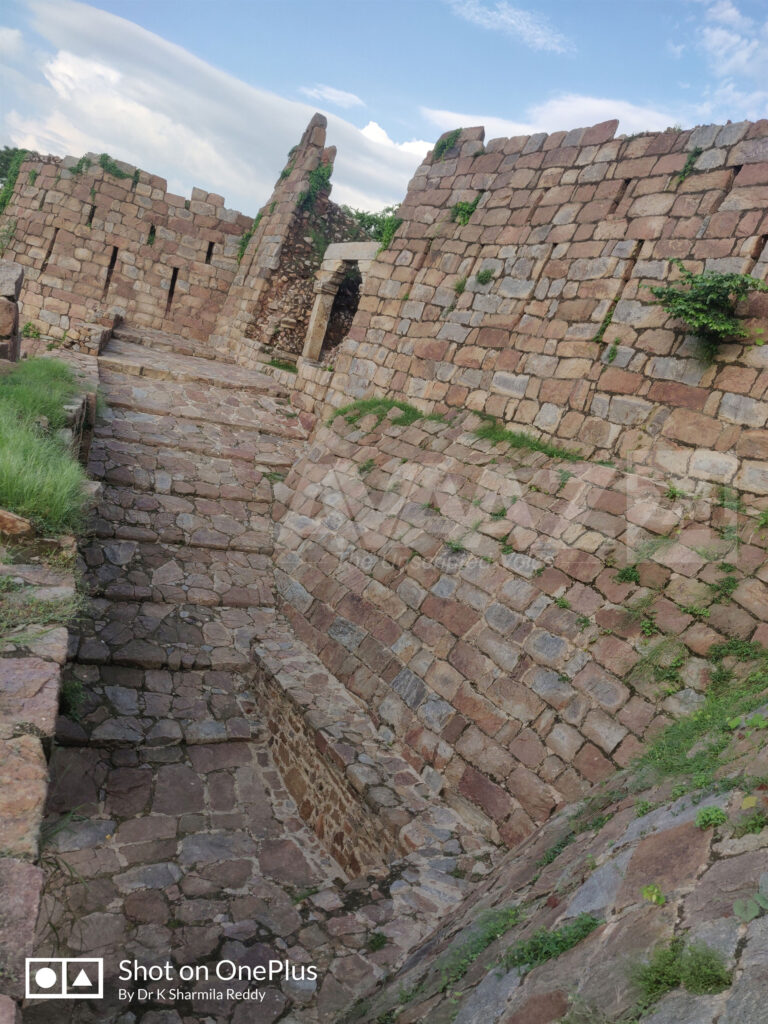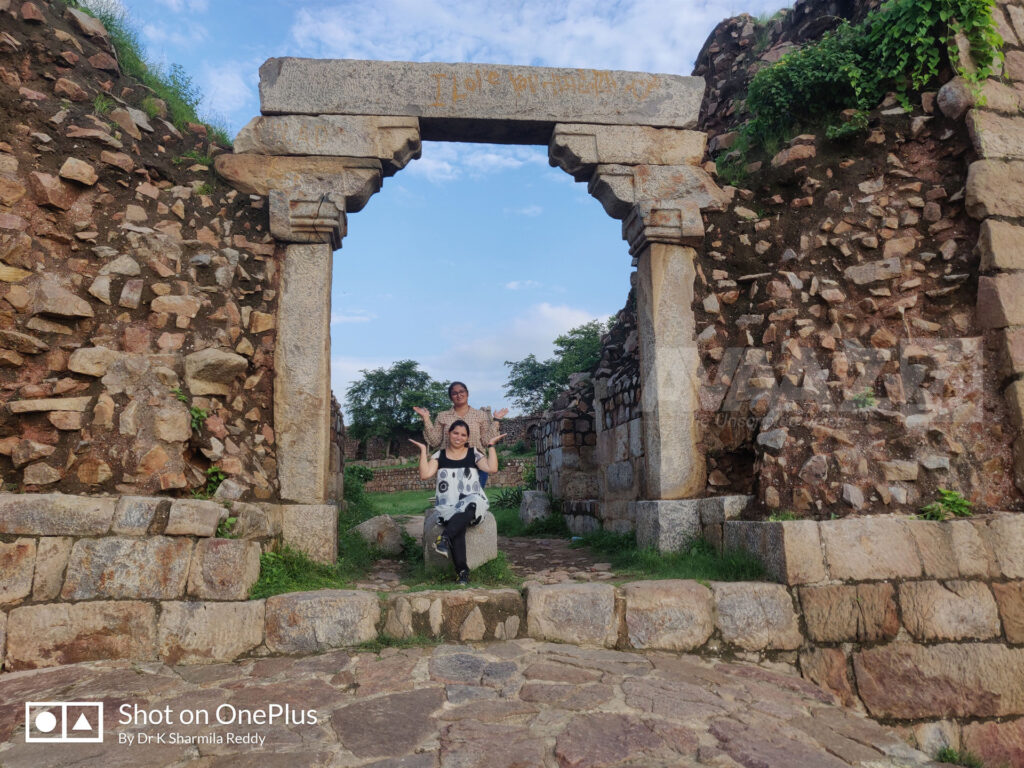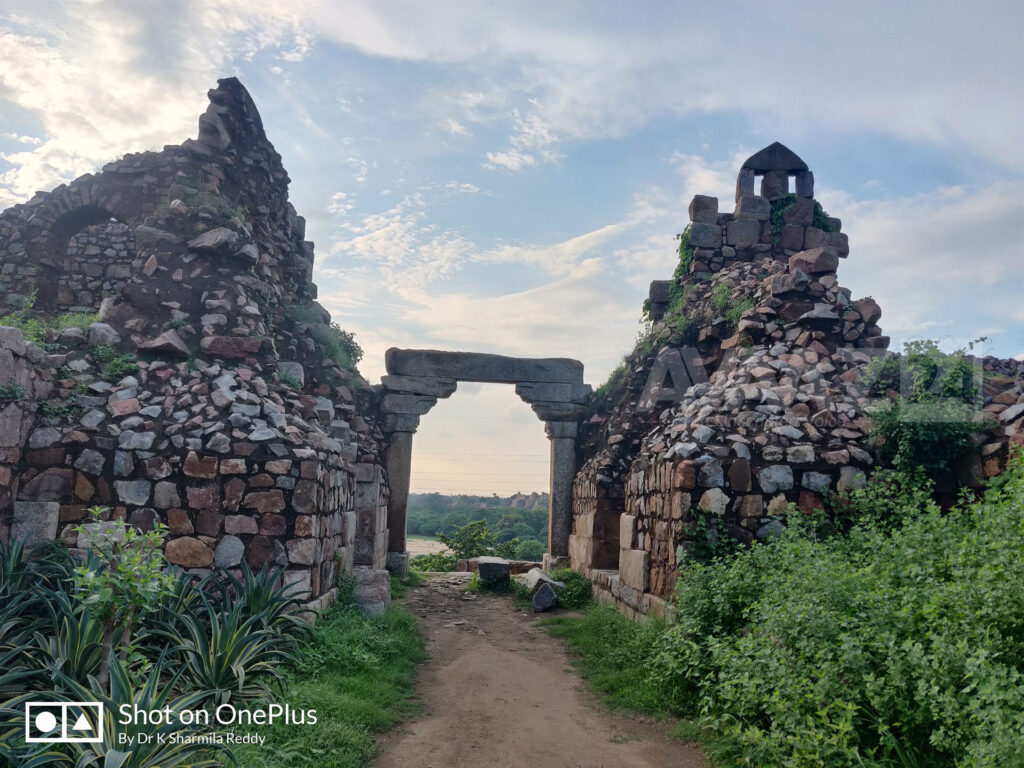 The fort contains an outer and an inner enclosure. Inside the inner fortification, the remains of a citadel are prominently visible. The fort is in ruins today.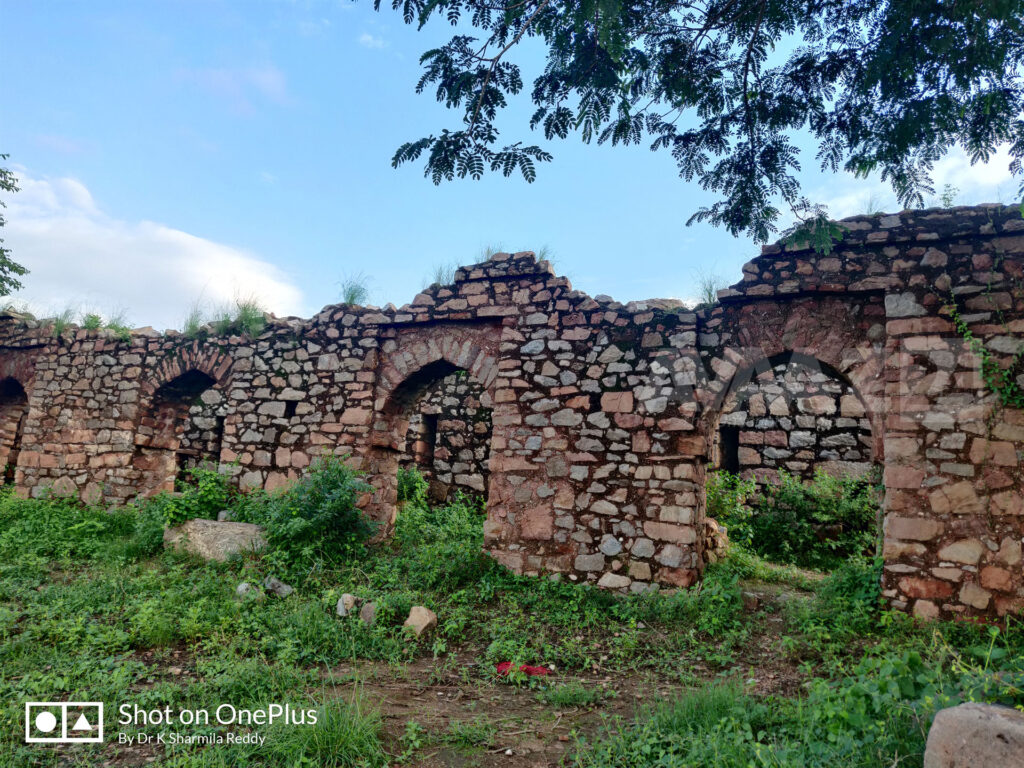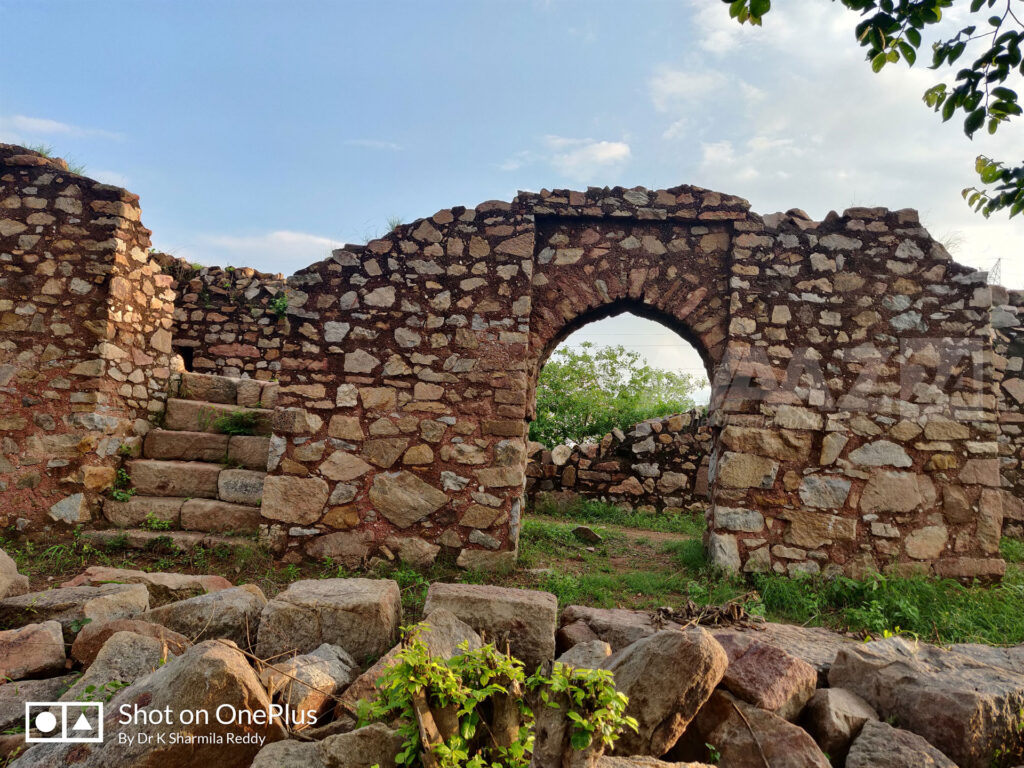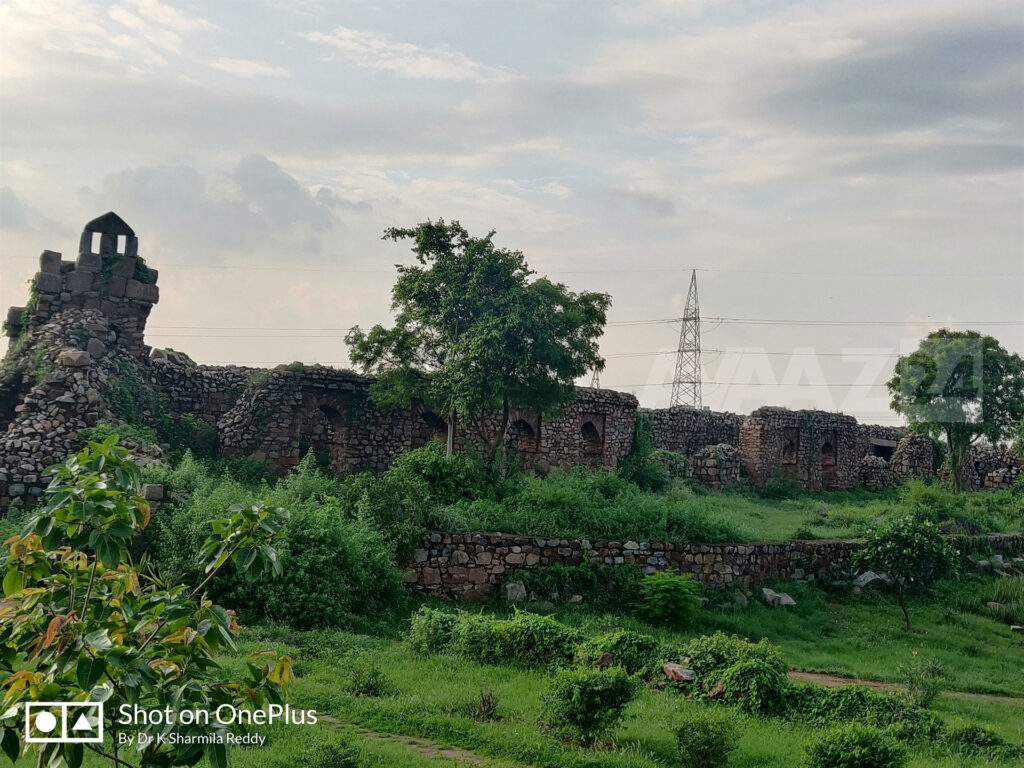 There are double storied cells along the fortification. To the east, there are a cluster of underground cells. May be for the purpose of storing grains.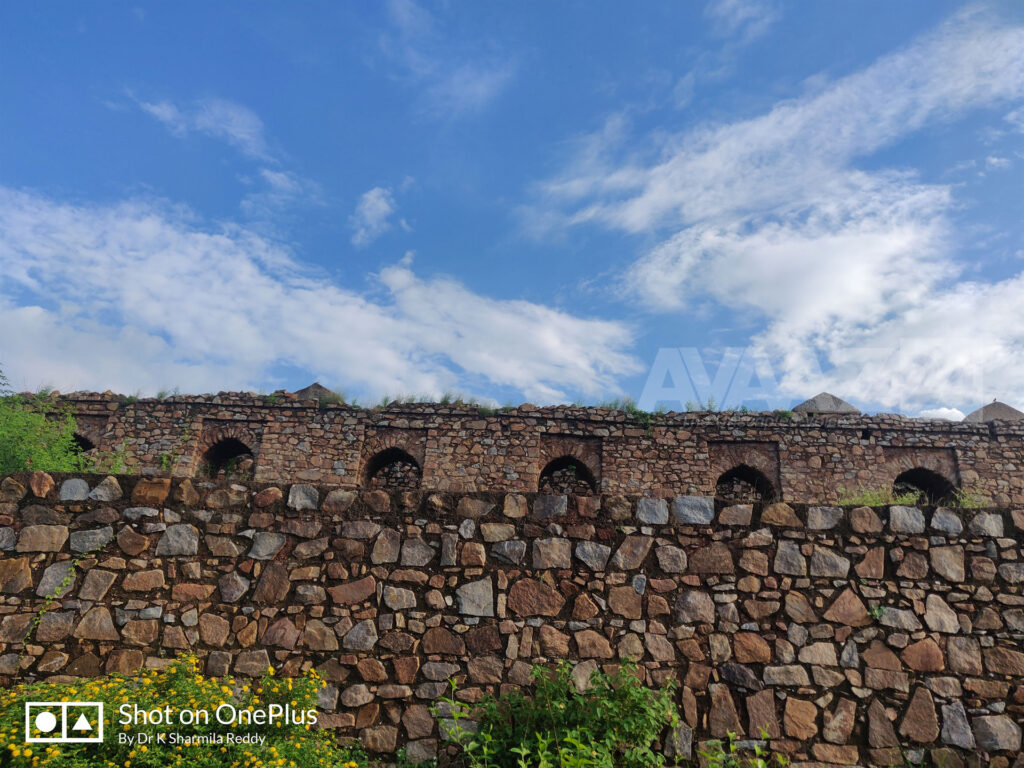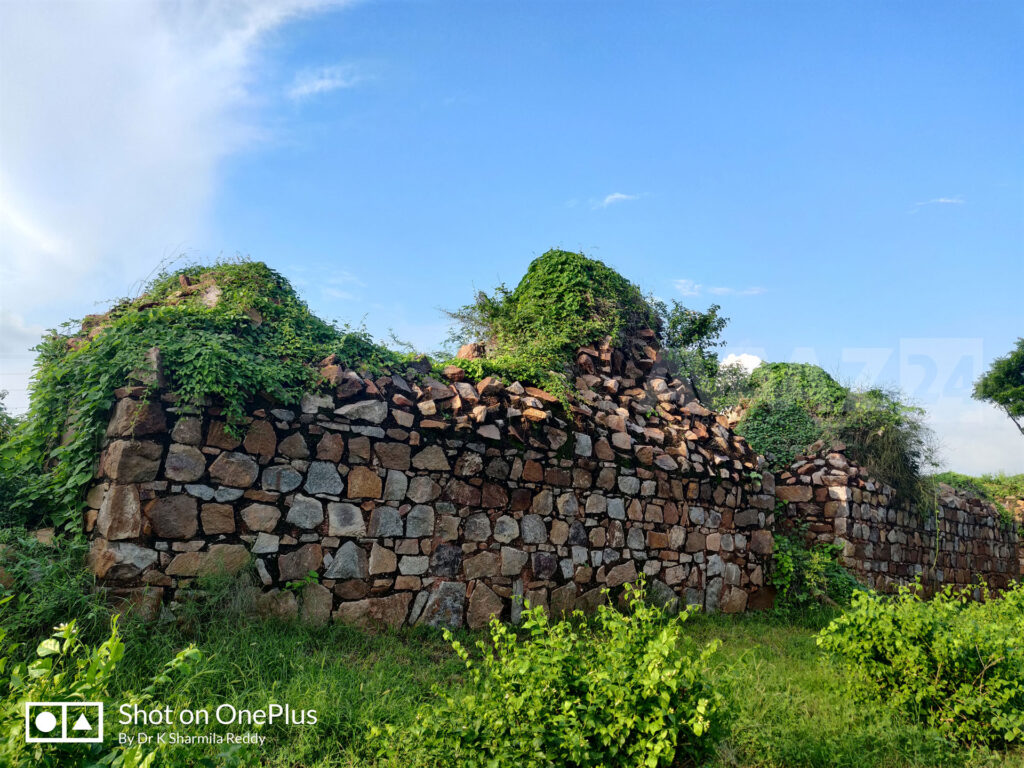 Hazar Sathun- A Thousand Pillared Palace
Ibn Battuta describes a spacious hall of a thousand pillars made of varnished wood and wooden roof called "Hazar Sathun" in the citadel of this fort. Over here he met Muhammad.  (There existed a similar  Palace with thousand pillars in  of Ala-uddin Khaji's Siri. Weather both are same or different is still unclear). Wood being perishable, none of them exists today. 
It is not clear where exactly this Hazar Sathun existed in the Jahapanah. Ibn Battuta said, it was at the Adilabad Fort, but other contemporary chroniclers located it at Bijay Mandal. (Next article of this Classic India series)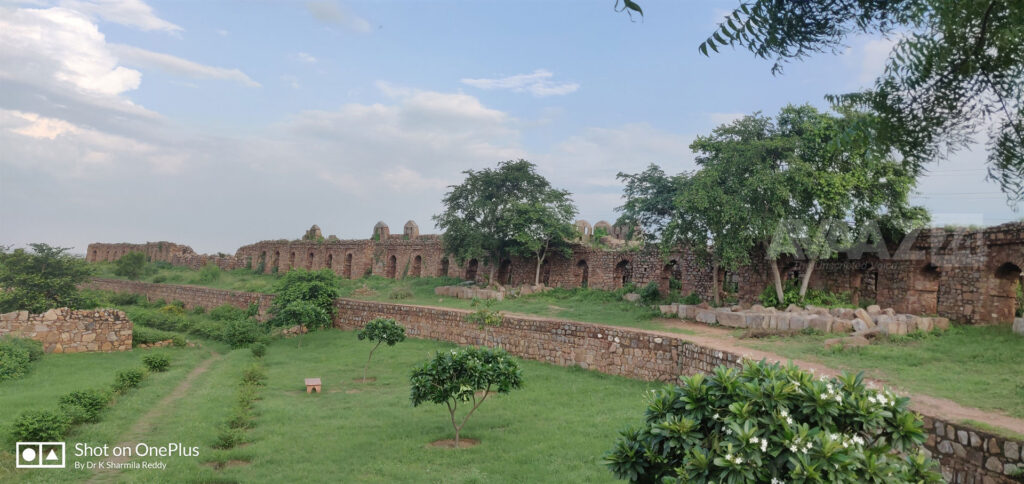 An opening from the south-east leads to a vast open ground. It had no direct access for the fort inside. leaving a single entry-exit from the north-west to the fort. There may have been a wooden stair which could be moved inside in the event of an attack.