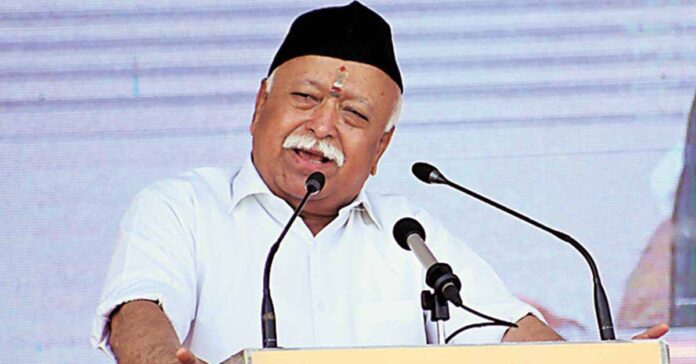 RSS chief Mohan Bhagwat said that our Constitution doesn't say that only Hindus can stay here or only Hindus will be heard here, but if the people of other religions want to stay here, then they have to accept the superiority of Hindus. We created a space for Muslims. This is the nature of our nation, and that inborn nature is called Hindu.
RSS chief Mohan Bhagwat said that Indian Muslims are the most content in the world. He asserted that people from all faiths have stood together whenever it has been about the essence of India.
He also said any kind of racism and separatism are spread only by those who are influenced by their self-interest.
He also cited that many Muslims had fought in Mewar,  king Maharana Pratap's army against Mughal emperor Akbar.  Bhagwat reminded that in India's history people from all faiths stood together whenever there was an attack on the country's culture.
When Bhagwat said that "Most content Muslims are only in India," he wonders if there is any other country in the world over wherein people who belonged to a foreign religion ruled over the people of a country still live there.
He said that nowhere can he find such an example except in India. He quoted the example of Pakistan, which did not give rights to followers of other religions and it was created as a separate country for Muslims.
He said that though our Constitution does not say that, he says that it is the inborn nature of a Hindu to think that is superior, hence all those residing in India have to accept the superiority of Hindus, if they want to stay here. He said that we have given them opportunities as it is an inherent nature of a Hindu.
The head of the Rashtriya Swayam Sevak Sangh (RSS), who is also the ideological mentor of the ruling BJP, said Hindu has nothing to do with whom does one worship. Religion should be connecting, uplifting, and uniting everyone in one single thread.
Bhagwat appreciated the patriotic feelings of the people of India and said that whenever the devotion for India and its culture awakens and feeling of pride arises for the ancestors, the distinctions between all religions disappear and people from all faiths stand together.
Talking about, Bhagwat said it is not meant for mere ritualistic purpose. He said that the Ram temple in Ayodhya is a symbol of national values and character and not for mere ritualistic purpose.
He mentioned that it was the wish for a long time to reconstruct the temples as the temples were destructed to crush the morale and values of the people of this country.
He said that the life of Hindus became corrupted, and hence were humiliated by destructing the temple of the great ideal Shri Ram, hence they wanted to build it, enhance this grand temple.
ALSO READ: Remembering Indian Nationalist Shivaram Hari Rajguru's birth anniversary