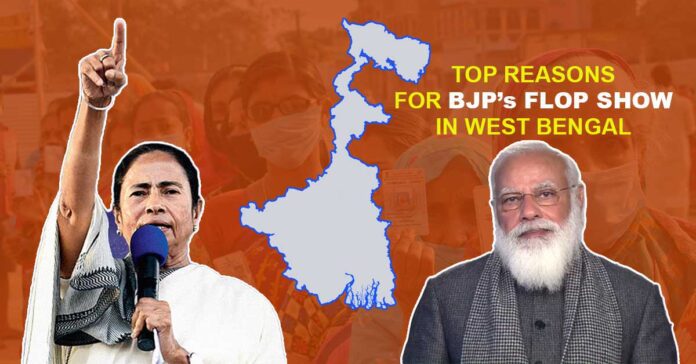 Mamata Banerjee secured a landslide victory for her party(TMC). The party won by 213 seats of the 292 seats. Everyone were very keen on the incidents and developments in the assembly election of West Bengal. Surprisingly, the much hyped Modi-Shah politics were brought to a stand still.
Civil Society
Politics, statistics, tactics and political analysts played an important role in the West Bengal elections. However, the major role was played by the civil society of Bengal.
Many Bengalis of the civil society raised their voice against the BJP. They stood by to vote against BJP. This voice against BJP was raised by some popular ones, some unknown ahead of the polls.
Forum
In November 2020, people from different media, joined hands and created a forum called 'Bengal against Facist RSS-BJP'. This forum started a people's campaign- 'No Vote to BJP'.
This campaign reached the remotest place of West Bengal. Students, Doctors, Teachers, youngsters and social activists joined the forum voluntarily and campaigned for the cause.
The Forum did not ask the people to vote for TMC, instead requested people 'Not to Vote to BJP'. Furthermore, it informed the people that only they can stop the BJP government from coming into power. They educated people that the fascist aggression will gain steam across the country.
Different People
People associated with cinema, music, theatre, academia supported this forum. They believed that stopping BJP was essential. Moreover, people who belonged to different ideology and different political backgrounds joined this forum.
Strong Campaign
The forum spoke to people plainly. They did not talk about BJP at all. In fact they did not talk about any other party at all. People were educated to stop centralized authoritarianism. A strong message against NRC, CAA and NPR was sent across the people.
People influenced by the BJP ideology in the recent times were educated about the pros and cons. They genuinely convinced people to vote against BJP to avoid riots and religious divisions in the state.
Campaign
The members organized street plays, distributed pamphlets, posters etc in various towns and villages. A social media team was set up. The online campaign as well as the street campaign strengthened it.
Video series on "No Vote to BJP' reached millions of people. Videos related to the issues in Bengal were addressed.
Against NRC 
This non-political forum educated people on the pros and cons of NRC. It also informed people that Amit Shah was just bluffing about their citizenship ahead of elections.
Furthermore, they informed that Modi government was misleading the refugees with false promises only to garner votes.
Theatre group
Theatre groups enacted plays in every nook and corner to create awareness about the NRC. LPG hike and inflation in India.
Through theatre they informed people about the life of people in BJP ruled states. The people did not have a freedom of expression there. They told people that they do not want BJP in Bengal as they do not want to be silenced.
Galaxy of Artists
Just three days ahead of elections, a galaxy of artists from different fields highlighted the need to stop BJP in Bengal. They touched issues like Love jihad, communalism and forced nationalism which prevailed since 2014 in India.
Farm leaders from Delhi
Farm leaders from Delhi received huge response in Nandigram. Rakesh Takiat  told the people that only they can stop BJP by defeating them.
Overall, the unity among the civil society which consists of youngsters, students, teachers, actors, artists, social workers, leaders were successful in showing BJP its place.
ALSO READ: West Bengal Elections 2021 Updates: 56.19% turnout so far in Phase 8