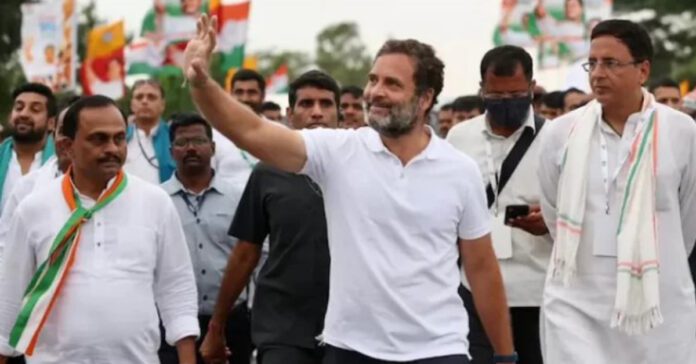 Rahul Gandhi's Bharat Jodo Yatra started from Baghpat in Uttar Pradesh at 6 am on Wednesday. This yatra will reach Shamli today evening.
The Bharat jodo Yatra, which started from Delhi on Tuesday, entered Uttar Pradesh via the Loni border.
According to source, Rahul Gandhi yatra is moving from baghapat to shamli. On the other hand, the administration has invoked section 144 before reaching bharatjodo yatra shamil. 
Rahul Gandhi and Priyanka Gandhi reached Mavikalan from Delhi prior to the yatra's resumption. Anshu Awasthi, spokesperson said.
The moment when National Conference Chairman Shri Farooq Abdullah joined Bharat Jodo Yatra yesterday.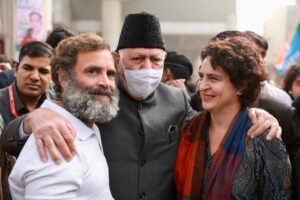 Congress Tweet
#BharatJodoYatra , which is going to be recorded in the pages of history, started yesterday on the holy land of Uttar Pradesh. On the very first day of the yatra, Uttar Pradesh has shown how much love it has for the country. For this love, today this yatra will start from Mavikala and reach Barot.
इतिहास के पन्नों में दर्ज होने जा रही #BharatJodoYatra का कल उत्तर प्रदेश की पावन धरा पर शुभारंभ हुआ।

यात्रा के पहले ही दिन उत्तर प्रदेश ने दिखा दिया है कि उसके दिल में देश के लिए कितनी मोहब्बत है। इसी मोहब्बत को लिए आज यह यात्रा माविकला से शुरू होकर बड़ौत तक जाएगी। pic.twitter.com/9NUoP6rkJB

— Congress (@INCIndia) January 4, 2023
Tsunami of Crowds to support Rahul Gandhi & Priyanka Gandhi in Uttar Pradesh.

History in the making .🔥🔥 pic.twitter.com/BBb6uhEvMZ

— Madhu (@Vignesh_TMV) January 3, 2023
ALSO READ: Bharat Jodo Yatra resumes from Marghat Hanuman Mandir in Delhi