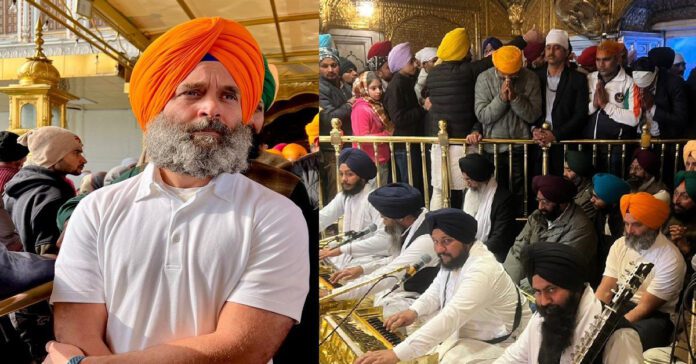 Congress leader Rahul Gandhi Bharat Jodo yatra entered Punjab on Tuesday.  He visited and offered prayers at the Golden Temple in Amritsar.
Congress chief Amrinder Singh Raja Warring and other party leaders joined Rahul Gandhi in the march. 
Bharat Jodo yatra in Punjab is of 8 days. The yatra is scheduled to pass through Mandi Gobindgarh, Khanna, Sahnewal, Ludhiana, Goraya, Phagwara, Jalandhar, Dasyua and Mukerian. A rally will be organised at Pathankot on January 19, before the march enters Jammu and Kashmir.
According to source, on 12 January the march will be only in morning to afternoon, then yatra will take a break for that day in the afternoon. There is no Bharat Jodo yatra on 13 January on account of Lohri festival.
The Rahul Gandhi started padayatra from Kanyakumari on 7 September, will end at Srinagar on 30 January, with Rahul Gandhi hoisting the Tricolor.
The Bharat Jodo yatra has covered Tamil Nadu, Kerala, Karnataka, Andhra Pradesh, Telangana, Maharashtra, Madhya Pradesh, Rajasthan, Delhi, Uttar Pradesh and Haryana, now the yatra is in Punjab.
Bharat Jodo tweet
छोड़ो भेदभाव की बातें,
ये नफ़रत की निशानी
भारत को जोड़ने सड़कों पर
आ रहे हिंदुस्तानी।#BharatJodoYatra pic.twitter.com/S8qYUtZ1L5

— Bharat Jodo (@bharatjodo) January 12, 2023
ALSO READ: Bharat jodo yatra resumes in Haryana's Ambala, will enter Panjab today