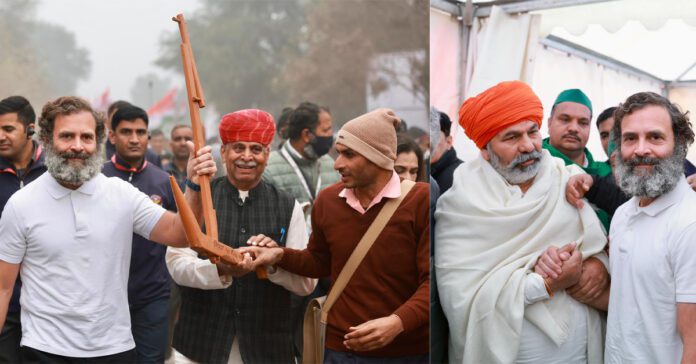 Congress party's Bharat Jodo Yatra resumed  from Haryana's Shahpur, Ambala Cantt  on Tuesday morning.  
Bharat Jodo Yatra will enter Punjab Tuesday evening through the Shambhu border, & will stay in the state for the next eight days. 
According to source, the march will pass through an area in Himachal Pradesh from Mukerian on January 18. There will be no yatra on January 13, on account of the Lohri festival.
While addressing the meeting in Ambala, Rahul Gandhi said Monday's march was dedicated to women. The yatra was warmly welcomed by 50 women in Tyoda village in Kurukshetra's Shahabad. Thousands of women participated in the yatra.
Rahul Gandhi met a farmers including Bharatiya Kisan Union leader Rakesh Tikait on Monday during the Bharat Jodo Yatra in Haryana.
According to a statement released by Haryana congress, Rahul Gandhi met the family members of the farmers and women farmers who died during a year-long protest against three agricultural laws of the Centre.
Rakesh Tikait tweet
Today met Rahul Gandhi ji in Ambala district of Haryana and discussed the problems of the farmers. In the discussion, Nava Raipur Kisan Andolan going on in Chhattisgarh, Himachal and Rajasthan and other states' farmer issues were discussed, tweeted by Tikait.
आज हरियाणा के जनपद अम्बाला में राहुल गांधी जी से मुलाकात की और किसानों की समस्याओं पर चर्चा की ।
चर्चा में छत्तीसगढ़ में चल रहा नवा रायपुर किसान आन्दोलन, हिमाचल व राजस्थान और अन्य राज्यों के किसान मुद्दों को लेकर संवाद किया।@RahulGandhi @ANI @PTI_News pic.twitter.com/iInb7hoixO

— Rakesh Tikait (@RakeshTikaitBKU) January 9, 2023
Bharat jodo tweet
Walk with love, leave hatred, come together, unite India. #BharatJodoYatra
प्यार के संग चलें, नफ़रत को छोड़िए,
साथ में आइए, भारत को जोड़िए।#BharatJodoYatra pic.twitter.com/sQ1PWd7NJ4

— Bharat Jodo (@bharatjodo) January 10, 2023
ALSO READ: Rahul Gandhi's Bharat Jodo Yatra resumes in Haryana's Khanpur Kolian