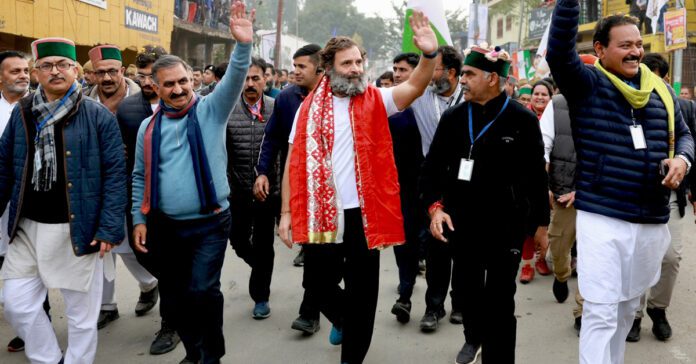 Congress leader Rahul Gandhi's Bharat Jodo Yatra will enter Jammu & Kashmir on Thursday evening, amid tight security in the Union Territory.
The Yatra will reach Lakhanpur after crossing neighboring Punjab at 6.30 pm. At Lakhanpur, the JKPCC president of Punjab will hand over the tricolor to the JKPCC Chief of Jammu & Kashmir, followed by a public address by Rahul.
The march will enter J&K at Lakhanpur on January 19 at around 5.45 pm and will reach Jammu on 23 January, Rajya Sabha MP & party in-charge Jammu & Kashmir Rajni Patil said. 
According to a source, The Congress party is planning a mega rally to mark the end of Rahul Gandhi's  Bharat Jodo Yatra in Srinagar on 30 January. It is expected to be the biggest political rally in Kashmir's recent history.
The Bharat Jodo Yatra led by Congress leader Rahul Gandhi which started from Kanyakumari on 7 September 2022 will end in Srinagar on 30 January with the hoisting of the national flag.

Bharat Jodo tweet
Jammu will enter through Punjab today #BharatJodoYatra is going on and the whole of India is joining.
पंजाब से होकर आज होगा जम्मू प्रवेश
साथ चल रहा और जुड़ रहा पूरा भारत देश#BharatJodoYatra pic.twitter.com/6tt9XrVgSK

— Bharat Jodo (@bharatjodo) January 19, 2023
ALSO READ: Rahul Gandhi's Bharat Jodo Yatra resumes from Jalandhar, Punjab