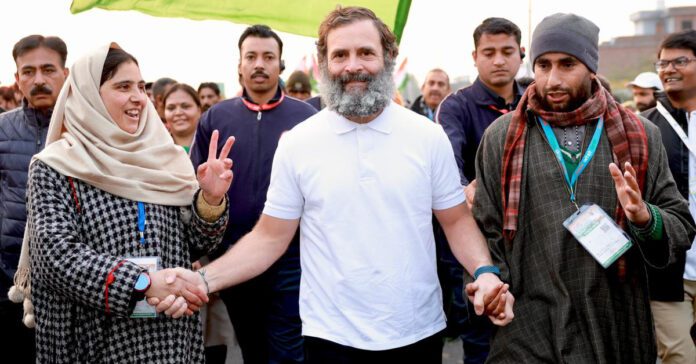 Congress leader Rahul Gandhi's Bharat Jodo Yatra resumed from Vijaypur in Samba district of Jammu and Kashmir on Monday morning. 
On the 129 day of the Bharat Jodo yatra, resumed towards Jammu, the winter capital of the region, on Monday. After covering a distance of 22kms, the yatra will reach Satwari chowk in Jammu, where a Rahul Gandhi will address the people.  
The former MP Chief Minister Digvijay Singh, General Secretary Organization KC Venugopal, former minister Tariq Hamid Karra and former J&K Pradesh Congress Committee president GA Mir along with party workers and supporters carrying tricolors joined Rahul Gandhi Bharat Jodo yatra. 
There were two bomb blasts in the Narwal area on the outskirts of Jammu city on Saturday. Security has been tightened across the Union Territory. The Congress party will not compromise in the security of Rahul Gandhi who is leading the 'Bharat Jodo Yatra' in Jammu and Kashmir, Congress leader Jairam Ramesh said.

The sun of truth shines, the national flag flutters, India unites! #BharatJodoYatra, Bharat Jodo tweeted.
चमकता सच का सूरज, लहराता राष्ट्रीय ध्वज, जुड़ता भारत!#BharatJodoYatra pic.twitter.com/MSWdK2oR1M

— Bharat Jodo (@bharatjodo) January 23, 2023
Bharat Jodo Tweet
India should be united, we will keep doing this,
we will keep moving, we will not be afraid of hatred.
Come together, unite India.
#BharatJodoYatra
एक हो भारत, हम ये कर के रहेंगे,
हम चलते रहेंगे, न नफ़रत से डरेंगे।
साथ चलो, भारत जोड़ो।#BharatJodoYatra pic.twitter.com/M8lXJR9adI

— Bharat Jodo (@bharatjodo) January 23, 2023
ALSO READ: Bharat Jodo yatra to enter jammu and kashmir today