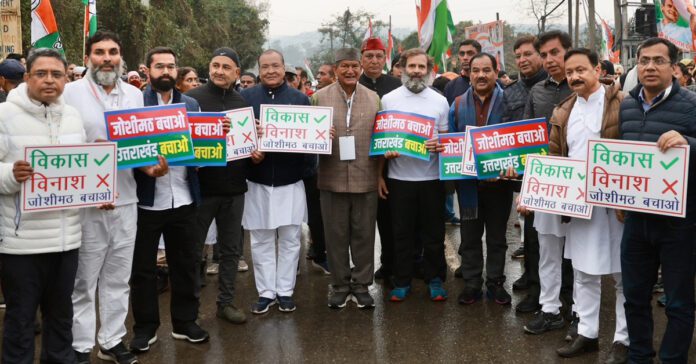 Rahul Gandhi's Bharat Jodo Yatra resumed from Bathi, Ramban district in Jammu and Kashmir Wednesday morning.
Today is the 131st day of Bharat Jodo Yatra, the yatra started from Bathi, Maitra Ramban and will go up to Lambed Truck Yard, Banihal. The yatra will take a break tomorrow on account of Republic Day.
According to source, before Bharat Jodo yatra scheduled from Nagrota district in Jammu and Kashmir. The foot march continued for a few kilometers but after advice from security forces, Rahul Gandhi boarded the car and reached the venue where a few delegations including the people of Ladakh apprised him of their grievances.
Former CM Harish Rawat, the delegation raised placards "Save Joshimath—Save Uttrakhand" and participated in the Bharat Jodo yatra with the Rahul Gandhi. 
The cracks in Joshimath are an example of indiscriminate exploitation of nature. Everyone will have to come together to save the sinking Joshimath. Today, a demand to save the spiritual city of Joshimath arose during the Bharat Jodo Yatra,
tweeted by Bharat Jodo.
जोशीमठ में पड़ती दरारें उदाहरण है प्रकृति के अंधाधुंध दोहन का। धंसते जोशीमठ को बचाने के लिए सबको साथ आना होगा। आज भारत जोड़ो यात्रा में उठी आध्यात्म नगरी जोशीमठ को बचाने की मांग। #BharatJodoYatra pic.twitter.com/3xy3IGZB4T

— Bharat Jodo (@bharatjodo) January 24, 2023
Congress Tweet
This historic journey, which started from Kanyakumari with the announcement of connecting India, is very close to its objective in Jammu and Kashmir. The aim is to assure this country that love is still alive in our hearts, for which the #BharatJodoYatra will leave from Ramban today and reach Langed Truck Yard, Banihal.
भारत जोड़ने के उद्घोष के साथ कन्याकुमारी से शुरू हुई यह ऐतिहासिक यात्रा जम्मू-कश्मीर में अपने मकसद के बेहद करीब है।

मकसद है इस देश को यकीन दिलाना कि हमारे दिलों में मोहब्बत आज भी जिंदा है, जिसे लिए #BharatJodoYatra आज रामबन से रवाना होकर लंबेड ट्रक यार्ड, बनिहाल तक जाएगी। pic.twitter.com/7NCsKvNgtU

— Congress (@INCIndia) January 25, 2023
ALSO READ: Urmila Matondkar joins Rahul Gandhi's Bharat Jodo Yatra in Jammu