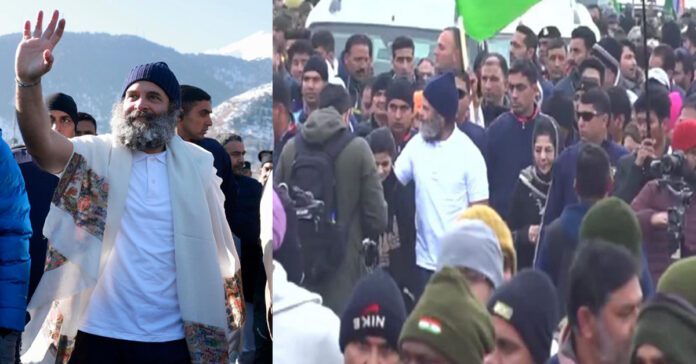 Congress leader Rahul Gandhi resumed Bharat Jodo Yatra from Awantipora, Pulwama district, Jammu and Kashmir on Saturday. After cancelling the yatra in Anantnag district, after the party alleged security lapse.
Congress had alleged that police arrangements by the Union Territory's administration "completely collapsed", on Friday, 27th January.
Peoples Democratic Party (PDP) Chief Mehbooba Mufti, her daughter Iltija Mufti and a large number of workers from her party as joined the Rahul Gandhi in Bharat Jodo Yatra.
Congress General Secretary Priyanka Gandhi Vadra will join Rahul Gandhi in Bharat Jodo yatra in Jammu and Kashmir.
According to the source, On Monday, Rahul Gandhi will unfurl the tricolor at the party headquarters at M A Road. Later he will address a public rally at SK Stadium. 23 opposition political parties have been invited to this public rally.
Congress tweet
Do you remember the date
Srinagar? 30 January | The 'Bharat Jodo Yatra', which started from Kanyakumari at 10 am, is in its last stop. 2 days left for the trip. This journey with the message of love, goodwill, unity, brotherhood.. or say 'Jan Andolan' will end on 30th January, in Srinagar. be a witness to history
तारीख याद है ना

📍श्रीनगर | 30 जनवरी | सुबह 10 बजे

कन्याकुमारी से चली 'भारत जोड़ो यात्रा' अपने आखिरी पड़ाव में है। यात्रा के 2 दिन शेष हैं।

प्रेम, सद्भावना, एकता, भाईचारे का संदेश लिए इस यात्रा.. या कहें 'जन आंदोलन' का 30 जनवरी को समापन है, श्रीनगर में।

इतिहास के साक्षी बनें pic.twitter.com/m3OZiO7d8J

— Congress (@INCIndia) January 28, 2023
We are leaving again to unite India, spread love, break the wall of hatred #BharatJodoYatra, tweeted by Bharat Jodo.
हम निकल रहे हैं फिर से भारत को जोड़ने
प्यार फैलाने, नफ़रत की दीवार तोड़ने#BharatJodoYatra pic.twitter.com/3lp5QqNtvZ

— Bharat Jodo (@bharatjodo) January 28, 2023
ALSO READ: Bharat Jodo Yatra to resume from Jammu and Kashmir's Banihal