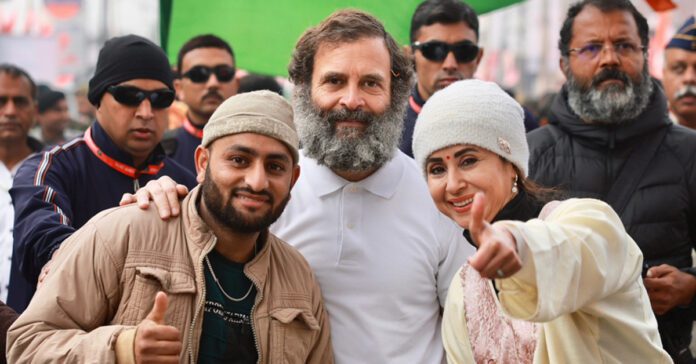 On the 130th day of Bharat Jodo Yatra, Urmila Matondkar joined Congress leader Rahul Gandhi. The Yatra resumed from Sitni bypass Nagrota district in jammu and Kashmir, on Tuesday morning.
Bollywood actress and politician Urmila Matondkar joined Rahul Gandhi's Bharat Jodo Yatra on Tuesday. Before joining the yatra, Urmila Matondkar shared a video from Jammu saying that for her this yatra has more social significance than politics.
A large number of party workers and supporters of Congress are participating in Bharat Jodo Yatra with Rahul Gandhi. After the blast in Narwal Mandi area of ​​Jammu on Saturday, 21 January, the security of Rahul Gandhi and the venue of the Yatra has been increased.
Bharat Jodo Yatra started from Kanyakumari on 7 September, Yatra covered 11 states Tamil Nadu, Kerala, Karnataka, Andhra Pradesh, Telangana, Maharashtra, Madhya Pradesh, Rajasthan, Delhi, Uttar Pradesh, Haryana and Punjab. Yatra covered 3750 KM passing through 12 states. It will cover a distance of 3,750 km from Kanyakumari to Jammu & Kashmir. The Bharat Jodo yatra will end in Jammu and Kashmir.
Jammu ❤️
"Bharat Jodo Yatra"#love #Peace #Equality #BharatJodoYatraInJK #BharatJodoYatra #JaiHind 🙏🏻❤️ pic.twitter.com/awzc67uL9O

— Urmila Matondkar (@UrmilaMatondkar) January 24, 2023
Bharat Jodo tweet
कदम बढ़े, बढ़ते चलें।
देश यूं ही जुड़ता चले।
साथ में आएं, भारत के लिए कदम बढ़ाएं।#BharatJodoYatra pic.twitter.com/BwueGftwiR

— Bharat Jodo (@bharatjodo) January 24, 2023
ALSO READ: Bharat Jodo yatra resumes from Vijaypur in Samba, district of J&K