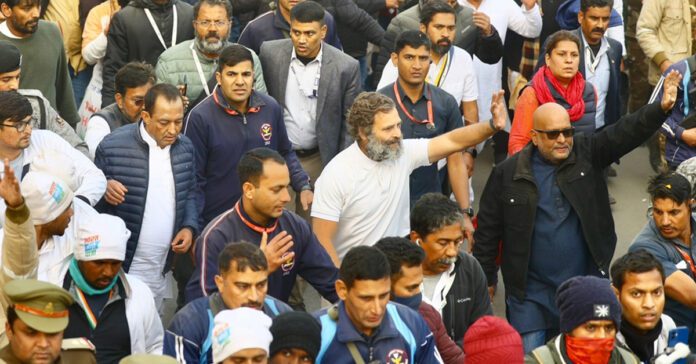 The Bharat Jodo yatra re-entered Haryana on Thursday evening from Uttar Pradesh. Several senior Congress leaders from Haryana joined Gandhi for the yatra. Bharat Jodo Yatra covered over 130 km in the first phase in Haryana from December 21 to 23.
The march resumed from Sanoli-Panipat Road on Friday morning on the first day of the Haryana in second phase.
Congress chief Sonia Gandhi was admitted to Delhi Sir Ganga Ram Hospital on Wednesday for treatment of a viral respiratory infection. Rahul Gandhi went to Delhi on Thursday night to meet his mother. He came back in the morning to join the yatra, said Haryana former chief minister.
According to source, in the afternoon Rahul Gandhi, party chief Mallikarjun Kharge and other senior leaders will address a public meeting in Panipat. The yatra will pass through Karnal, Kurukshetra and Ambala districts before entering Punjab.
Congress Tweet
Journey towards such an India, which is the dream of crores of countrymen. Where there is no religion bigger than humanity and no language more beautiful than love.
With this spirit, today #BharatJodoYatra will start from Sanauli Panipat Road till GT Road, where Rahul Gandhi will address a huge public meeting.
यात्रा एक ऐसे भारत की ओर जिसका सपना करोड़ों देशवासी देख रहे हैं। जहां इंसानियत से बड़ा कोई मज़हब नहीं और प्यार से खूबसूरत कोई भाषा नहीं।

इसी भावना के साथ आज #BharatJodoYatra सनौली पानीपत रोड से शुरू होकर जीटी रोड तक जाएगी, जहां राहुल गांधी जी एक विशाल जनसभा को संबोधित करेंगे। pic.twitter.com/fAdzizqLl2

— Congress (@INCIndia) January 6, 2023
ALSO READ: Rahul Gandhi resumes Bharat Jodo Yatra from Ailum village, Uttar Pradesh