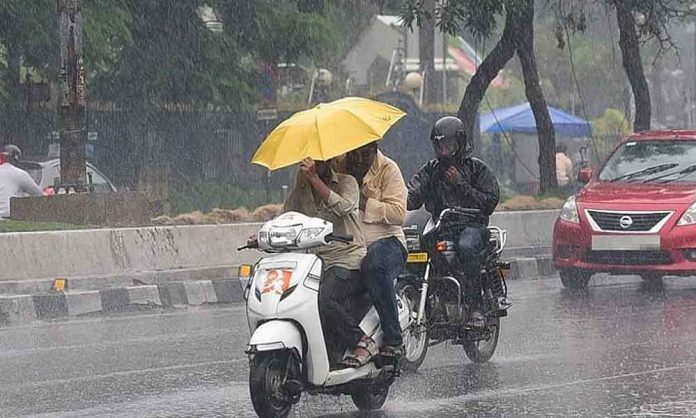 According to Regional Meteorological Centre (RMC), Telangana is likely to record rainfall of up to 110 per cent this year.
If the weather officials forecast comes out true then, Telangana could be in for the best monsoon it had in the last four years.
It is predicted that not just the State as a whole, but areas like Hyderabad, Rangareddy and Medchal-Malkajgiri too are 'very likely' to receive abundant rainfall this monsoon, which is expected to reach the State by the second week of June
According to Regional Meteorological Centre (RMC), the State is likely to record rainfall of up to 110 per cent this year. Against a normal rainfall of 755 mm during June and September, the State could record a rainfall of up to 830 mm, which will be the highest in the last four years, officials said.
Though the monsoon usually reaches Telangana within five days of touching the Kerala coast, which it did on Monday, this time the journey to Telangana might take longer, officials said, adding the monsoon in the State could be delayed by one week this year.
According to the RMC, the normal rainfall in Hyderabad is 612 mm, that in Rangareddy is 544 mm and in Medchal-Malkajgiri, it is 672 mm.
RMC director K Nagaratna said the monsoon would last for around four months from June to September, with the peak to be during July and August.
In the State, Khammam, Adilabad and Karimnagar, which are rain shadow areas, would record the highest rainfall, whereas Nalgonda and Mahabubnagar would register the lowest.
The rainfall recorded in 2017 was over 700 mm while in 2018 it was 742 mm and in 2019, 806 mm.
Pre-monsoon showers in Hyderabad
The Greater Hyderabad region is likely to receive pre-monsoon showers in the form of light to moderate rain/thundershowers till the southwest monsoon reaches the State. Hyderabad has already recorded a rainfall of 31.4 mm in the last two days.
Officials said the conditions were becoming favourable for further advancement of southwest monsoon into some parts of Central Arabian Sea and Karnataka, remaining parts of Kerala and Comorin area, some more parts of Tamil Nadu, Puducherry, Karaikal and the South Bay of Bengal during next 24 hours.
ALSO RAED: Cyclone Nisarga: likely to intensify into Severe Cyclonic Storm in 24 hrs