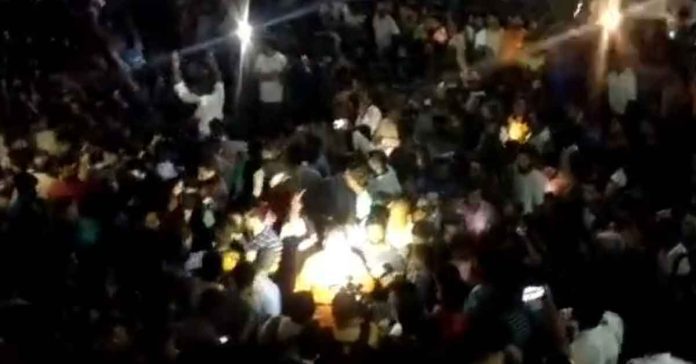 A 23-year-old aspirant student died by suicide on the 13th of October evening at her hostel in Hyderabad for the postponed TSPSC exams.
The victim was identified as Marri Pravalika from Warangal. She was preparing for government job entrances staying in a private hostel at Ashok nagar. Pravalika ended her life as the upset and claimed that she was not getting a job and postponed the group-2 service exam.
After her death, large number of job aspirants came and resulted in massive protests Ashok nagar, chikkadpally police limits. BJP MP K. Laxman and Congress leader Anil Kumar Yadav also joined the protest, which led to tension in the area.
A suicide note was recovered by the police in which she says that, she was sorry to her family and that she couldn't do anything for them, an official said.
Chikkadpally police have informed Pravallika's parents and started a investigation into the suicide.
TSPSC Aspirant student died by suicide
A female student's suicide over the postponement of competitive exam of the #Telangana State Public Service Commission triggered a massive protest in #Hyderabad's Ashok Nagar area.#BJP MP K. Laxman and #Congress leader Anil Kumar Yadav also joined the protest, which led to… pic.twitter.com/rdotB7XEMs

— IANS (@ians_india) October 14, 2023
Students stage protests
Protests overnight at #Hyderabad's #AshokNagar area after death by suicide of 23-yr-old girl Pravalika from Warangal living in hostel for the last fortnight; protestors say she was depressed after postponement of #GroupIIExams; suicide letter has not given any such reason @ndtv pic.twitter.com/J32H6NquXy

— Uma Sudhir (@umasudhir) October 14, 2023
However, Central Zone DCP Venkateswara Rao said that the reason for Pravalika's suicide was not the postpone of the Group-2 exam. She committed killed herself because of a love affair. He also said that the evidence related to that has also been collected.
According to DCP, Pravalika loved a young man named Sivaram Rathod from Kosgi mandal. Shivaram cheated Pravalika and got engaged to another girl. Pravilika was deeply offended with this. DCP concluded that Pravalika died by suicide due to this reason.
ALSO READ: TSPSC Group 1 Exam cancelled again by Telangana High Court