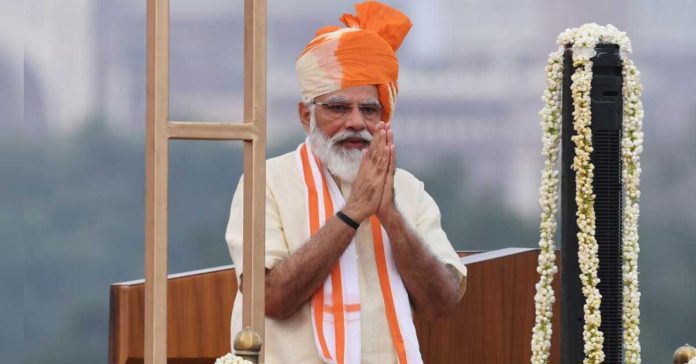 Prime Minister Narendra Modi, firstly paid tributes to corona warriors of India as he began his Independence Day speech, on Saturday. PM Modi said, that he can't even count the nameless faces of people who have worked to fight the corona pandemic. He said that he bows his head with humility to these corona warriors.
He said that everyone is going through distinct times, because of corona which has stopped everyone. He said that it pains that he is unable to see young children in front of me today (at Red Fort). In these times of Covid, Corona warriors have lived the mantra of 'Seva Parmo Dharma' and served the people of India for which he has expressed his gratitude to them.
PM Modi salutes bravehearts
He said: This day is a day to remember the sacrifices of our freedom fighters and  show gratitude to all Security personnel including that of Army, paramilitary and police ensuring our safety
PM Modi pitches for Aatmanirbhar Bharat
Amid the coronavirus pandemic 130 crore Indians took the resolve to be self-reliant and 'Aatmanirbhar Bharat' is on the mind of India. This dream is turning into a pledge. Aatmanirbhar Bharat has become a 'mantra' for the 130 cr Indians today. Prime Minister Modi said.
India has to become self-reliant: PM Modi
PM urged that India has to be self-reliant. He said that it was essential for us and the world. If we are self-reliant, we will be able to cater to the world
Humanity must retain a central role in our journey: PM Modi
Prime Minister Narendra Modi said India has always believed that the entire world is one family. He said that we should focus on economic growth and development, and must retain humanity as a central role in this process and our journey.
PM announces Rs 1.1 lakh crore investment in national infrastructure project
PM Modi said that importance is being given to National infrastructure pipeline project with the investment of 1.10 lakh crore. We should try and approach integrated, multi-model infrastructural projects.
PM Modi pitches for 'vocal for local' mindset
The mindset of free India should be 'vocal for local'. We should appreciate our local products, if we don't do this then our products will not get the opportunity to do better and will not get encouraged: PM Modi.
Re-skill and up-skill campaign will boost the self-reliant economy: PM Modi
Vocal for Local, re-skill and up-skill campaign will boost the self-reliant economy and the standard of living of those below the poverty line, says PM Modi in his I-Day speech.
Optical fibre to be provided to over 6 lakh villages
Saying that with time, priorities have to be revised, Prime Minister Narendra Modi announced that optical fibre network will be provided to 6 lakh villages in 1,000 days.
New Education Policy will make Indian youth a global citizen
Since Education has a key role in the making of Aatmanirbhar, modern, new and prosperous India, the new education policy has been brought after three decades that has been welcomed throughout the country, which instills new confidence.
3 coronavirus vaccines at different stages of trials in India
On coronavirus vaccine, PM Modi said three probable candidates are at different stages of testing in India. He said that as soon as the tests are completed, the entire roadmap of its production and delivery to the public in the shortest time would be ready.
Committee to reconsider minimum age for marriage of women
The PM said as he addressed the nation from Red Fort, that the government has set up a committee to reconsider the minimum age for marriage of the girls in our country. Appropriate decisions will be taken as soon as the committee submits its report.
From LAC to LoC, soldiers gave a befitting reply to anyone who dared
PM Modi said on the border situation that from the LAC to LoC, our jawans have given a befitting reply to anyone who tried to eye our territory and have shown the whole world has seen our capabilities in Ladakh.
Lakshadweep to be connected to submarine optical fiber cable
PM Modi said like Andaman and Nicobar, Lakshadweep will also be connected to submarine optical fibre cable. "There are more than 1300 islands in our country. Keeping in mind their geographical location and their significance in the development of the nation, work to begin new projects in some of these islands is underway," PM Narendra Modi said.
ALSO READ: Protocol followed for the Prime Minister at the Red Fort on 74th Independence Day