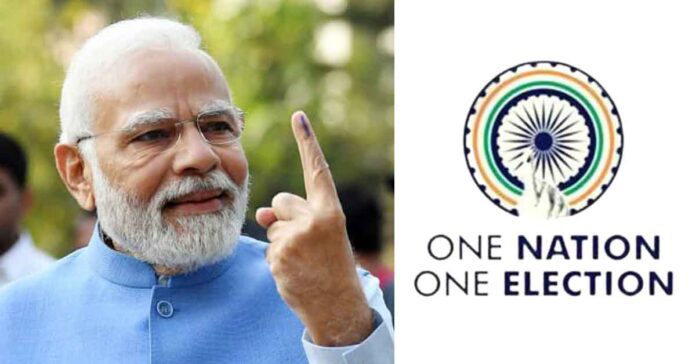 The Centre has formed a panel headed by former President Ram Nath Kovind to explore the possibility of 'One Nation, One Election'. 
One Nation One Election means that Lok Sabha and Assembly elections should be held simultaneously in the entire country. This idea came when PM Modi came into power in 2014. The main idea is that polls for Lok Sabha and all state assemblies across India will be held simultaneously. PM Modi has been a strong proponent of the 'One Nation, One Election'.
The surprise announcement of the parliament session has led to speculations among people. The government is planning to introduce a bill on One Nation, One Election. The proposal is to conduct elections for Lok Sabha and all state assemblies at the same time.
Advantage of One Nation One Election
The main benefit of 'One Nation, One Election' is the reduction in the cost of conducting elections. Each separate election requires a huge amount of financial resources for all political parties.

The amount includes spent by the political parties fighting the polls and the spending by the Election Commission of India (ECI) to hold the elections. 

The idea might also lead to an increase in voter percentage, less corruption, and saving time and money.

Simultaneous elections would alleviate the logistical burden on administrative and security forces often stretched to reduce their many election duties.
Disadvantages of One Nation One Election
To implement One Nation, One Election, changes would also be required in the Constitution and other legal frameworks.

 This idea would need a constitutional amendment and then it would need to be taken to state assemblies.

It would require additional funds and time to manufacture VVPATs and EVMs and additional deployment of paramilitary forces will also be required.

For every polling station, the ECI has to provide two sets (one for election to the Legislative Assembly and the second for that to the Lok Sabha).

Regional political parties argue that having the two elections simultaneously would make it difficulty for their prospects. Because they won't be able to highlight local issues in their areas.
ALSO READ: PM Modi announces Vishwakarma Yojana for people with traditional skills