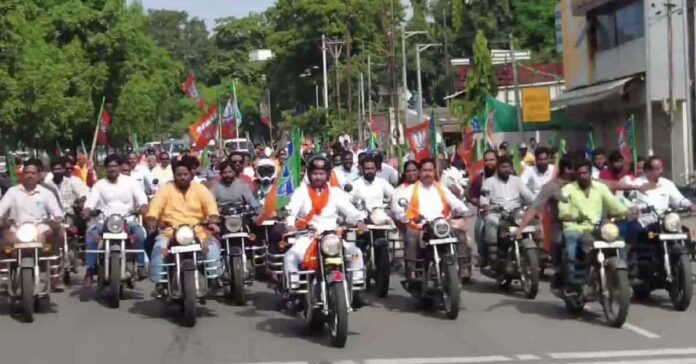 Telangana BJP President G Kishan Reddy leads BJP bike rally from Parade grounds, Secunderabad to Parkal.
As a part of Azadika Amrit Mahotsav. He participated in a bike rally from Secunderabad Parade Grounds to Parakala on September 15 on the occasion of Hyderabad Liberation Day. BJP state election in-charge, MP Shri Prakash Javadekar inaugurates bike rally.
G Kishan Reddy tweet
Bike Rally Participating in 'Bike Rally' being organised as part of #Hyderabadliberationday celebrations under the aegis of Azadi Ka from Parade grounds, Secunderabad to Parkala.
Live: 𝗕𝗶𝗸𝗲 𝗥𝗮𝗹𝗹𝘆 Participating in 'Bike Rally' being organised as part of #𝗛𝘆𝗱𝗲𝗿𝗮𝗯𝗮𝗱𝗟𝗶𝗯𝗲𝗿𝗮𝘁𝗶𝗼𝗻𝗗𝗮𝘆 celebrations under the aegis of Azadi Ka #AmritMahotsav from Parade grounds, Secunderabad to Parkala. https://t.co/Y4TxeJSt51

— G Kishan Reddy (@kishanreddybjp) September 15, 2023
#WATCH | Telangana BJP President G Kishan Reddy leads BJP bike rally from Parade grounds, Secunderabad to Parkal pic.twitter.com/pfmJPR3TA1

— ANI (@ANI) September 15, 2023
ALSO READ:G Kishan Reddy takes charge as Telangana BJP President