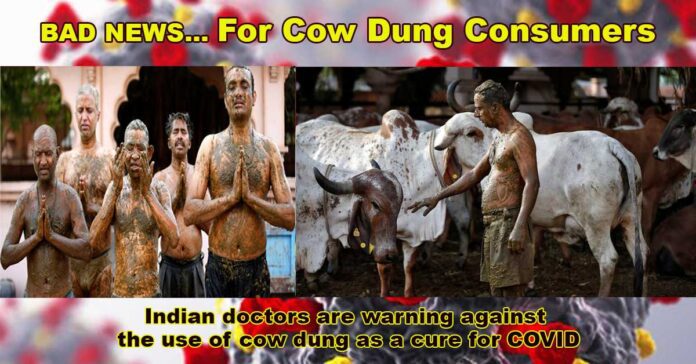 Indian doctors are warning against the use of cow dung as a cure for COVID. It is believed in India that cow dung will cure COVID. Doctors feel that there is no scientific evidence about its effectiveness. In fact they feel that there is a risk of spreading other diseases.
There is an upsurge of corona cases in India. This second waves has costed 246,116 deaths. Over 22.66 million cases are reported as of now. According to experts the actual numbers could be five to ten times higher.
People across the country are struggling to find hospital beds, oxygen or medicines. Many are dying due to lack of treatment.
In this incredible India, some believe that cow dung is going to cure them for COVID. Especially in the state of Gujarat, some believers are going to cow shelters frequently. They believe that if they cover their bodies in cow dung and urine once a week, it will boost their immunity. Furthermore they believe that it will help them recover from coronavirus.
Cow is a sacred symbol of life and the earth. Hindus clean their homes and for prayer rituals. They believe that they have therapeutic and antiseptic properties.
Hindu monks at the Shree Swaminarayan Gurukul Vishwavidya Pratishthanam, encourages this therapy. Many people come here to try this therapy. Surprisingly, few doctors also go there for this therapy.
Many people apply the dung and urine mixture and wait for it to dry on their bodies. Meanwhile they hug and honor the cows. Subsequently, they practice yoga to boost energy levels. The pack on their bodies are then washed off with milk or butter milk.
However, there is not evidence that the pack smeared or consumed will help by corona patients. Instead, the doctors feel that there is a risk of diseases spreading from the animal to the human beings.
ALSO READ: Interesting facts about Plasma Therapy