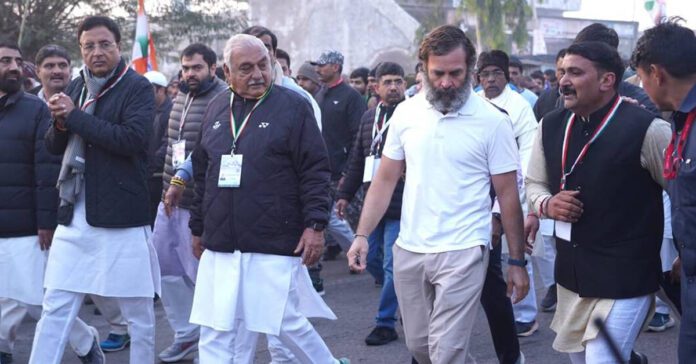 Haryana: Congress leader Rahul Gandhi's Bharat Jodo Yatra entered Haryana from Mundaka border in Nuh, today morning. Moreover, many senior congress party leaders accompanied him in the Bharat Jodo yatra from the state. The Yatra crossed over to Haryana from Rajasthan.
According to the Congress sources, The first phase of yatra in Haryana will end on December 23. Furthermore, in the second phase, the yatra will re-enter Haryana from Uttar Pradesh at Sanoli Khurd in Panipat district on January 6.
The Bharat Jodo Yatra end in Rajasthan on Tuesday evening after covering a distance of nearly 485 km in 15 days in the party-ruled state.
Bharat Jodo yatra started on September 7 in Kanyakumari has traversed Tamil Nadu, Kerala, Karnataka, Telangana, Andhra Pradesh, Maharashtra, Madhya Pradesh, Rajasthan and now its entered to Haryana.
Bharat Jodo yatra enters Haryana
In fact, the whole of India has accepted the Yatra as its own, after Rajasthan, now Haryana has held the tricolor. Yatra reached Haryana today after completing its journey of Rajasthan. #BharatJodoYatra
यूँ तो पूरे भारत ने यात्रा को अपना माना है
राजस्थान के बाद अब हरियाणा ने तिरंगा थामा है।

राजस्थान का अपना सफ़र पूरा कर आज हरियाणा में पहुंची यात्रा।#BharatJodoYatra pic.twitter.com/9k1zfv1wsl

— Bharat Jodo (@bharatjodo) December 21, 2022
Congress tweet
Today @RahulGandhi Rajasthan Congress President in the presence of Mr. @GovindDotasra Mr. Haryana Congress President @INCUdaiBhan Inaugurated the #BharatJodoYatra on the holy land of Haryana by handing over the national flag to ji . The journey of expectations has reached its new destination. trip on…
आज @RahulGandhi जी की मौजूदगी में राजस्थान कांग्रेस अध्यक्ष @GovindDotasra जी ने हरियाणा कांग्रेस अध्यक्ष @INCUdaiBhan जी को राष्ट्रीय ध्वज सौंपकर हरियाणा की पावन धरा पर #BharatJodoYatra का शुभारंभ किया।

उम्मीदों का सफ़र अपने नए मुकाम पर पहुंच चुका है। यात्रा जारी है… pic.twitter.com/h7SpxND3xQ

— Congress (@INCIndia) December 21, 2022
ALSO READ: Bharat jodo yatra resumes from Bandikui in Dausa, Rajasthan