Mohit Yadav alias Monu Manesar, a Bajrang Dal member. Monu is also a member of the Cow Protection Task Force of the Haryana government in Gurgaon. He has been associated with Bajrang Dal for the last 10-12 years. 
A family in Rajasthan filed an FIR alleging that the bodies were of Junaid & Nasir in a truck.  Earlier, they had gone missing as they were kidnapped by members of the Bajrang Dal. Monu Manesar is one of the accused named in the FIR.
On Thursday, it was alleged that members of the Bajrang Dal kidnapped, lynched & murdered the two Muslim men at Bhiwani in Haryana on suspicion of their involvement in cow slaughter.
On the contrary, after an FIR was registered against Monu. He released a video saying that no Bajrang Dal team was involved in murder. I will cooperate fully with the investigation and when the true perpetrators are found, I hope they receive the strictest possible punishment, he said.
मोनू मानेसर ने सफाई जारी करते हुए कहा है कि उसका और उसकी टीम का इस घटना से कोई लेना देना नहीं है….
लेकिन हिन्दू विरोधी लॉबी एक्टिव हो गयी है.. @zoo_bear जैसा टुच्चा थ्रेड में ट्वीट कर रहा.. क्योंकि इसे पता है मोनू मानेसर इसका बाप है ..इसके सहियोगी गुर्गों को कई बार लपेट चुकाहै pic.twitter.com/7cgide6HSl

— Prem Kashyap 'sudarshan news' (@Impremkashyap) February 17, 2023
According to sources, the Police said they were yet to ascertain their identities but confirmed that the burnt car was the Bolero. The two men were driving before they were reported missing from Rajasthan's Bharatpur.
The two bodies recovered from the Bolero were sent to a government hospital in Haryana's Loharu for post mortem. A DNA examination of the bodies would be conducted to ascertain their identities, police said.
Who is Monu Manesar?
According to various sources, Monu Manesar has 83000 followers on Facebook and 205000 subscribers on YouTube. He has followers who are ardent admirers of his vigilantism. Recently, Monu Manesar received YouTube's silver play button for crossing 1L subscribers on YouTube. Furthermore it is alleged that MetIndia and YouTube are promoting him.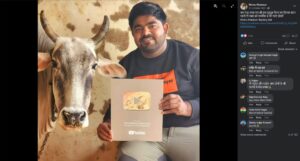 In his Facebook pictures, Monu can be seen with police officials and bureaucrats. His pictures with top police cops and officials reveal his relations with them. However, his Facebook page is locked now.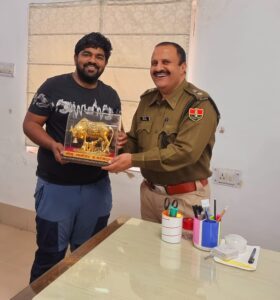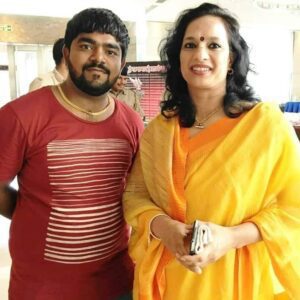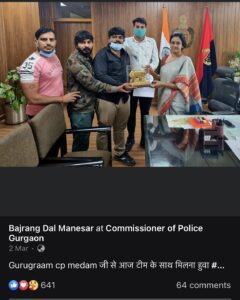 It is also known that he has been very active in cow vigilantism for more than 7-8 years. Earlier, in 2016, he became famous for forcing two men Rizwan and Mukhiyar to eat cow dung. He alleged that they were 'beef transporters.
ALSO READ: Bajrang Dal Activist who Broke the Plaque in a Temple with Muslim donor's name released