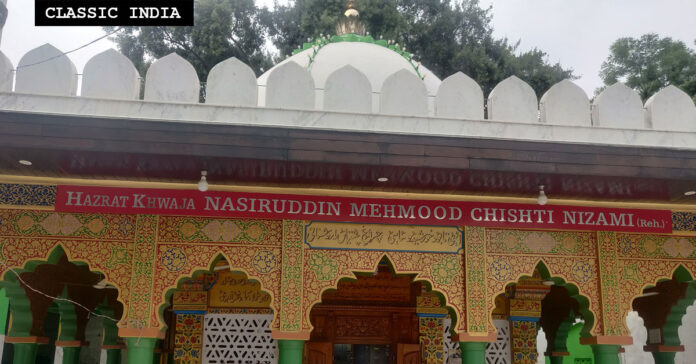 Dargah Chirag Delhi is a Sufi Shrine of Sheik Nasiruddin Mahmud titled "Roshan-e-Chirag" built by Feroz Shah Tughlaq in Jahanpanah in 1368AD.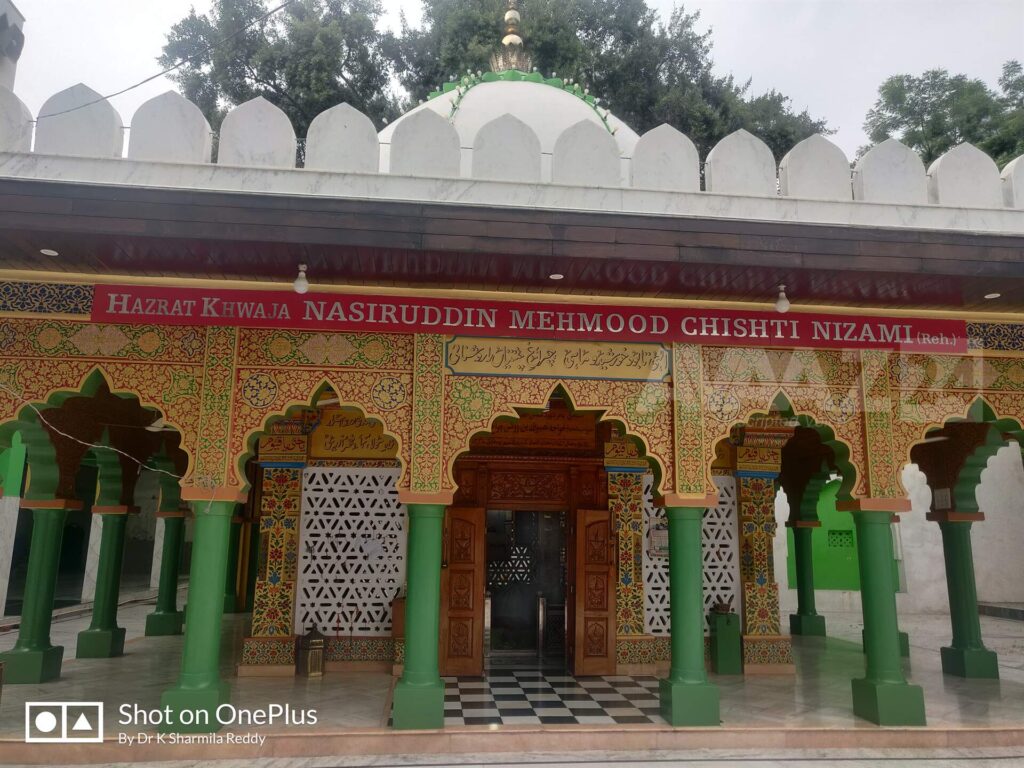 A Sufi Poem by Nasiruddin Chiragh Dehlavi
"Murad-e-ahl-e-tariqat libaas-e-zaahir naist
Kumar ba khidmat-e-sultan be-bund-o-Sufi baash."
Translation:
The objective of divine lovers does not lie in the show of outward appearance
Be in the service of the king and remain a Sufi.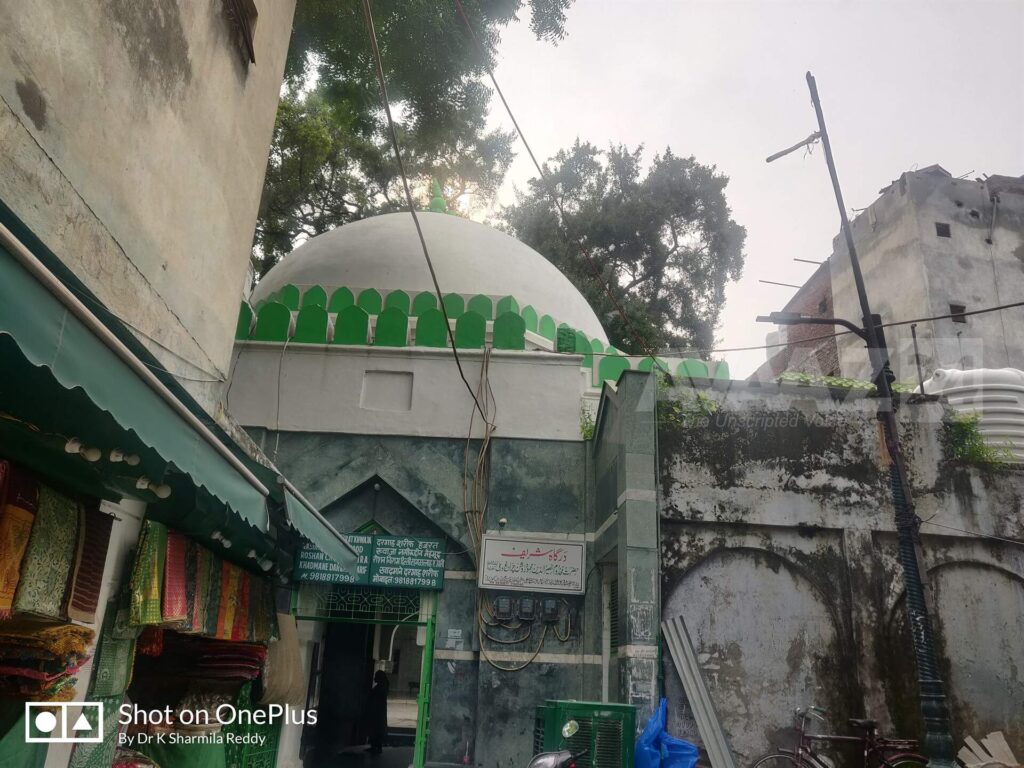 Life Story of 'Roshan Chirag-e-Delhi' – Syed Nasir-ud-din Mahmood:
This Chishti order Sufi saint was born as Syed Nasir-ud-din Mahmood Al Hassani in 1274 AD at Ayodhya, Uttar Pradesh.
At the age of 40, he left Ayodhya to Delhi and became 'mureed' (disciple) of Sufi saint Sheik Nizam-ud-din Auliya. Later on, he became Nizam-ud-din's successor after his death. He was contemporary to Sultan Muhammad bin Tughlaq.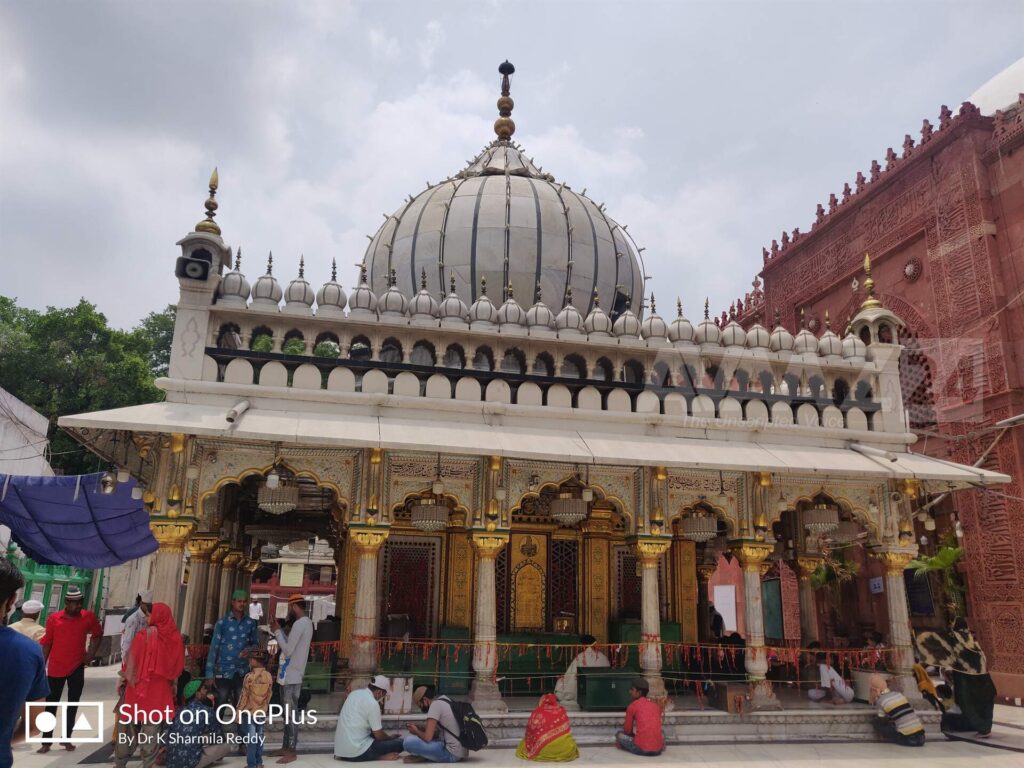 He died at an age of 82 on 17th day of Ramzan [9th month of Islamic Calendar] in 1357 AD.
Legend of his title- 'Roshan Chirag-e-Delhi"
His was bestowed with the title of 'Roshan Chirag-e-Dilli' as a result of a tussle of egos with the then Emperor Ghiyas-ud-din Tughlaq.
Nasir-ud-din was deputed to build a Baoli [now known as ChashmaDil Kusha] by his master Sheik Nizam-ud- din Auliya at Ghiyaspur.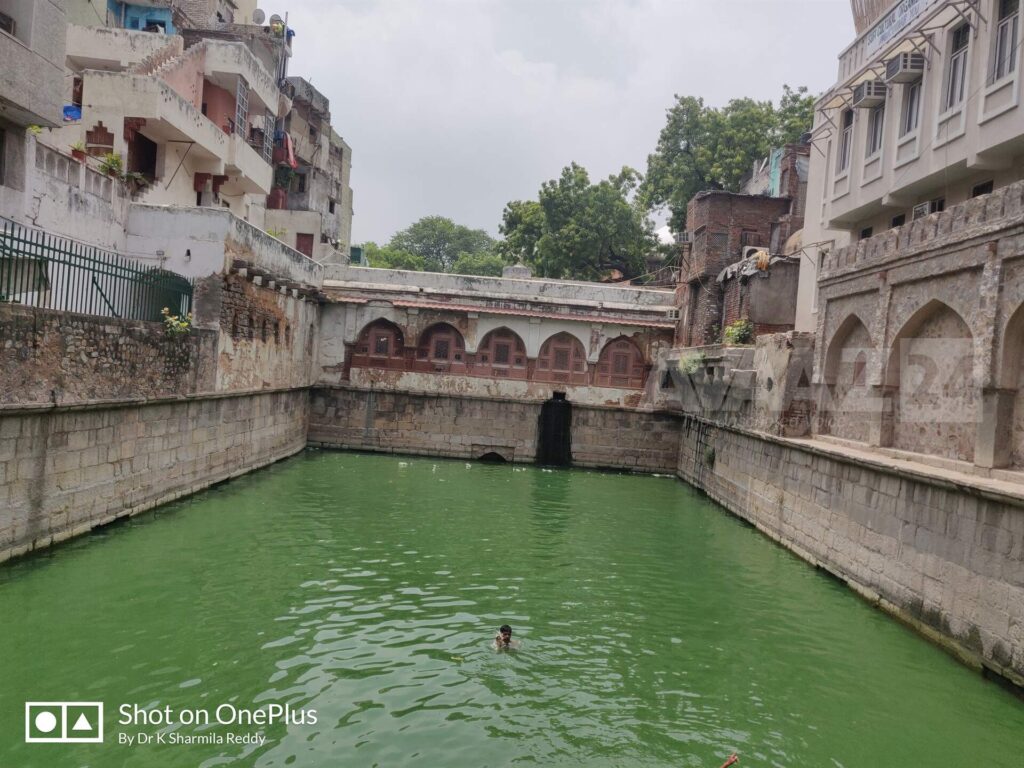 Read more about this Chashma Dil Kusha: Nizam-ud-din Baoli at previous article of this series- Hazrat Nizam-ud-din Dargah in Jahanpanah.
Nizam-ud-din's Baoli and Tughlaq's Tughlaqabad Fort were constructed at the same time. Ghiyas-ud-din being anxious to complete his Fort, stopped the labourers to work anywhere except at his Fort. He was furious with the fact that, no permission for such major construction was taken from him.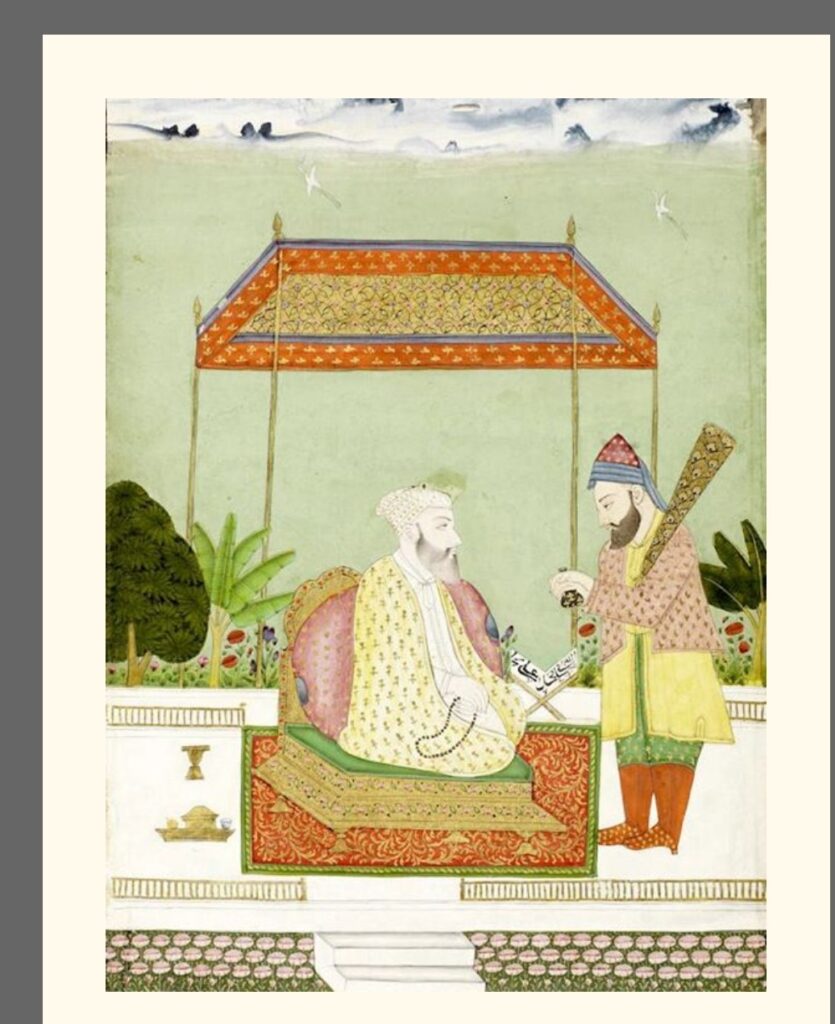 Labourers being ardent devotees of Nizam-ud-din, worked at his Baoli in the nights after working on the fort during the day. 
When the Emperor found that his labourers will get no rest, he issued an imperial Firman banning the sale of oil.

The very next day, there was no oil to light the lamps for the nightly chores of the labourers. When everyone lost their hopes, Saint Nasiruddin took a palm-full of water, and in front of hundreds of witnesses, miraculously lit a lamp by dipping a wick of cotton in it.
This miracle earned him the Urdu title- "Roshan Chirag-e-Dilli" which means "Illuminated Lamp of Delhi".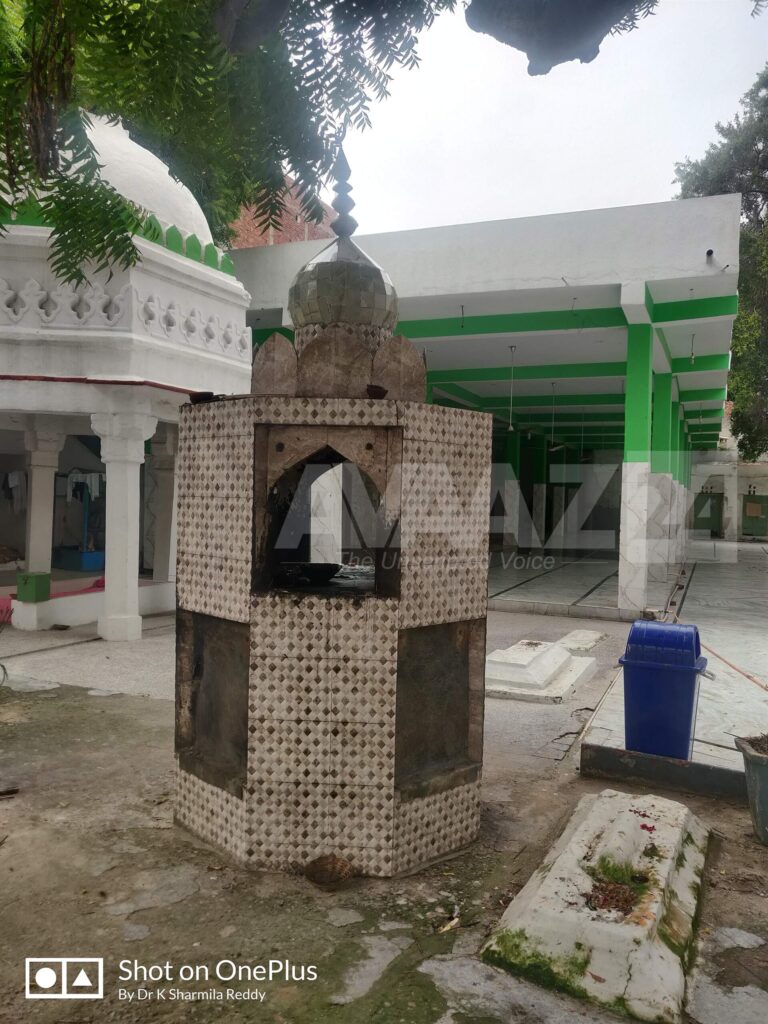 Another Legend of Chirag:
There's another story which is attached to the origin of his name talks about how he once went to a 'mehfil' (gathering) of one of his murshids and some other Sufis where he did not like the place at which he was asked to sit.
That was because his back would then have to face some other dignitaries who were also present there. At this, his mentor Nizamuddin Auliya said that "A Chirag has no back; it sheds its light in all directions". Thus, he got the title of 'Chirag'~ the illuminated one.
Persecution by Sultan Muhammad bin Tughlaq:
According to Akhbar ul–Akhyar (Biography of Sufi Saints) – Urdu translation by Abdul-Haqq Dahlawi- Sultan Muhammad bin Tughlaq appointed Hazrat Nasiruddin as his attendant and would persecute him despite his devout and righteous nature. Nevertheless, the saint had to tolerate this treatment gracefully because of the teachings of his Pir Sheik Nizam-ud-din Auliya.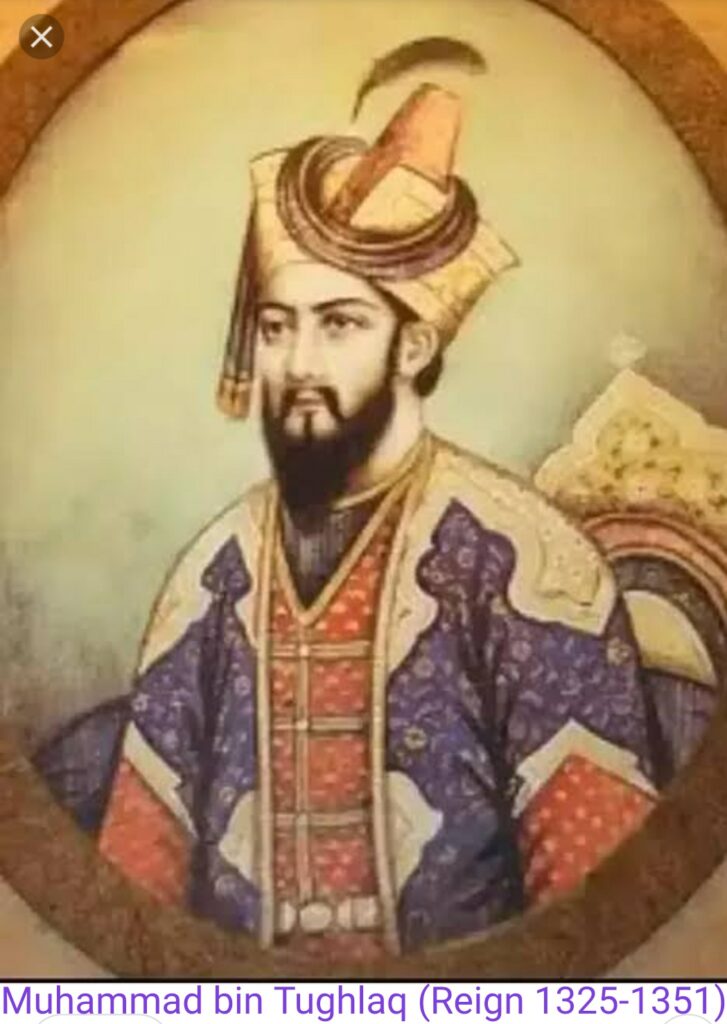 Even the Persian historian, Mohammed Qaism Ferishta gives a note of Muhammad bin Tughlaq's outrages with Sheikh Nasir-ud-din.
Assurance by Firoz Shah Tughlaq:
Tarikh-i-Firuzshahi written by Shams Siraj Afif gives a more detailed account.
When Sultan Muhammad bin Tughlaq went to Thath, Sindh to quell a rebellion, he took Sheikh Nasir-ud-din and other Ulemas along with him to pray for his success. But, he did not treat them honourably.
However, he died there itself with fever on March 20, 1351. Eventually, Prince Feroz Shah Tughlaq, his cousin succeeded him.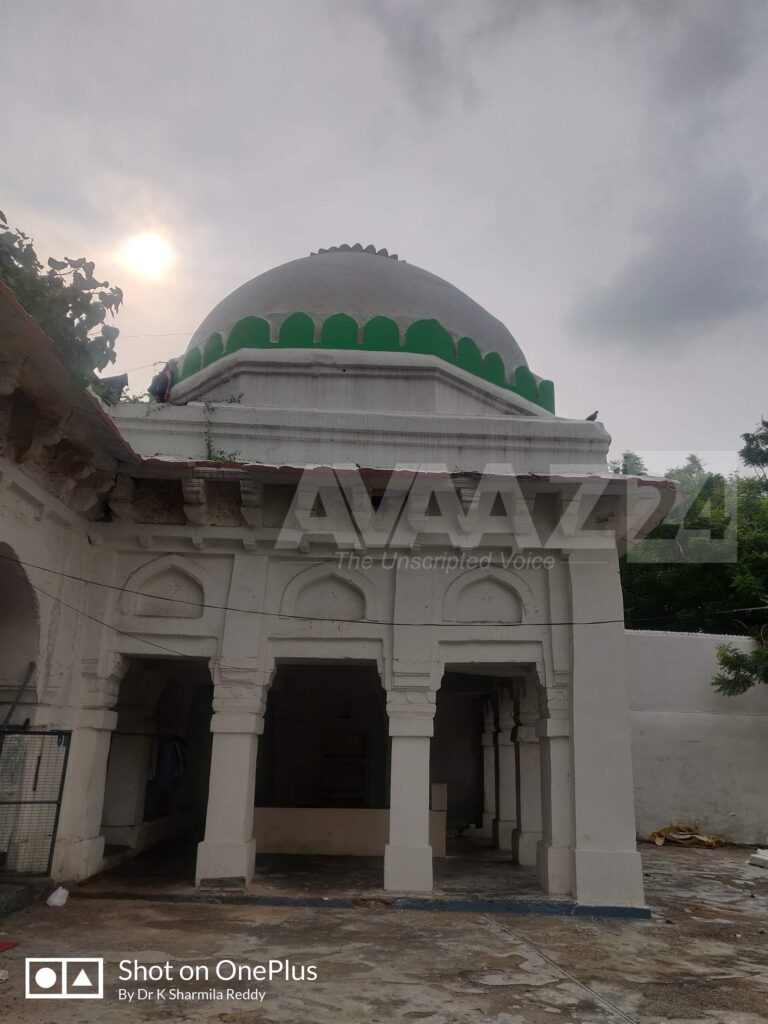 Hazrat Nasiruddin then demanded a promise from the Prince to administer due justice to the oppressed people. The prince assured him- he would rule Delhi with justice and honesty; he shall treat his people with love and sympathy unlike his cousin previous Sultan, Muhammad bin Tughlaq.
Then, Sheik Nasir-ud-din predicted that Firoz Shah will be granted a 40-year rule. His divination came true.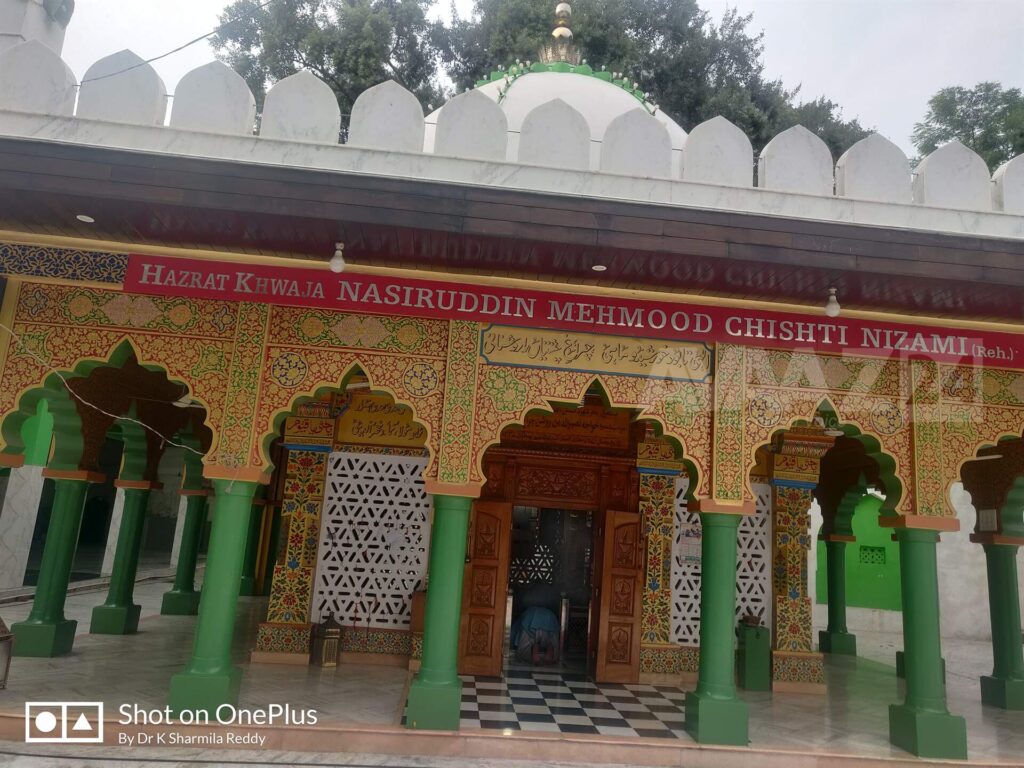 Architecture of the Chirag Delhi Dargah:
Initially, the main tomb of Chirag was enclosed within a rectangular walls, built of rubble. This chamber was constructed by Sultan Firoz Shah Tughlaq in 1358 just within the eastern wall of Jahanpanah.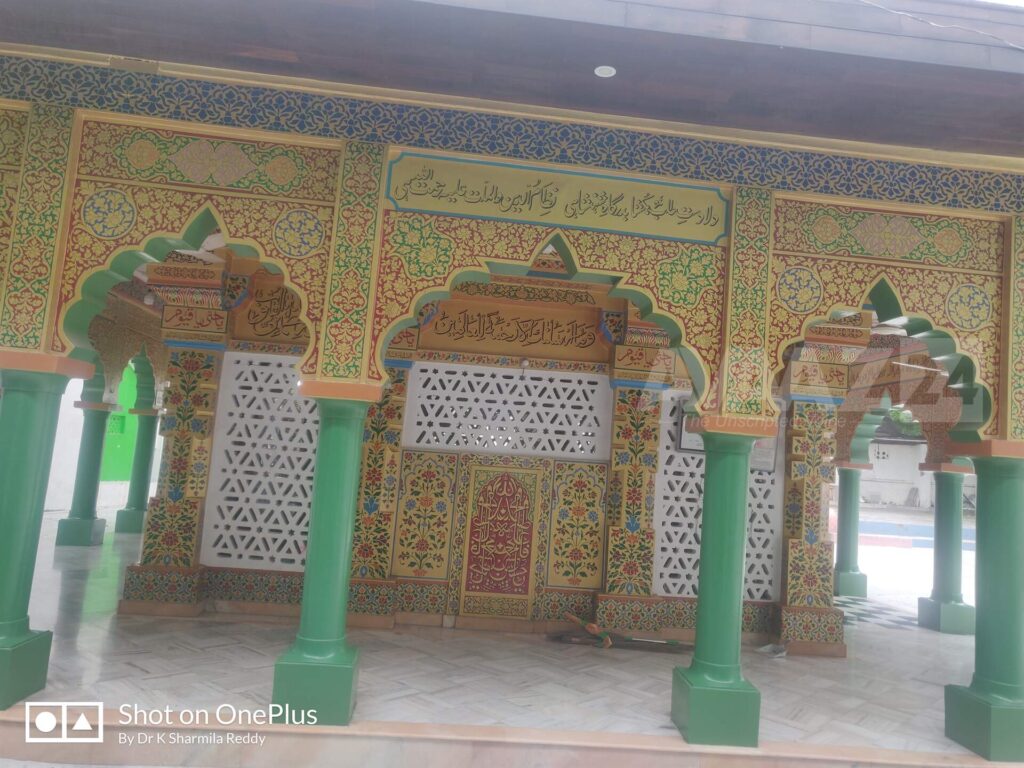 Present day, his tomb chamber is twelve-pillared and square shaped with perforated screens.
The Parapet wall has small domed towers at its 4 corners.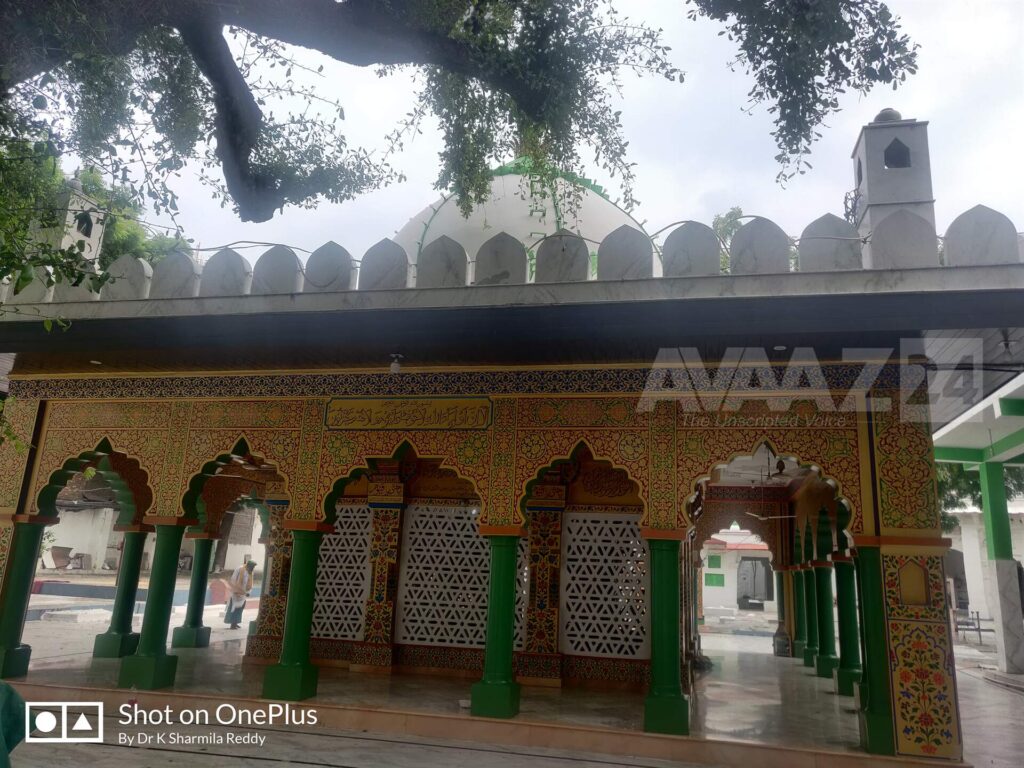 The dome is a plastered one rising from an octagonal drum.
Grave:
The grave is adorned by satin and silk chaddars. It is fragrant with incense sticks.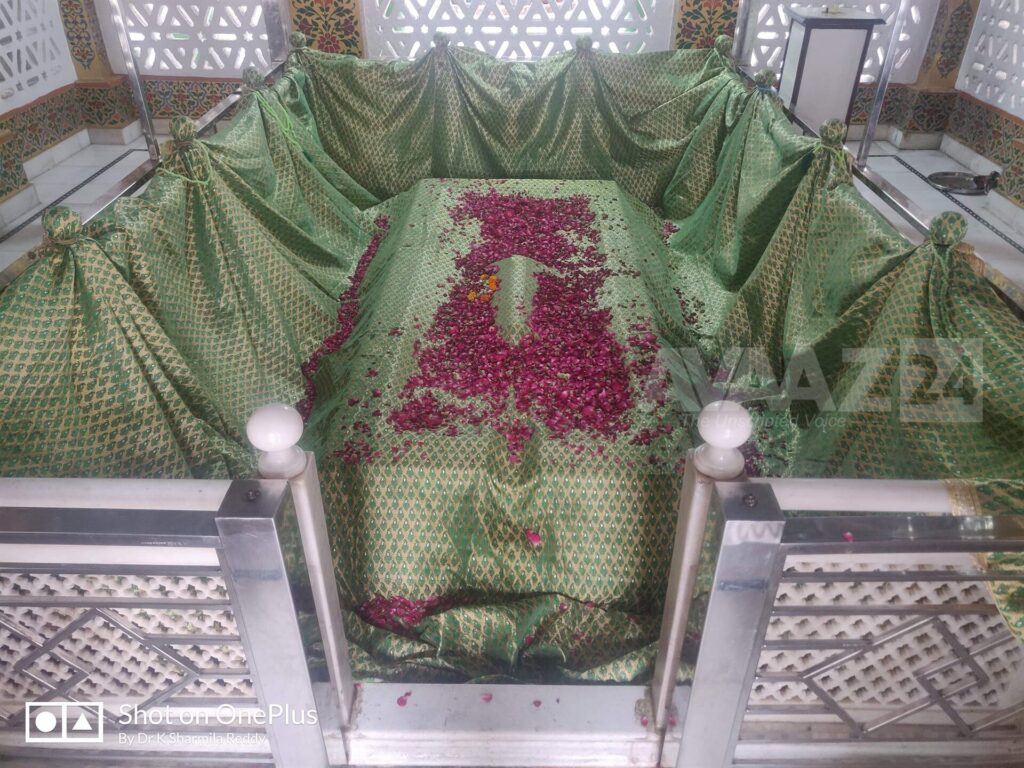 The door to the grave is a wooden one with beautifully carved lamps, indicating his title "Roshan –e- Chirag"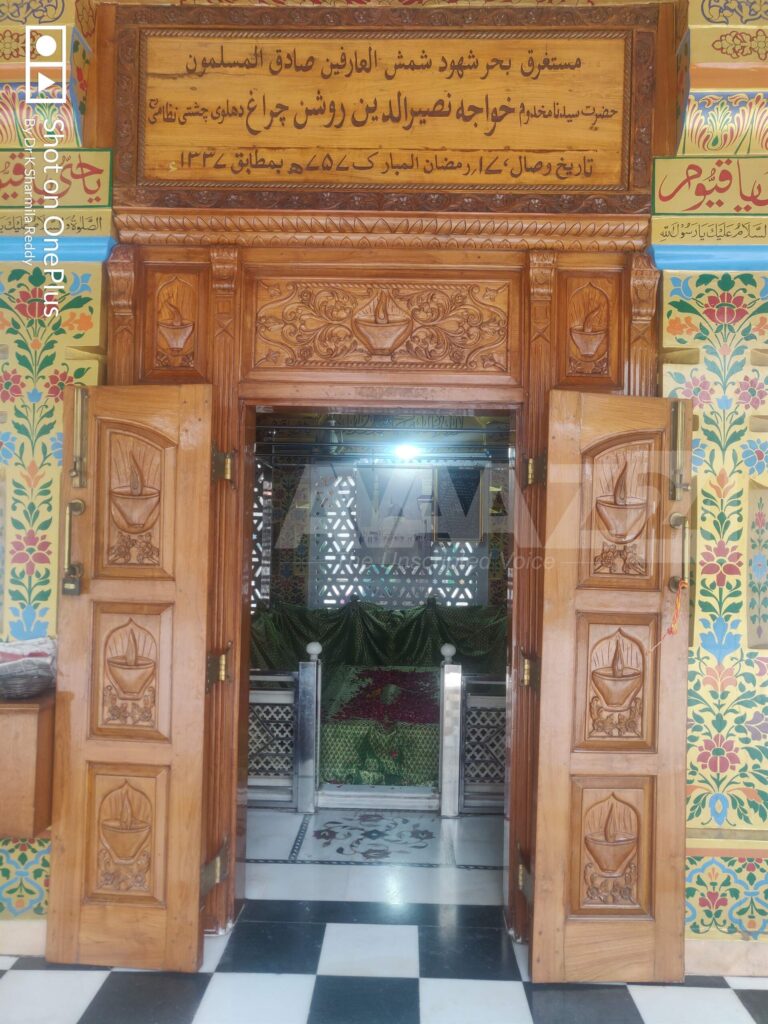 Courtyard:
The entire compound is painted in white and a very light pastel green. The courtyard is laid in white marble.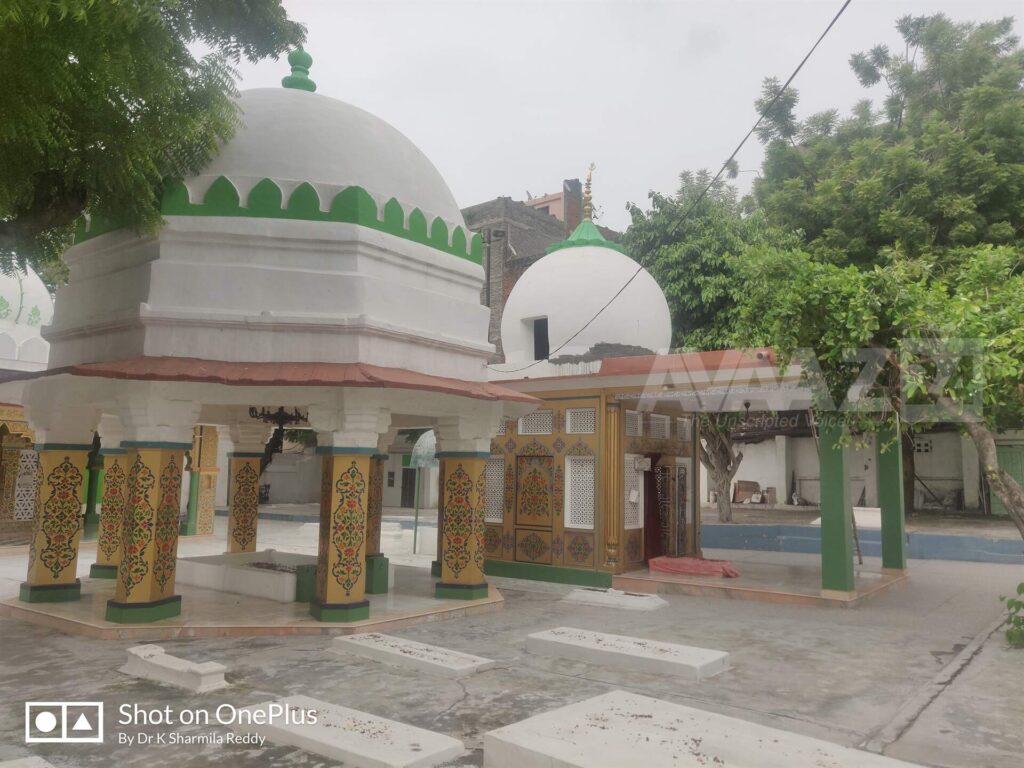 There are several tombs scattered in the courtyard belonging to the family of Hazrat Nasiruddin. Some are outside in the open courtyard and some are inside pillared pavilions.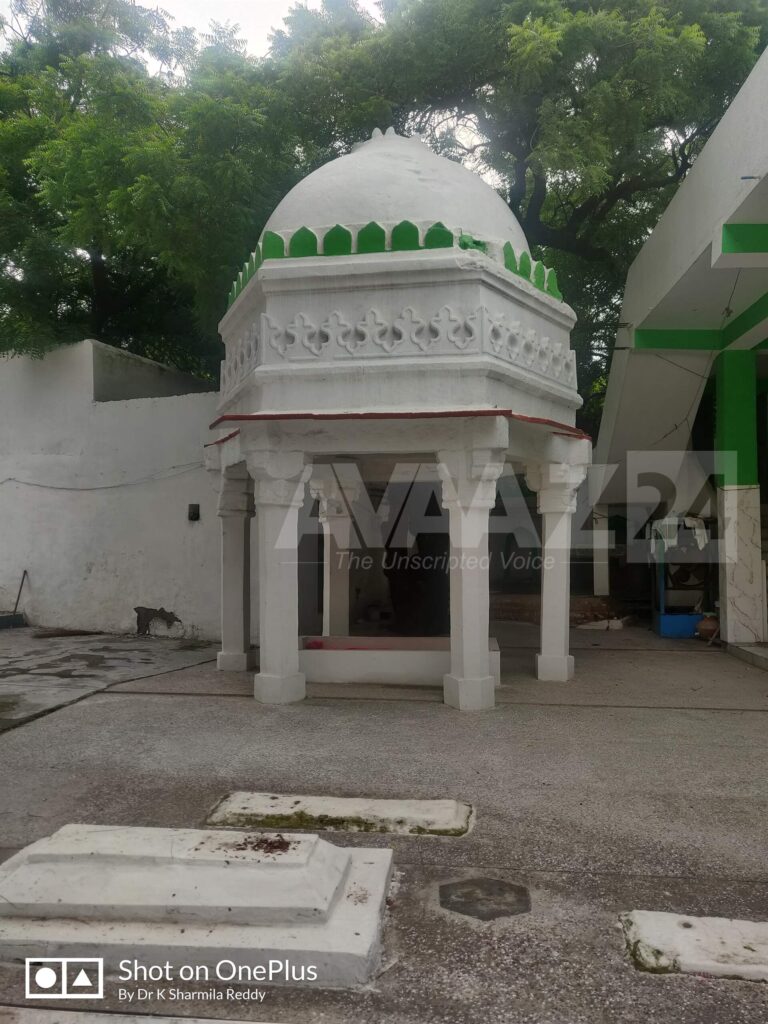 Majilis Khana:
This Assembly hall was constructed by the Mughal Emperor Farrukhsiyar. (Reign AD 1713-1719). It is used to recite 'Namaaz' 5 times a day.
It is also called as 'Mahfil Khana' or the 'Symposium Hall'.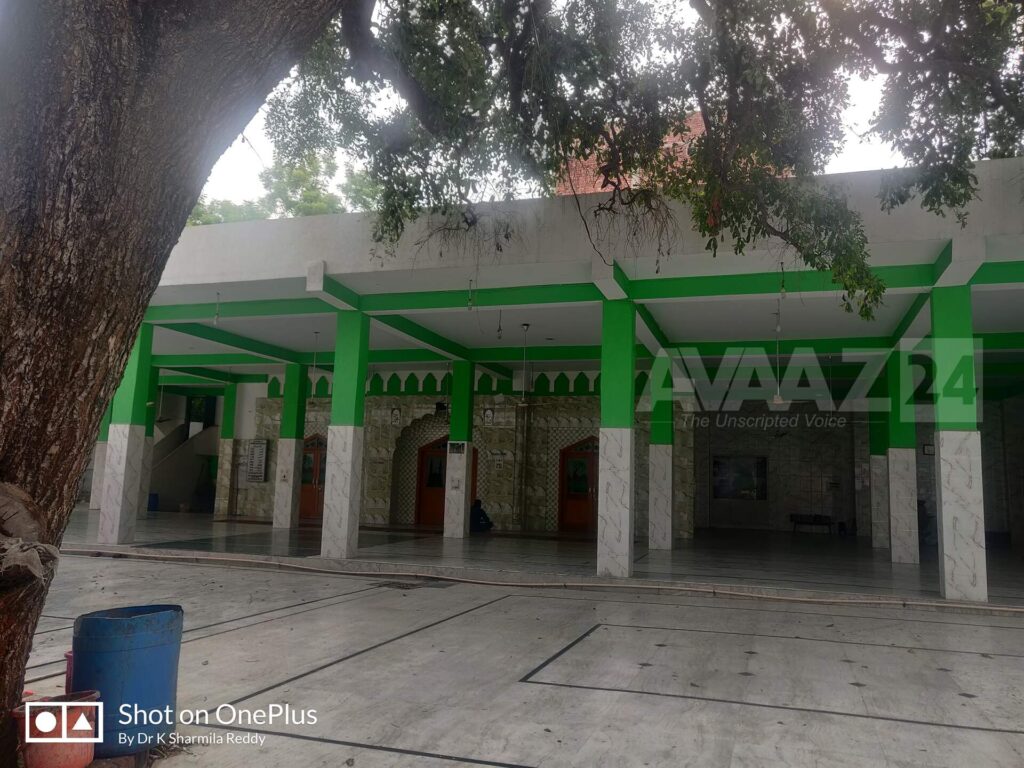 Gates to the Dargah
:
The Dargah initially had two gateways when constructed.
Today, there is one outer wall and four different gates which enclose the whole structure.
The present day village wall are built under the aegis of the Mughal emperor Muhammed Shah 'Rangeela' (reign AD 1719–48).
Out of the four gates, the Eastern Gateway  is called as 'Taketh Darwaza'.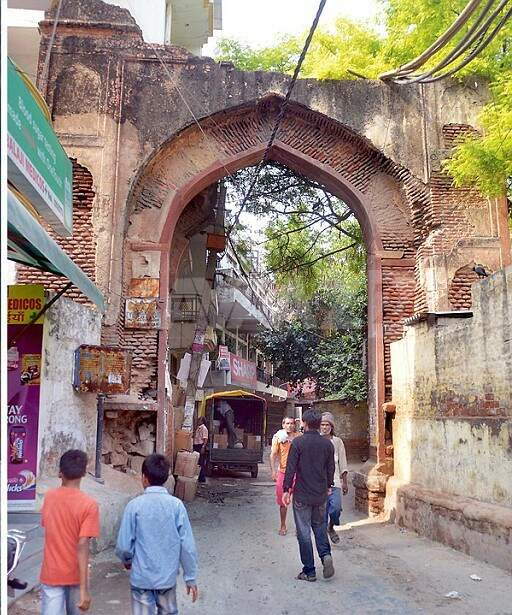 Fall of the Chishti Order
Chisti order which began with Khwaja Moinuddin Chishti in 587 AH came to its end with the demise of Nasiruddin Chiragh Delhi.
Read more about Chishti order of Sufism in previous article of this series- Hazrat Nizam-ud-din Dargah in Jahanpanah.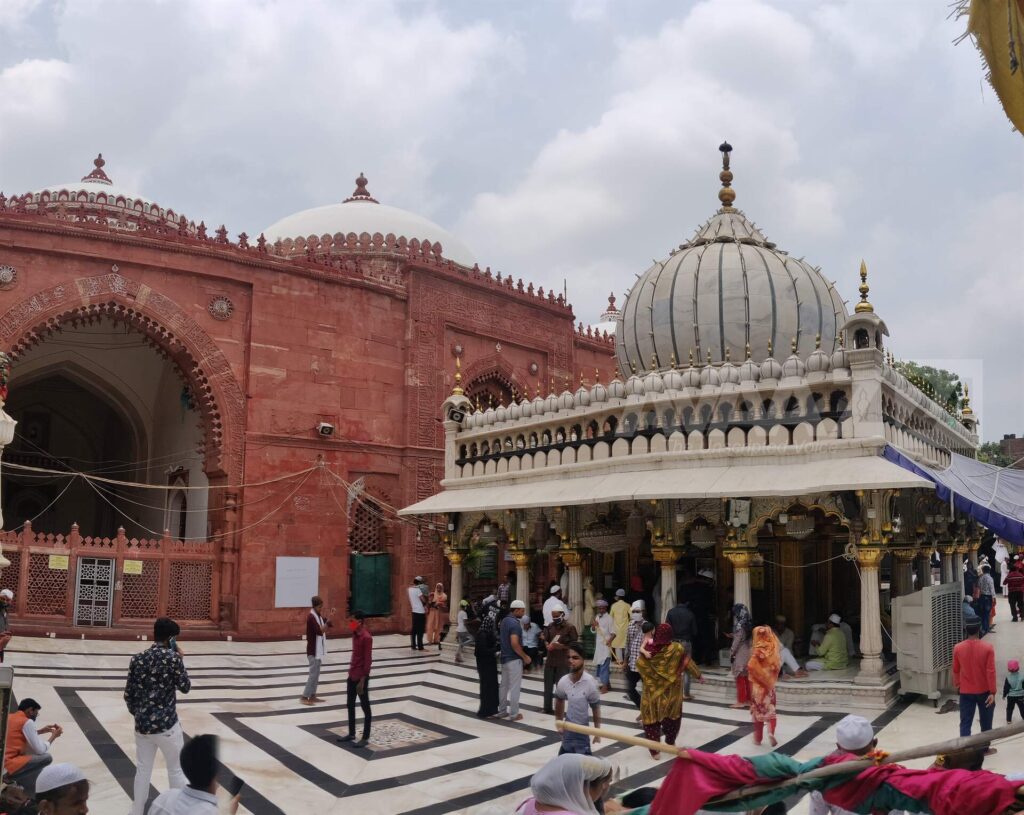 Professor Khaliq Ahmad Nizami in Tarikh Mashaikh-e-Chisht gives the reason for fall of Chishti order in Delhi.
Muhammad bin Tughlaq's political failure of shifting the capital from Delhi to Daultabad [Devagiri] was also a cultural failure.
Delhi, which was the centre of Islamic learning, which envied the cities of Baghdad, Jerusalem and Constantinople, where at every corner was a madressa or khanqah, became deserted.

This dislocation at the headquarters of the Chishtia order, in due course disrupted the highly integrated organisation of the order.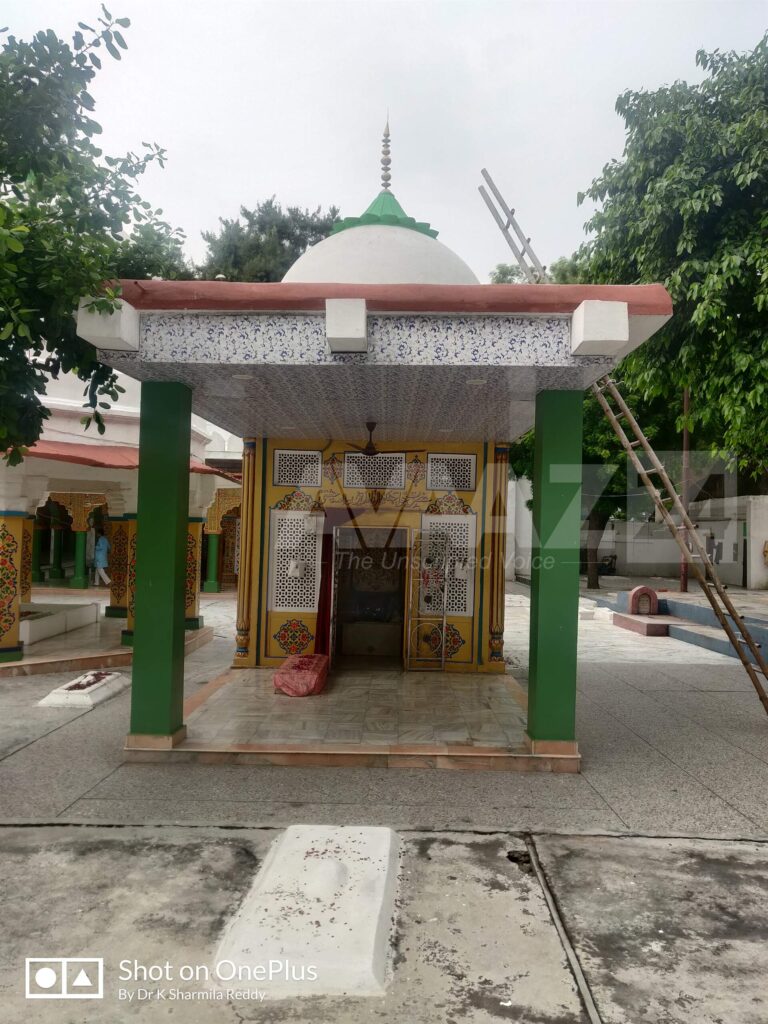 After the death of Nasiruddin Chirag Delhi, the many provincial khanqahs such as Ajodhan, Multan and Gujarat could no longer look towards the central point of Delhi for instruction.

Eventhough new Khanqahs were established in provincial areas, eventually they lost cohesion with each other.

Many of the silsila's younger generation joined hands with the ruling elite and spent most of their time in frivolous engagements.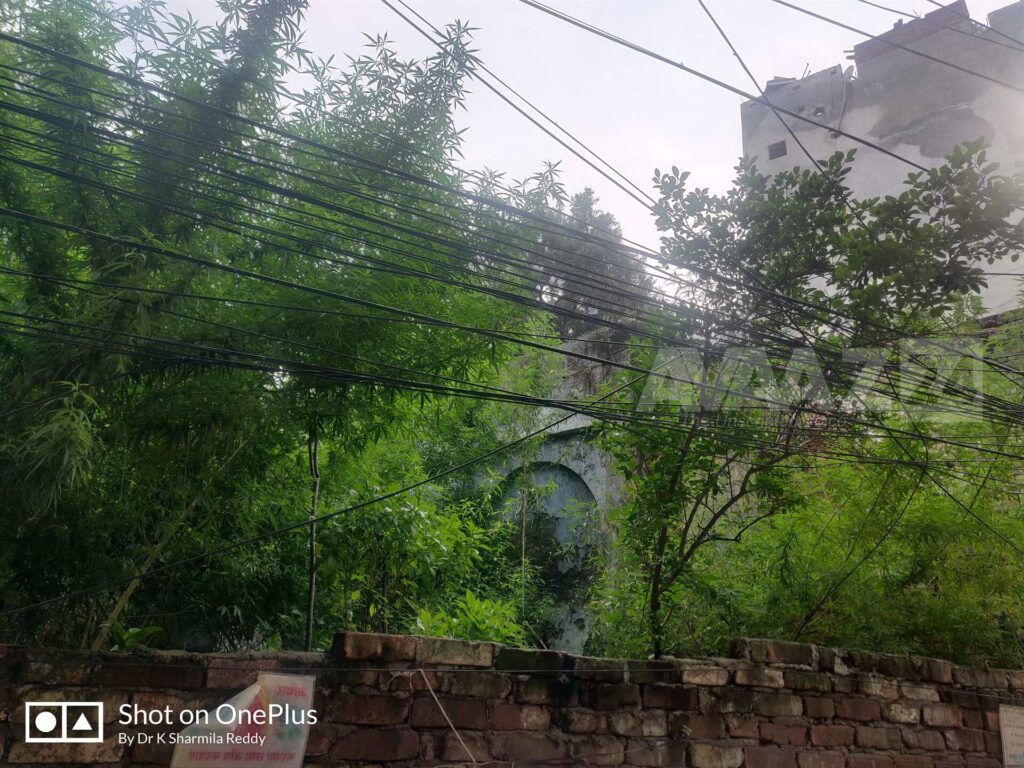 Successor of Chiragh Delhi:
Due to his foresight, Chiragh Delhi realised the inevitable fragmentation of the Silsila after his death, and thus he appointed no khilafa-e-azam or successor.
At the time of his death, he said that none of his Mureeds would be able to carry the weight of leadership of so mighty a silsila on their shoulders, especially since Delhi had been ruined by Muhammad Tughlaq.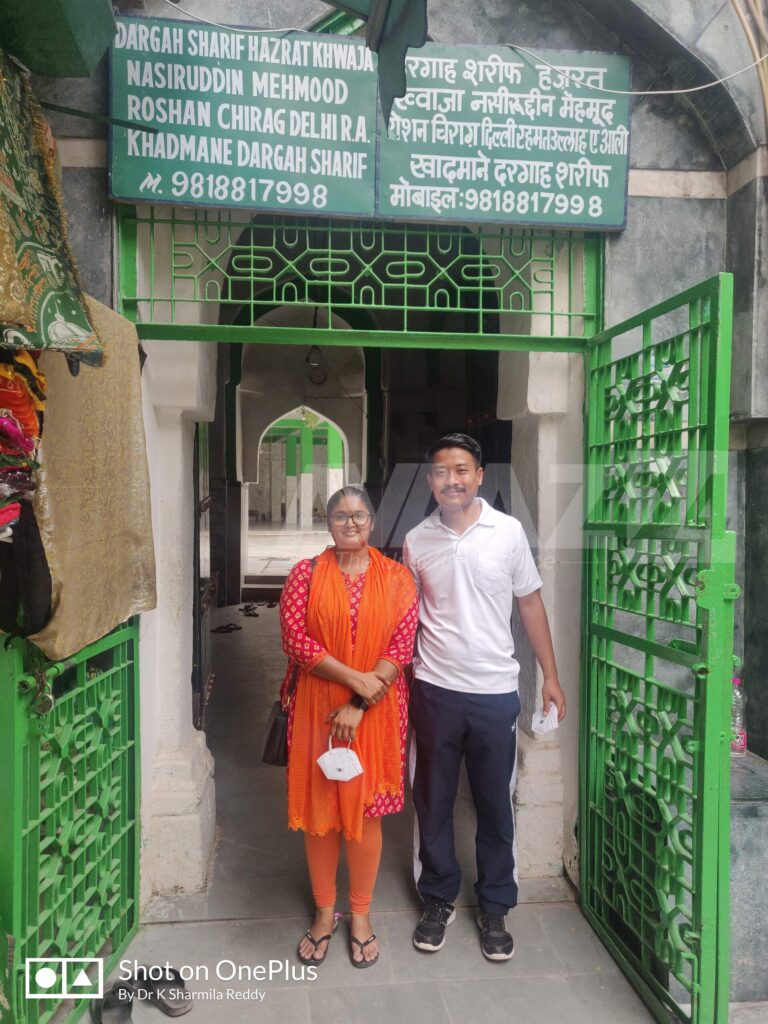 Bande Nawaz Gesu Daraz– Muhammad bin Yousuf Al Hussaini 
But after his death, one of his favourite disciples, a gentle man with long hair locks ~ "Gesu Daraz" named Muhammad bin Yousuf Al Hussaini rose as next successor.
In 1400, he moved to Daultabad owing to the attack of Timur on Delhi. He took Chishti order to South India.
Eventually, he settled in Gulbarga at the invitation of Bahmani Sultan Taj ud-Din Firuz Shah.
He was the last prominent Sufi Saint of Chishti order.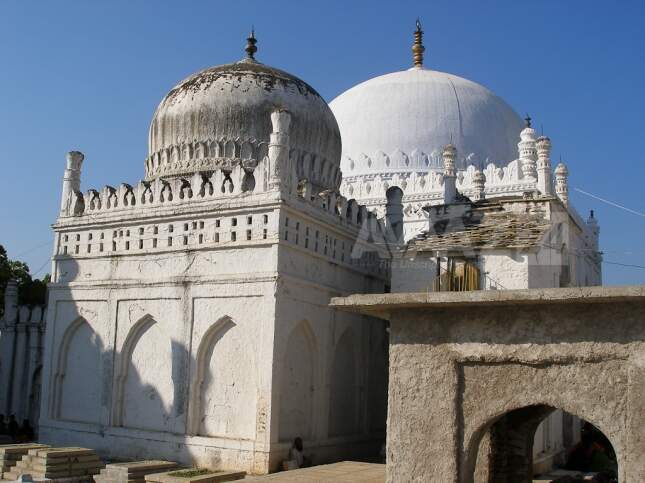 Tomb of Bahlul Khan Lodi
A humble tomb of the founder of Lodhi dynasty, Bahlul Khan Lodhi (reign 1451-89) lies close to the Chiragh Delhi Dargah in the present day locality of 'Chirag Delhi'.