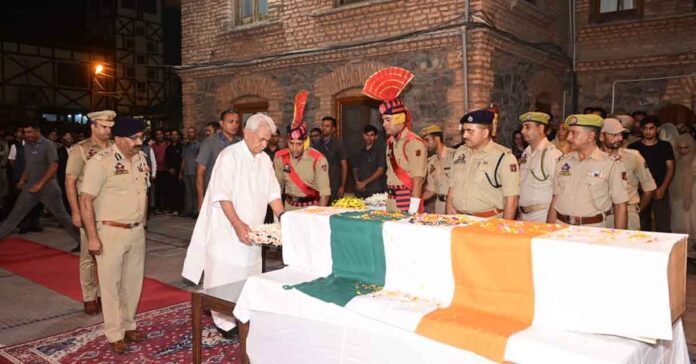 On Wednesday, Two officers of the Indian Army and a cop lost their lives in an encounter between security forces and terrorists in Jammu and Kashmir's Anantnag.
Colonel Manpreet Singh, Major Ashish, deputy superintendent of J&K Police Humayun Bhatt were critically injured. Later, three died in the hospital while undergoing treatment, Army officials said.
According to a source, The operation against the terrorists began on Tuesday evening in the Garol area but was called off during the night.
In the morning on Wednesday, the attack on terrorists resumed after information started trickling that they were spotted at a hideout, the officials said.
Jammu and Kashmir Police had posted on social media handle that an "encounter has started in Kokernag area of Anantnag. Officers from the Army and JKP were injured.
The operation was underway for the last three days, it was a joint operation of the Indian Army, Jammu Kashmir police, and CRPF. Two terrorists were killed. One of our jawans lost his life and four jawans were injured and their treatment is going on…This is a great achievement for the forces and this could be a step to restore peace in the area…This is the toughest terrain of district Rajouri & there were operational difficulties as well but this was handled professionally…" On Rajouri encounter, DIG Rajouri Poonch range, Dr Haseeb Mughal says.
STORY | Security personnel, who were critically injured in a gunfight with terrorists in Anantnag district of Jammu and Kashmir, airlifted to Srinagar from the encounter site.

READ: JK: Army colonel, policeman critically injured in gunfight with terrorists

VIDEO: pic.twitter.com/ro81TfdT7A

— Press Trust of India (@PTI_News) September 13, 2023
#WATCH | On Rajouri encounter, DIG Rajouri Poonch range, Dr Haseeb Mughal says, "…The operation was underway for the last three days, It was a joint operation – Indian Army, Jammu Kashmir police and CRPF. Two terrorists were killed. One of our jawans lost his life & four jawans… pic.twitter.com/gRyhhOaKlv

— ANI (@ANI) September 13, 2023
ALSO READ: Pro-Hindu activist Chaitra Kundapur arrested for cheating case