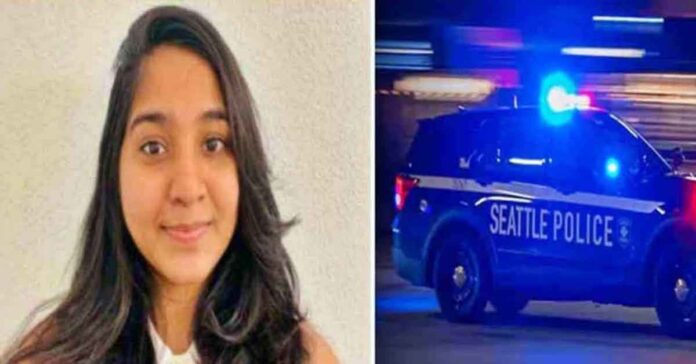 An Andhra student died in the US after she was hit by a police car while crossing the street in the city of Seattle.
The victim was identified as Jaahnavi Kandula, a 23-year-old girl from Andhra Pradesh. She was pursuing her masters in Seattle, USA. She was killed on 23 January 2023. After she was hit by a police patrol car, which was being driven by police officer Kevin Dave in Seattle.
However, nine months after her death, reports of a purported video showed a police officer joking and laughing over the incident. An audio captured by the body camera of the responding police officer. He says, her life had "limited value" and has been released recently.
In a tweet, the Indian Consulate in San Francisco on Wednesday said that recent reports in media about the handling of Ms Jaahnavi Kandula's death in a road accident in Seattle in January are deeply troubling. "We have taken up the matter strongly with the local authorities in Seattle and Washington State comprising of senior officials in Washington DC.
We are looking forward to a thorough investigation and action against those involved in this tragic case. The Consulate and embassy will continue to follow up on this matter with all the concerned authorities".
Recent reports including in media of the handling of Ms Jaahnavi Kandula's death in a road accident in Seattle in January are deeply troubling. We have taken up the matter strongly with local authorities in Seattle & Washington State as well as senior officials in Washington DC

— India in SF (@CGISFO) September 13, 2023
Andhra student died in US
Jaahnavi Kandula, 23 from Andhra Pradesh, India studying masters in Seattle, USA.

In January, she was killed by a police cruiser going 50 MPH through an intersection. Hours later, the VP of the police union was laughing about her death on a phone call. @USAmbIndia… pic.twitter.com/AUmT5d5gHM

— Indian Tech & Infra (@IndianTechGuide) September 13, 2023
ALSO READ: J&K: Three army soldiers killed in Kulgam encounter