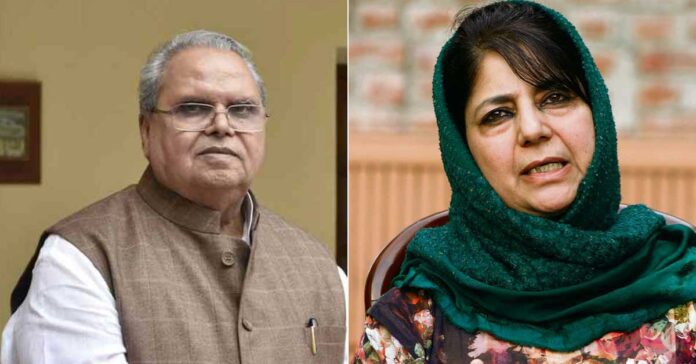 In an interview with Karan Thapar, J&K former Governor Satyapal Malik disputed charges on former CM Mehbooba Mufti that he denied her an audience to lay a claim to lead the government on dissolvings the J&K Assembly in 2018.
In his words, "I was not in contact with him (Modi)," he explained. There was no one in my office to operate the fax machine or anything else. I was in Delhi at the time. I arrived at 4.00 PM. My chief secretary and our intelligence head arrived and informed me that there is a majority and that if they submit the letter, I will administer the oath…. But what exactly is the rule? Twitter is not where governments are formed."
"I dissolved the Assembly after 8.00 PM," Malik stated. She had the entire day to herself. There are three flights every day between Srinagar and Jammu. 'We are heading to Delhi and will decide tomorrow,' stated Farooq Abdullah Sahab's party. Ghulam Nabi Azad has not said unequivocally that they will support. Only Mehbooba claimed to have a majority.
"There was a lot of horse trading going on." 'Our MLA's are being kidnapped, we are being pressured,' she had said and requested that the Assembly be dissolved quickly. Farooq used to whine. I am not liable for that. She is, of course, lying. "She never called me during that time," he explained.
ALSO READ: Former Governor Satyapal shocking reveals and neutral answers about BJP government