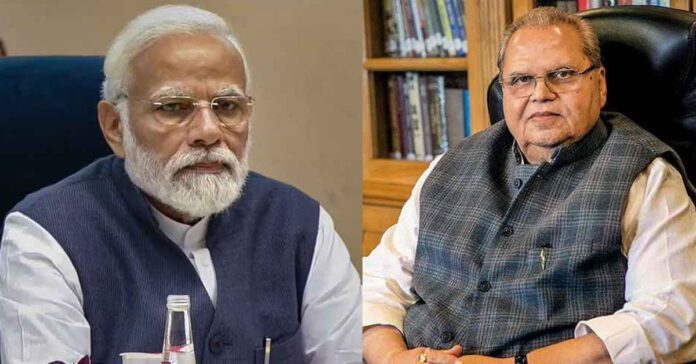 Former J&K Governor Satyapal Malik who closely worked with PM Modi led BJP Government was interviewed by Karan Thapar for The Wire. This video is just out after PM's Economic Advisor Sanjeev Sanyal and Journalist Palki Sharma was interviews on podcast 'Beerbiceps'. There were many revelations made by him about Pulwama attack, actions taken by Modi for corruption cases under his nose, on article 370, corruption in J&K, on Adani scandal, and on Rahul Gandhi.
"Pulwama Attack is absolutely our mistake"
The country is shocked to hear Satyapal Malik's statement on Pulwama. Ex-Governor said that "I told the Prime Minister it was our mistake, and that the CRPF had asked for aircraft ahead of the Pulwama tragedy, and the request was denied by the Union govt which costed 40 brave lives". He said that only 5 aircrafts were to be given to soldiers. But the PM asked me to keep quiet about it. Even Ajit Doval silenced me on this matter.
Moreover, he feels that it is just not that he admitted that it was the system's failure, including himself, that" multiple security lapses on the route of the convoy which had eight to ten link roads but was unmanned and not sanitized during the convoy's passage. He said that there was a car travelling in the area with 300 Kgs of RDX explosives in the village for almost 2 weeks and he and his team were not able to figure it out. He claimed that this attack was used for their agenda. They blamed Pakistan for this attack and used it for votes.
"Actions taken by Modi for corruption cases"
He said that  "The Prime Minister is not much concerned about corruption." Malik said he had personally demonstrated to Prime Minister Modi about low-level corruption. Three days later, the Prime Minister personally contacted him and told him that Malik's information was incorrect. "I told him (Modi), this man himself is taking money sitting at a Chief Minister's home," Malik claimed after learning about Modi's sources. I was eventually transferred a week later. So, how can I trust the Prime Minister is concerned about corruption?"
While clearing Modi of any direct involvement in corruption, Malik stated, "Those involved in corruption were close aides of PM." I informed him that the name of your office is being utilised for corrupt practises, which Amit Shah subsequently inquired into, but it made little difference to Modi." Malik asked for an example of Prime Minister Narendra Modi putting an end to corruption.
"In Goa, even small children will tell you how the Goan Chief Minister is," he claims of the BJP's corrupt state administrations. Malik further stated that he was hustled out of Goa in a private 'raddi' (scrap) jet after only nine months as governor due to his growing popularity and sentiments.
However, the Prime Minister had supported him when he cancelled the "dodgy" projects in Jammu and Kashmir, he said.
Despite a recommendation for Z+ security and a house for him owing to an alleged threat from Pakistan, he only has a single constable currently protecting him, Malik said. "Sarkar chahti hai saale ko koi maar de," he said when questioned about the lack of security.
"A Puppet President"
In another event, when he was travelling to meet president, he told that his meeting was postponed. With the help of inside sources, he got to know that the president's appointment list is not a subject of her office. "The President's appointment list is approved by the Prime Minister's Office (PMO)." When Thapar asks if this is an insult to the country's top nominal leader, Malik shrugs and says, "Nothing is impossible here."
According to Malik, only 'third-rated persons' are appointed as governors, whereas the country now needs eligible governors.
He was also questioned about BBC video, Adani scandal and Rahul Gandhi to which he responded that he criticized Modi for the unnecessary steps taken to ban the BBC docu-series on Modi followed by raids. Furthermore, he said that refusing Rahul Gandhi permission to speak in parliament was an unprecedented mistake.
The Adani affair has done significant damage to the Prime Minister and the BJP, and Malik suggests that the PM cut all relations and associations with Adani.
ALSO READ: Unrealistic fear by BJP and Article 370: Governor Satyapal Views