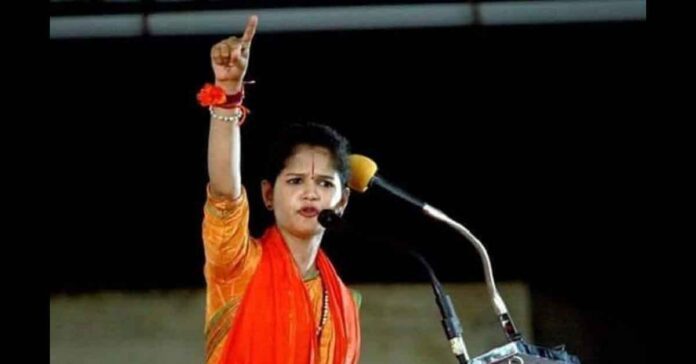 A pro-Hindu activist, Chaitra Kundapur, and her three accomplices were arrested from Udupi Krishna Mutt, on Tuesday, September 12. She was arrested for allegedly cheating a businessman to the tune of around Rs.4 crore in the name of a BJP ticket.
According to news sources, Chaitra Kundapur and her team had cheated a man from Mumbai offering him the Byndoor MLA candidate ticket and taking Rs.4 cr from him.
The incident came to light when a businessman named Govind Babu Pujari filed a complaint at Bandepalya Police Station in Bengaluru. He claimed that during the assembly election held in May. Chaitra and seven others cheated him by promising him a BJP MLA ticket from Byndoor of Udupi district.
Govind Babu stated in his complaint that Chaitra had asked him to contest for the assembly election from a Byndoor MLA candidate ticket. She also said that he would get a ticket as she has high-level contacts in Delhi. The accused woman Chaitra Kundapura had allegedly taken Rs.4 crore from Govinda.
Chaitra and her associate made him believe that the money was for RSS leader Viswanath. And later they said that Viswanath died suddenly, which made the complainant suspicious. When he failed to get the ticket, he asked Chaitra to return his money. Babu had claimed that the accused refused to return his money.
Based on the complaint, the CCB police from Bengaluru arrested Chaitra Kundapur and two others in Udupi.
Chaitra kundapur Arrested
Pro- #Hindu activist Chaitra Kundapur and her associates arrested for cheating a business man with Rs 4.16 crore. They had assured to get him a @BJP4Karnataka ticket to contest from Byndoor constituency. pic.twitter.com/ffXrQsTQKG

— Express Bengaluru (@IEBengaluru) September 13, 2023
ALSO READ: Monu Manesar arrested by Haryana police, watch CCTV footage