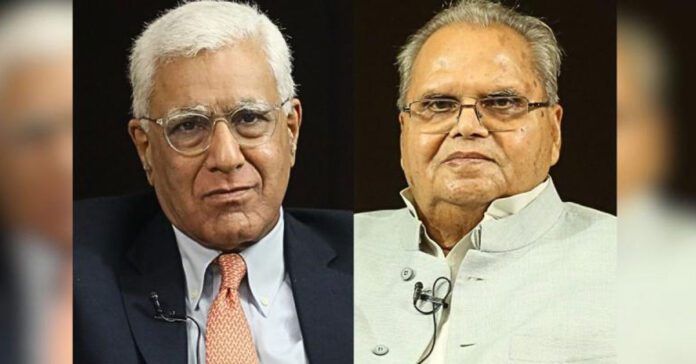 Ex-Governor Satyapal interview with journalist Karan Thapar created ripples across the country speaking farmers issue, Adani scandal and how BJP is treating Muslims. He named several politicians and spoke about their roles. Most importantly, he spoke about the farmers issue, Adani scandal and how Muslims are being treated by the BJP government.
Mr. Mallik spoke about several issues. he said, " By not allowing Gandhi to speak, the speaker has done a disgraceful thing. Nothing like this has ever happened in a parliamentary democracy."
Satyapal Malik on Adani controversy
Furthermore, he added that,  when it came to the Adani controversy and Rahul Gandhi's stinging questions, Modi didn't have a single word to defend himself. On the contrary, he noticed that the issue has spread to villages, which might do the BJP considerable damage in the 2024 elections. He said, "Thanks to Adani, the BJP will be reduced to an unrecognizable state." However, this can be possible, only if the opposition can field a single candidate against the BJP.
Ex-Governor Satyapal on Farmers issue
Earlier, when Malik had made statements critical of the Centre's handling of the farmers' agitation when he was the governor of Meghalaya. Subsequently , he condemned racist remarks and dog-whistling against Muslims by BJP ministers at the Centre and in the states.
According to Satyapal Malik, the Adani-Hindenburg controversy would be the Modi government's Achilles heel. But for this the Opposition should unite for the 2024 Lok Sabha elections.
"It's (the Adani-Hindenburg scandal) an election issue." If they (the Modi government) do not improve, the Adani (gate) will destroy them. If the opposition has a one-on-one debate, they (the Modi government) will not be rescued. "He (the PM) couldn't say anything in his defence (in Parliament)," Malik remarked.
How BJP treat Muslims
In addition to that, he out rightly criticised the Prime Minister, his cabinet, and the BJP's treatment of Muslims. "They are mistaken in believing that India can survive by excluding its Muslims." "Their trust should be earned," he added, adding that any administration that attempts to alienate any group of people is wrong.
ALSO READ: Former Governor Satyapal shocking reveals and neutral answers about BJP government