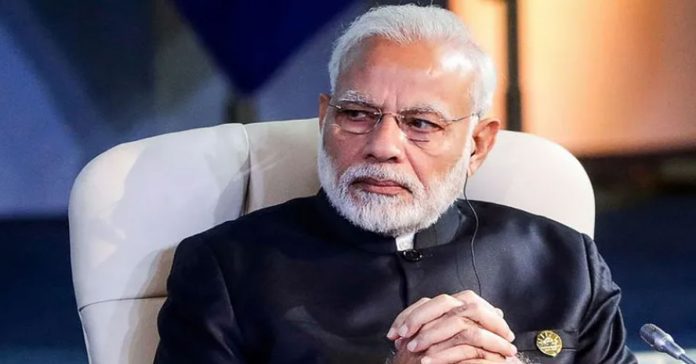 India's most expensive PM Narendra Modi
The lockdown has beaten the migrant workers black and blue and the trauma of millions is indescribable. The fate of the migrants is still not sorted out but the most expensive PM Narendra Modi works on his Rs-20,000-crore project.
1.3 billion of India's population sank into poverty due to the economic fallout of COVID-19. Though the government could not do anything to change the plight of the migrants, and now that people started realizing this, the government has its eyes on liquidating the resources .
Prime Minister Narendra Modi is frequently raised by mentioning his poor childhood.  But the challenge now is to swim through a crisis of the poor Indians to fight against the virus.
260 million newcomers to poverty
The projection of the 260 million newcomers to poverty has been jointly made by the UN Development Programme (UNDP) and the Oxford Poverty and Human Development Initiative (OPHI). India has the highest number of poor globally, identified as those living on less than Rs 150 a day.
Expensive PM's security
The budgetary allocation exclusively for the Prime Minister's personal security has been raised by 11 per cent, to Rs 592.5 crore for the current year, or Rs 1.62 crore a day. This represents a doubling of the budget from Rs 289 crore in 2014 when Modi came to power and when this allocation covered the previous Prime Minister.
His family and other select politicians whereas the questions about social security and food security for those who have been penalized by the lockdown due to COVID-19 is still unanswered.
PM's Special Protection Group
Not to forget the expenditure of our Prime Minister, which is Rs 592.5 crore covers the upkeep of the elite 3,000-strong Special Protection Group (SPG) dedicated to the incumbent Prime Minister.
Some 500 of them protect Modi's official residence round the clock, armed with FN F2000 NATO bullpup rifles, automatic guns and Glock 17M duty pistols.
PM's need for new house 
Now the Prime Minister, feels that the Parliament needs to have a face lift and a grander setting and a new outstanding house for himself. He has put forth his proposal as if it is a part of his initiative for the country.
Face lift of Parliament House
The most ambitious government projects is estimated to cost Rs 20,000 crore.It involves the construction of a new Parliament House to replace the current iconic colonnaded structure built in 1931, as also 10 new government office buildings that will replace existing ones earmarked for demolition.
The imposing and symmetrical North and South Blocks, which house the Prime Minister's Office and some key ministries, will become museums.
Makeover of Varanasi
Modi's another dream project has been a similar 'makeover' of his parliamentary constituency, the living heritage city of Varanasi. Under the Rs 600 crore plan to make this ancient holy city on the banks of the Ganga river more 'tourist-friendly' and easily accessible to visiting dignitaries, hundreds of ancient temples and heritage residences and shops, some up to 300 years old and meandering along idyllic lanes and by lanes, have been demolished, displacing thousands of townspeople.
Bullet train Project
Yet another brainchild of the Prime Minister has been the 'bullet train project' connecting Ahmedabad, the financial capital of Gujarat, that he was chief minister of, from 2001 to 2014, and Mumbai.
Work on the Rs-1.08-lakh-crore project began in 2017 and once complete, the 508-km distance was expected to be covered in two and a half hours, compared to the present six and a half.
Expensive Clothes
Modi also frequently recalls his 'ascetic' roots, typified by renunciation and abstinence. "I quit everything very early in life…and my training was such that I gave up all ties," he says.
But while he disowned his family, in a meeting with then visiting US President Barack Obama shortly after he became Prime Minister, Modi turned out in a monogrammed pinstripe bandhgalasuit that subsequently entered the Guinness World Records as "the most expensive suit sold at an auction" (for around Rs 4.3 crore).
PM's Love for German goods
Thus, when in his latest address to the nation on May 12, Modi urged people to seize the opportunity presented by COVID-19 to become self-reliant and shun foreign goods so that Indian businesses would prosper, the social media erupted with derision, generally commenting: "There is a man on TV who wears only [German handmade] Maybach sunglasses and [Swiss-made (now American)] Movado watches and writes only with [German] Mont Blanc pens, and who is driven only in [German] custom-made bullet-proof BMW cars who is telling us that we should buy local."
Most expensive plane for the PM
Besides, while previous Indian governments requisitioned a B747 aircraft from Air-India's fleet for air travel by the Prime Minister, President and Vice President, the Modi government has ordered two new B777-300ER planes from Boeing at a cost of Rs 8,458 crore for their exclusive use.
Their delivery scheduled for July, these aircraft will have state-of-the-art missile defence systems that are supposed to render them as safe as the US President's Air Force One B747-200B.
Expensive foreign visits
And while the fate of millions of the traumatised migrant workers still lingers, the Union Minister of State for External Affairs, V. Muraleedharan, informed the Lok Sabha on May 5 that the 59 overseas visits made by the Prime Minister between 2014 and a year ago have cost the state exchequer Rs 446.52 crore. He added that the amount was set to rise as bills for Modi's additional visits in the last one year were yet to come in.
ALSO READ: COVID-19: Humanity will Overcome, Says PM Narendra Modi