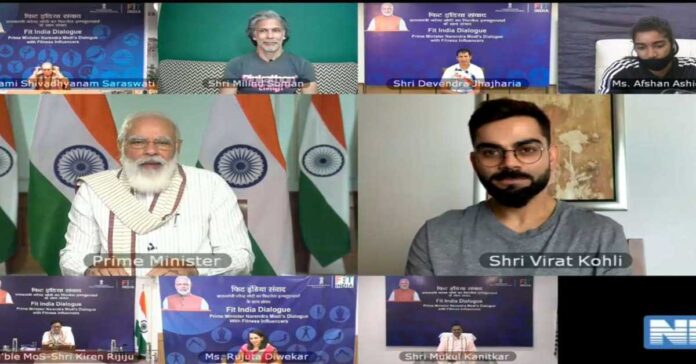 PM Narendra Modi had a free -willing virtual chat with fitness influencers on the first anniversary of Fit India movement on Thursday.
"I heard these days there is a yo-yo test for the team, what is this test?" asked Modi during the virtual interaction held to mark the one-year anniversary of Fit India Movement. Modi also asked if Kohli has to pass the test or whether he is spared"
Kohli replied: "I'm the one who goes to run first and this is the condition that if I fail, I am also not available for selection. It is important to set that culture and it will lead to an improvement in overall fitness levels."
I started with fitness to improve my game. But now i can miss practice but feel terrible if i miss activity – Kohli said.
Paralympic athlete Devendra Jhajharia and footballer Afshan Ashiq also spoke at the event. PM Modi launched 'Fit India Age Appropriate Fitness Protocols' during online Fit India Dialogue.
ALSO READ: Modi or Bilkis – TIME's Most Influential People of 2020 List