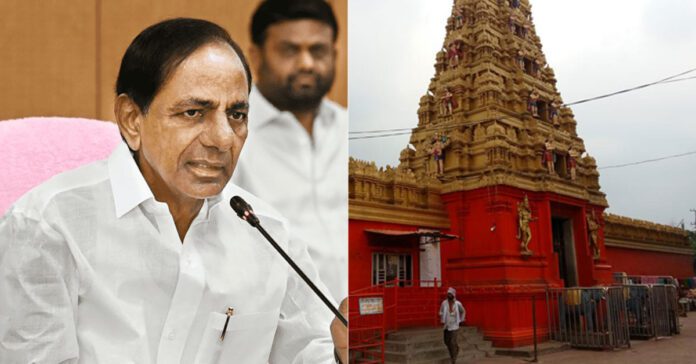 Telangana Chief Minister KCR to spend Rs.1,000 crore to revamp the Kondagattu temple dedicated to Lord Hanuman in Jagtial district.
The 300-year-old Kondagattu temple is located approximately 200 kilometres from Hyderabad. It is a famous tourist site, particularly before embarking on new endeavours or when their wishes are granted.
The move comes ahead of the state's Assembly elections, in which the ruling Bharat Rashtra Samithi (BRS) faces vigorous opposition from the BJP. It is trying to necessitate the BRS to balance off its perceived "pro-Muslim" stance.
The CM ordered that the lush forest surrounding the temple be preserved. However, a 750-800-acre development area is planned. Apparently, negotiations with authorities have begun. "It may be similar to the Bandipur sanctuary in Karnataka," KCR stated.
CM KCR announces 1000 crore to Kondagattu temple
#Telangana CM #KCR's another massive temple town project- renovating Kondagattu Anjaneya (Hanuman) Swamy temple and surrounding area. 'No dearth of funds, can allocate even 1000 crore rupees for the project,' CM said today after he visited temple and inspected the area. #BRS pic.twitter.com/9528fjCWPY

— Rishika Sadam (@RishikaSadam) February 15, 2023
ALSO READ: Hyderabad: Pedestrian footpaths encroached by Vendors near metro stations