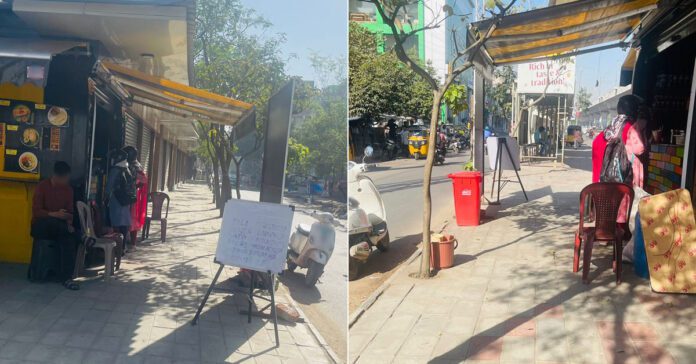 Pedestrian footpaths are encroached on by vendors at Hyderabad metro stations. It is a good initiative taken up by the Greater Hyderabad Metro Corporation (GHMC). It installed many stalls and small stores below the metro lines. Unfortunately, these are creating problems for the pedestrians who are walking on the footpath.
A visual caught in the morning at the JNTU metro station where a sidewalk vendor recently started his business and encroached the pathway with chairs and boards. This blocks the pedestrian's pathway and makes it difficult for the public to move.
During the peak hours, the pedestrians are forced to walk on the road, which can pose a significant risk to safety, especially when the roads are filled with heavy traffic.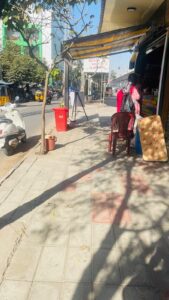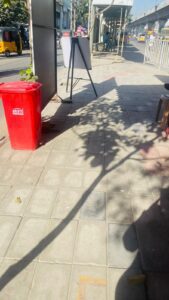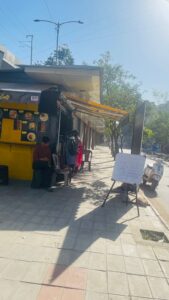 Who are Sidewalk Vendors
Sidewalk vendors are small businesses that operate on sidewalks or footpaths, these are typically seen near metro stations, bus stations and at busy streets in the city. They sell low cost-goods such as food, clothing, books, accessories and small household items. It offers a range of benefits to customers, including affordability and convenience.
These shops offer easy access to goods and services to the public and will generate employment opportunities for small entrepreneurs.
Every coin has two sides; likewise, these sidewalk vendors have both positives and negatives with their business models. However, they create some problems for the public walking on that lane.
Problems with Side Walk Vendors
Sidewalk vendors are usually located on busy streets, metro and bus stations. Hence it is getting difficult to many pedestrians to walk in that area. Moreover, people walking in wheelchairs are facing these issues.
These shops often lack sanitisation facilities which may create health-related problems. It also spreads various diseases, mainly to those who are buying food and other perishable items.
Safety is one of the major concerns for sidewalk vendors during busy hours and particularly at night time.
The challenges must be addressed by the authorities to ensure safe public mobility and well-being of shoppers and nearby residents.
ALSO READ: Tihar Jail- Most preferred jail for hardcore criminals