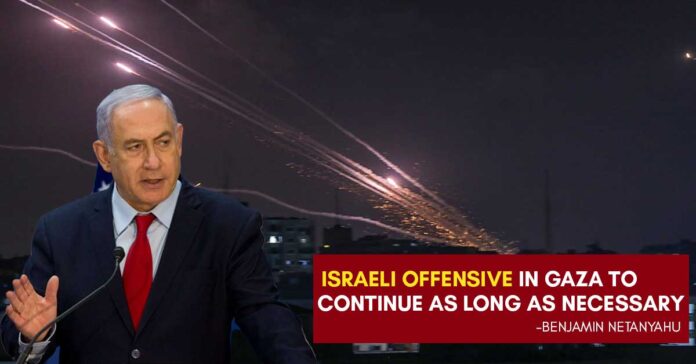 Israel's Prime Minister Benjamin Netanyahu, blamed Hamas for starting violence by firing rockets at Israel last week. He said that Israel will continue to strike in Gaza. It is going to be offensive as long as necessary. Moreover, he said that Israel will not stop the strikes and do it utmost to avoid civilian casualties.
Israel's Prime Minister Benjamin Netanyahu, said in a televised speech, "The party that bears the guilt for this confrontation is not us, It's those attacking us." He further added "We are still in the midst of this operation, it is still not over and this operation will continue as long as necessary"
Unlike Hamas, which deliberately intends to harm civilians while hiding behind civilians, we are doing everything, but everything, to avoid or limit as much as possible harming civilians and to directly strike terrorists instead"
Israel bombed the home of Hamas's chief in Gaza on Sunday. The Islamist group fired rocket barrages at TelAviv. The hostilities stretched into the seventh day. Apparently, no signs of ceasefire.
ALSO READ: Israel's Iron Dome system that intercepted Rockets from Gaza
There was heavy bombardment from both the sides. All through the night the sounds roared. At least four Palestinians were killed in Israeli attack. Many were injured too.
Israelis ran towards bomb shelters when the warning sirens were heard. The siren warned them when a rocket fire blared in Telavi and the Southern part of Beersheba.
ALSO READ: Israel Attack on Palestine: At least 40 killed including one Indian Woman
More than 149 people were killed in the Gaza since the violence began on Monday. The death toll includes children too.