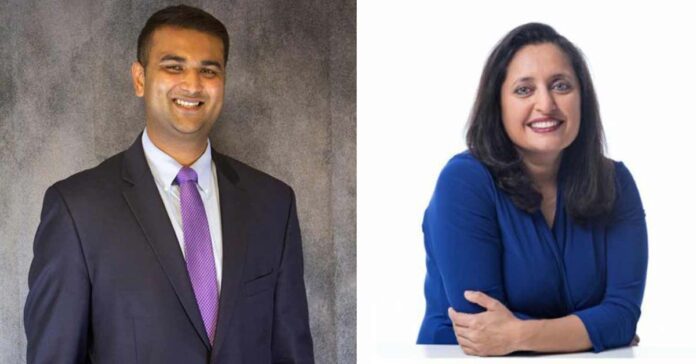 Sonal Shah and Amit Jani who had worked for the Joe Biden administration has so far not nominated two Indian-Americans to any positions yet.
According to reliable sources, it is alleged that the two Indian – Americans who had worked for the Democratic campaign for the US presidential elections, have not been nominated to any positions due to their "RSS-BJP links"
Surprisingly, 20 Indian-Americans have been appointed to the Biden administration, except for these two members of the Democratic party – Sonal Shah, an Obama administration staffer, and Amit Jani, who was part of the Biden campaign team – "have so far been excluded".
However, Democratic party sources said that it was "still really, really early" to claim that Shah and Jani have been kept out of the administration with appointments still being revealed daily.
It is supposed that their exclusion comes after a coalition of 19 Indian-American organisations had sent a letter to Biden in December 2020, saying "many South Asian-Americans individuals with ties to far-right Hindu organizations in India are affiliated with the Democratic party". The groups had suggest to the Biden administration that they should have 'no tolerance' for such persons.
It is said that the letter specifically mentioned Shah and Jani, alleging them to be individuals "who received funding from or made public statements in support of Hindu supremacist groups".
Shah was one of six Indian-Americans who served on the Biden-Sanders "unity task force". Sonal's father the founder of RSS-run Ekal Vidyalaya and also the president of the US branch of Overseas Friends of BJP. She was also criticised for raising funds for victims of the 2001 Gujarat earthquake victims on behalf of the Vishwa Hindu Parishad America.
Jani was named as the Biden campaign's 'Muslim Outreach' coordinator. A decisionwas passed against him because of his family's links to Indian Prime Minister Narendra Modi and other BJP leaders emerged.
In July 2019, Shah joined the presidential campaign of South Bend mayor and Biden's nominee for transportation secretary, Pete Buttigieg.
A Buttigieg spokesperson had clarified that she has nothing to do with such organisations and doesn't intend to do any further too. "My personal politics has nothing in common with views espoused by the Vishwa Hindu Parishad (VHP), the Rashtriya Swayamsevak Sangh (RSS), or any such organisation. I've never been involved in Indian politics, and never intend to do so,"
Among the Indian-Americans who have made it to the 46th US president's administration are Vivek Murthy, Neera Tanden, Uzra Zeya and Samira Fazili.
Secular Indian-American organisations have lobbied hard to keep people who "advance the ideology and political interests of violent, extremist Hindu nationalist groups in India" out of Biden's administration. Perhaps, they were encouraged by Biden's statements on Kashmir and the controversial Citizenship Amendment Act.
The letter written mentions that the 19 organisations describes such people as 'foreign agents' of the RSS and BJP. The letter said that these people who often claim to be anti-Trump, and cite their minority status and the values of the Democratic party. But in India, they stand for Hindu Supremacy and the equivalent of Trumpism.
In India, a peculiar form of identity politics is practiced. They present themselves as spokes people of the ethnic Hindu minority in the United States, whereas endorse the worst forms of Hindu majoritarianism in India. They often use the pretense of fighting American racism, and espouse multiculturalism in the US, but practice a racism of their own in India.
The letter written to the Biden administration requested they should thoroughly screen all individuals offering advice to, lobbying, vying for a position within, or in any way engaging with your administration.
The letter also specified that there should be no tolerance for any individuals who uphold any form of supremacist belief, including in Hindu supremacy, both in India and the US.
ALSO READ: Biden Revokes Trump's NPR-NRC-Like Plan to Exclude Non-Citizens From US Census