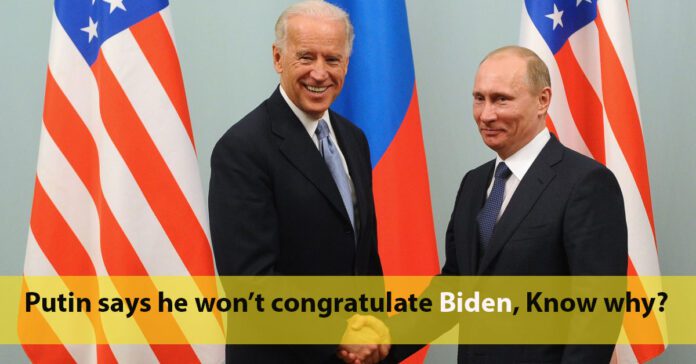 Putin says he will congratulate Biden when the 'legal processes' are completed.
Russian President Vladimir Putin has refused to congratulate Joe Biden upon his election to president-elect on Saturday, because there are still "legal processes" to go through.
The spokesperson of Russia, Dmitry Peskov, said that the country would only recognise a new president on confirmation of "official results," on Monday. He did not give any elaboration on what exactly Russia meant by that.
While speaking to journalists he said that they believe the correct thing to do is wait. He added that President Putin has on many occasions said he would respect any choice the American nation makes.
Former vice-president Biden won over his incumbent Donald Trump in the race to the White House on Saturday. This was confirmed after securing Pennsylvania's crucial 20 electoral college votes.
The relations between US and Russia are already at their worst since the Cold War. They also feel that things are unlikely to get better with a known adversary at the helm.
Vladimir Putin and Joe Biden have a problematic personal realtion. Joe Biden, as the vice President in 2014 claimed he had told Putin he had "no soul."
In the absence of an official response over the weekend, it was left to the Sunday propaganda news shows to outline the likely position. In what appeared to be a deliberate snub, the flagship Vesti Nedeli led with Friday's news of the death of a famous Soviet comic. 
When it did get round to reporting on the US election, it depicted both Mr Biden and Mr Trump as quarrelling candidates accusing each other of fraud. 
ALSO READ:  World Leaders, PM Modi, Congratulate Biden and Harris on Win