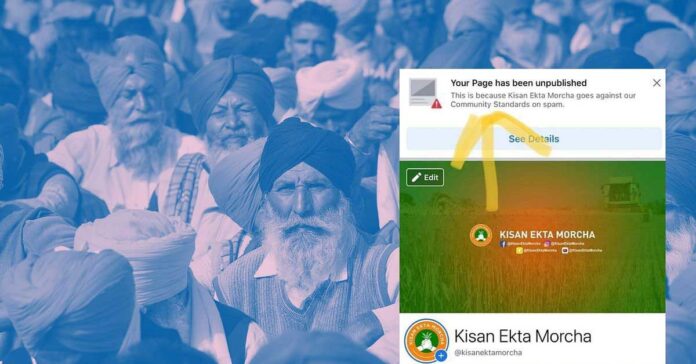 There were many questions being raised about Facebook, the social media giant's alleged bias towards the BJP. Once again FB has proved it.
The page of Kisan Ekta Morcha has been sharing updates on the farmers' protest against the Centre's farm laws . Facebook had deleted the Kisan Ekta Morcha page for few hours. It was restored on Sunday evening. It is not clear for how long the page had been taken away.
At 7.18 PM, a photo was shared by the group on Twitter, that the Facebook page had been unpublished because Kisan Ekta Morcha was against Facebook's "community standards on spam".
"This is what they can do when people raise their voices," Kisan Ekta Morcha said on Twitter. "When they can't beat us ideologically."
Activist Yogendra Yadav said on Twitter that he had been doing a Facebook Live video transmission from the Kisan Ekta Morcha page, when the group got a notification that the page had been unpublished.
The news sparked outrage on Twitter. When FB found that they have to be accountable for this action and found that the news sparked outrage, it quickly restored the page.
Just before 10 pm, social media users noted that the page had been restored. Further details about the episode are awaited.
This action came at a time when questions are being raised about Facebook's alleged bias towards the Bharatiya Janata Party. On December 14, The Wall Street Journal had reported that Facebook did not ban Bajrang Dal, from its platform due to political and business considerations, and concern for employees' safety.
Two other right-wing groups, Sanatan Sanstha and Sri Ram Sena, are also not banned from the platform, as they warned against banning them else the Facebook team would have security issues.
The Bajrang Dal which is a part of the Sangh Parivar, and affiliated to the Rashtriya Swayamsevak Sangh, has been influencing the social media. The RSS is also the ideological mentor of India's ruling party, the Bharatiya Janata Party.
The Wall Street Journal had reported in August that the Facebook India's Public Policy Director Ankhi Das had opposed the idea of removing incendiary posts by BJP leaders. When questioned about it, it was told that this could hurt the company's "commercial interests" in its biggest market, in India. Das stepped down from her position on October 27.
Several other reports of Facebook being biased to the BJP have also emerged. It is also observed that the BJP was the top advertiser on Facebook on "social issues, elections and politics" since 18 months.
ALSO READ: Facebook's leniency to BJP members' communal posts causes row