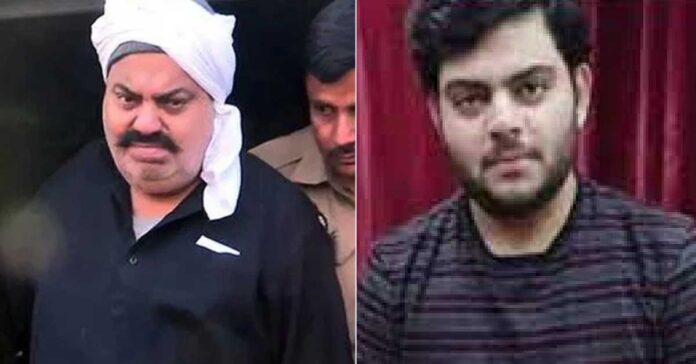 Asad, son of Atique Ahmed, the most wanted in the Umesh Pal murder case, was shot down by Uttar Pradesh police in an encounter near Jhansi on Thursday. Moreover Ghulam, the co-accused in the case also was shot dead in this incident.
According to ANI, the encounter was carried out by a team from the UP Special Task Force. The team is commanded by Deputy SP Navendu and Deputy SP Vimal, and they killed the two when Asad and Ghulam opened fire on the police. Asad and Ghulam each had a 5 lakh reward on their heads.
Asad Ahmed was caught on a CCTV camera during the attack on Pal and has been on the run ever since.
The police claimed they have found sophisticated weapons, new cellphones, and SIM cards" in the two's hands.
False Encounter:
Moments after the encounter, Akhilesh Yadav, Samajwadi Party chief slammed BJP for using 'false encounters' to divert attention away from 'real issues.' Furthermore he added, the encounter should be investigated and culprits should not be spared, Yadav tweeted.
झूठे एनकाउंटर करके भाजपा सरकार सच्चे मुद्दों से ध्यान भटकाना चाह रही है। भाजपाई न्यायालय में विश्वास ही नहीं करते हैं। आजके व हालिया एनकाउंटरों की भी गहन जाँच-पड़ताल हो व दोषियों को छोड़ा न जाए। सही-गलत के फ़ैसलों का अधिकार सत्ता का नहीं होता है।

भाजपा भाईचारे के ख़िलाफ़ है।

— Akhilesh Yadav (@yadavakhilesh) April 13, 2023
Umesh Pal Murder Case:
Atique Ahmed is a politician turned criminal. He is former member of the Indian Parliament and the Uttar Pradesh Legislative Assembly from the Samajwadi Party.
According to Hindustan Times, Umesh pal was a witness of Raju Pal, Bahujan Samaj Party lawmaker, murder case. In this case both Atique Ahmed and his son Asad Ahmed were main accused. Raju Pal was killed outside of his house in Prayagraj.
Apparently, Umesh Pal and two of his bodyguards were killed in broad daylight in Allahabad in February of this year. This caused an outrage in the Uttar Pradesh parliament. Atique is also the prime accused in the murder.
Atique and his associates were accused of kidnapping and torturing Umesh Pal. Previously, the Uttar Pradesh Police killed two of Atique's suspected associates in separate encounters in the Umesh Pal murder case.
ALSO READ: Darshan Solanki suicide case: Mumbai police arrest roommate – Part 1