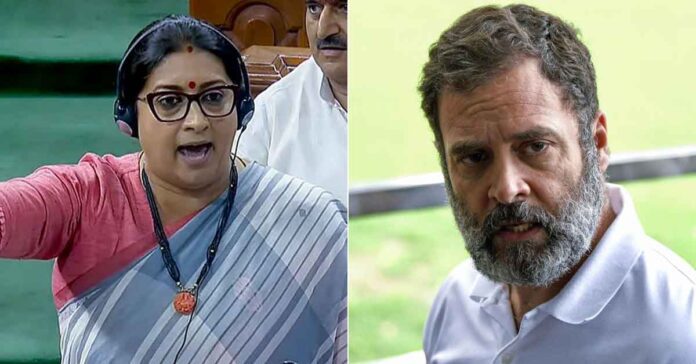 Smriti Irani made an allegation on Rahul Gandhi that he gestured a flying kiss in the Parliament.
Soon after Rahul Gandhi spoke in the Parliament regarding the No-Confidence Motion against the Prime Minister, Smriti Irani stood up to speak. However, even before she said anything she alleged that Wayanad MP Rahul Gandhi gave her a "flying kiss" while moving out of the house.
She said, "This is not the first time that Rahul Gandhi has displayed such disgusting behaviour. Earlier, he was winking and throwing himself at others. Moreover, 21 women MPs wrote a letter to the speaker that Rahul Gandhi has displayed inappropriate behaviour towards Smriti Irani.
#WATCH | Union Minister Smriti Irani on Congress MP Rahul Gandhi

"Never before has the misogynistic behaviour of a man been so visible in Parliament as what was done by Rahul Gandhi today. When the House of the People, where laws are made to protect the dignity of women, during… pic.twitter.com/eOsMl3I5zy

— ANI (@ANI) August 9, 2023
However, Twitteretti has reacted to these remarks by saying that Smriti Irani dreams of RaGa giving a flying kiss.
Dream of Smriti Irani

🤣🤣🤣 pic.twitter.com/Ma8i24WU2T

— Rahul (@rahul_1700) August 9, 2023
Smriti Irani ought to be advised to overcome her fear of Rahul Gandhi as she seeing him every where even in her dreams. And even if Rahul Gandhi blew flying kiss to parliamentarian what's wrong in it. https://t.co/zZfu1k7pHn

— AAPLeaks (@AapLeaks) August 9, 2023
ALSO READ: Rajya Sabha passes Delhi Services bill, 131 MP votes in favour