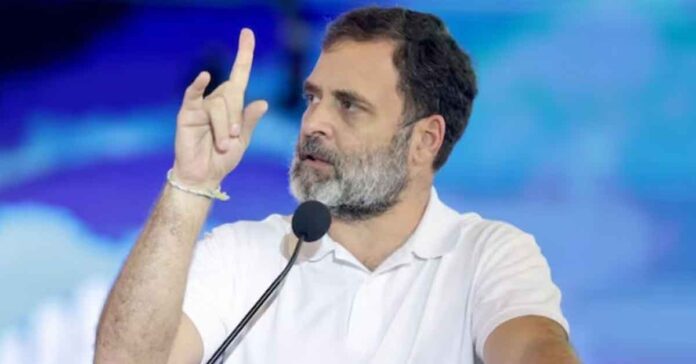 Congress leader Rahul Gandhi for the first time was concerned that Sansad TV focused on Lok Sabha Speaker Om Birla during his address in the Parliament Session.
According to the sources, this is not the first time that this has happened. Earlier, Congress general secretary Jairam Ramesh said Rahul Gandhi spoke for 37 minutes. But Sansad TV camera showed them for only 14 minutes and 37 seconds.
Speaking in a Public Meeting in Jaipur, Rajasthan, Rahul Gandhi was concerned for the first time about the Loksabha TV camera and BJP members' behavior in Parliament while he was addressing.
Rahul Gandhi said the moment he starts to speak, the BJP members in the Parliament start shouting so that his words are never heard clearly. Moreover, the camera is not focused on him while addressing the Parliament.
One of Rahul Gandhi's supporters Shantanu tweeted that, For the very first time, Rahul Gandhi Ji raised concerns over the Loksabha TV camera which was focused on the speaker Om Birla, not on him. He said, "They didn't want to get exposed by me in front of the people of India that out of 90, only 3 secretaries are OBC in their cabinet".
#Breaking:

For the very first time, Rahul Gandhi Ji raised concerns over the Loksabha TV camera which was focused on the speaker Om Birla, not on him.

He said that they didn't want to get exposed by me in front of the people of India that out of 90, only 3 secretaries are OBC… pic.twitter.com/OBY60he7Ea

— Shantanu (@shaandelhite) September 23, 2023
This gets even worse!@RahulGandhi spoke on Manipur for 15 min 42 seconds.

During which, Sansad TV's camera focused on the Speaker Om Birla for 11 min 08 seconds i.e. 71% of the time.

Sansad TV showed @RahulGandhi on video for only 4 min 34 seconds while he spoke on Manipur.

— Jairam Ramesh (@Jairam_Ramesh) August 9, 2023
ALSO READ: Smriti Irani dreams of Rahul Gandhi giving a Flying Kiss, Twitteratti reacts