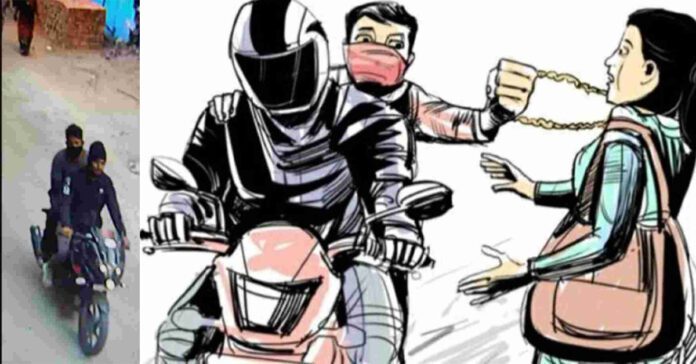 Police suspect Delhi-based inter state gang behind the six chain snatching cases within 2 hours in the Hyderabad. This happened in the morning on Saturday and locals are now scared.
All six incidents happened with in two hours and early in the morning. Two incidents happened in one same location and rest happened in different locations. In Uppal 2 cases were registered, and rest of the places are Ramgolpalpeta, Nacharam, Chilakaguda and Osmania University.
One of the CCTV video is released and we can clearly see where 1 person came rushing and went inside the house and snatched chain while other person came on the bike, waiting outside the house. The first case registered at 6:20 AM in Uppal, second one is registered around 6:40 AM in Kalyanpuri, third one is registered at 7:10 AM in Nacharam, fourth one at 7:40 AM in Ravindra Nagar in Osmania University, fifth one around 8:00 AM near Chilkalguda and last one happened  around 8:10 AM in Ramgopalpet.
Police requested women to be careful. Cases were registered in the nearby police stations. The police are continuously watching the whereabouts of the culprits. However, a bike was found abandoned near Secunderabad station. Hence, the Police believe it to be a part of the escape plan to catch a train from the Secunderabad Railway station.
All police stations were informed and alerted that this incident happened within 2 hours. Checking is planned and strictly implemented near check post, railway stations and bus stations.
ALSO READ: A fire accident at chemical factory near Sangareddy district