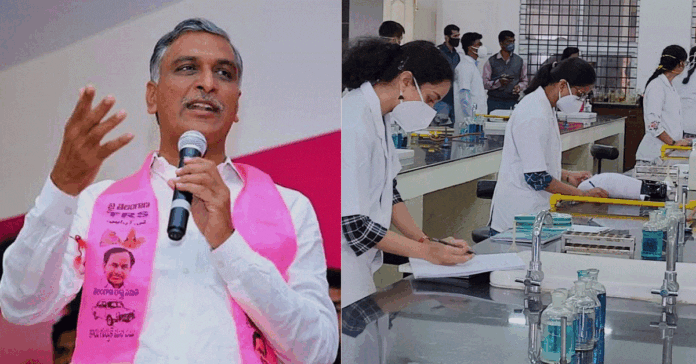 Telangana leads the country with 19 medical seats per one lakh population. According to health minister T Harish Rao,  BRS government's tireless push to establish medical colleges since the state was carved out of Andhra Pradesh in 2014.
According to the minister, Telangana had only 8.5 medical seats per lakh population in 2014 as part of the united Andhra. Not only that, but Telangana now has the second most PG medical seats per lakh population.
The state had only five medical colleges when Telangana was formed eight years ago. Now there are 17. There were only 850 MBBS seats in government medical colleges before 2014. The total now stands at 2,890, he added.
The minister also stated that Telangana is the only state that intends to build a medical college in each district headquarters. In November, the CM dedicated eight medical colleges in a single day. We have added as many as 17 colleges in a short period of time. Seventeen more will be established in stages.
Telangana officials have stated that medical education is a top priority. Government medical colleges were established in the tribal-dominated Mahabubabad district as well as in rural areas such as Wanaparthy. Two medical colleges have been established in the Bhupalpally assembly constituency, a senior official said.
Telangana tops in the country with 19 medical seats
Telangana is No.1 in MBBS seats, No.2 in PG seats on basis of population

Under visionary leadership of #CMKCR garu #Telangana shines like diamond in medical education, despite Central Govt's discrimination in allotting medical clgs

BJP ruled states are not even in competition! pic.twitter.com/fQvIrcS2vS

— Harish Rao Thanneeru (@trsharish) December 27, 2022
ALSO READ: Telangana: Harish Rao alerts people on surge in Covid cases