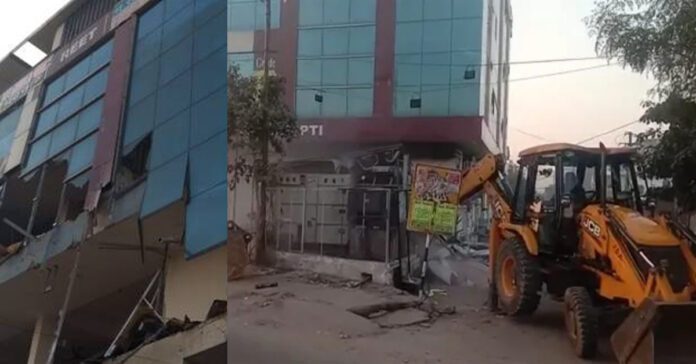 The Rajasthan government, led by Ashok Gehlot, sent bulldozers on Monday to demolish a training institute managed by the main suspect in the question paper leak case involving second-grade teacher recruitment. The BJP applauded the move and demanded that more action be taken against the accused.
Moreover, the Jaipur Development Authority (JjaipurDA) sent teams to the Gopalpura bypass road in Jaipur early in the morning to demolish the Adhigham coaching center.
Meanwhile, Suresh Dhaka, the main accused in the second-grade teacher exam paper leak, owns a coaching center. Suresh Dhaka and Bhupendrasaran, the main accused in the paper leak case, are still being sought by police. Both, according to information received, have fled to Nepal.
According to the Jaipur Development Authority, the coaching building was constructed by combining 2 residential properties and includes government land. Coaching classes were currently being held there under the name Adhigam Coaching. After surveying & reporting on the building in Sukh Vihar, Gurjar ki Thadi. Notice was issued to the building's owner and the coaching director.
JDA sent a notice under Sections 32 & 72, giving the construction owner three days to remove the illegal construction and respond to the notice. JDA demolished the illegal part of the building. While they were failing to respond to the notice and for failing to remove the encroached portion.
ALSO READ: Shah Rukh Khan's NGO Meer foundation donates to Anjali's kin