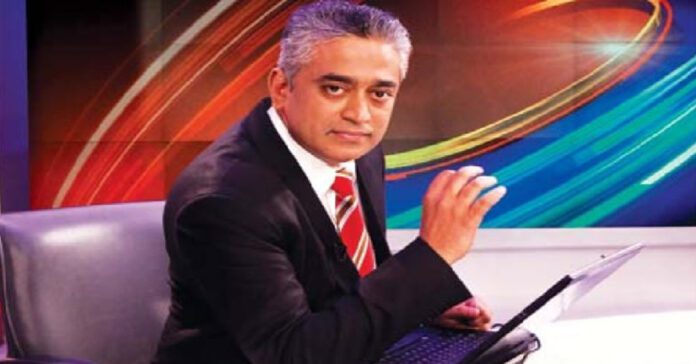 Journalist Rajdeep Sardesai is trolled badly by netizens for lauding Vande Bharat Express.
Rajdeep Sardesai in his tweet praised the Vande Bharat train. Rajdeep is known to be critical of Prime Minister Narendra Modi. Hence, he is being trolled by netizens badly for his remarks. Journalist Rajdeep Sardesai is trending on Twitter after he remarked lauding the Vande Bharat Express.
 Rajdeep Sardesai, the India Today consulting editor said: "
So my driver in Chennai tells me that Vande Bharat express train has cut down his traveling time to home town significantly. Most VB trains at full occupancy. Trains, road or air, the transport infra growth will be seen as a major plus of the Modi govt. Agree?
So my driver in Chennai tells me that Vande Bharat express train has cut down his travelling time to home town significantly. Most VB trains at full occupancy. Trains, road or air, the transport infra growth will be seen as a major plus of the Modi govt. Agree? #VandeBharat

— Rajdeep Sardesai (@sardesairajdeep) February 12, 2023
Did your driver also tell you how the railways in general has improved several fold? How the free 5L health insurance is benefiting millions? Oh, perhaps the ride was a short one. 😀

— Purusharth 🙏🇮🇳 (@Bala17332881) February 12, 2023
सर जी, आप गोदी में बैठ गए हो क्या? सुर बदले नज़र आ रहे है…

— Satish Agrawal 🇦🇺🇮🇳 (@agrawalji) February 13, 2023
Your account has been hacked, a tweet saying something good without 'but' can't be yours.

— DrVedu (@DrVedu) February 12, 2023
It happens once in a year when Rajdeep praises the work of the Modi government.

And people ask where is "acche din". pic.twitter.com/6oNbbcjxAk

— Sakshi Singh (@ThePlaycardGirl) February 12, 2023
ALSO READ: Tharoor, Rajdeep, other journalists booked over Delhi violence posts