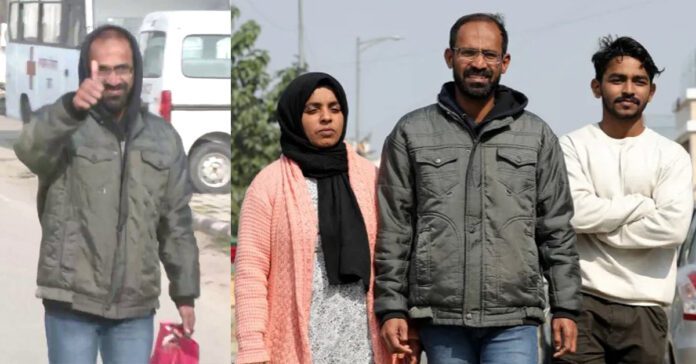 Siddique Kappan, a journalist from Kerala, was booked under the Unlawful Activities and Prevention Act (UAPA) by the Uttar Pradesh government 2 years ago. Siddique Kappan was released from the Uttar Pradesh jail today.
Two years ago
Kappan was arrested 2 years ago when he was on his way to cover the Hathras gang-rape case in 2020. He was granted bail in the two cases against him a month ago, but he was still in jail till today.
Ironically, Mr. Kappan was supposed to walk out of the jail last evening, but he was unable to do so because the judge of a special court that hears money laundering cases was preoccupied with a bar council election.
Charges against Siddique
Siddique Kappan had been slammed sedition charges & money laundering cases by the Uttar Pradesh government. His crime was that he was on his way to Hathras, UP, in October 2020 to report on the alleged gang rape & death of a 20-year-old Dalit woman. which led to riots across the nation, he was detained. The cops accused him that he headed there to stir some trouble.
Gang rape victim
A week after allegedly being subjected to many gang rapes. A dalit woman passed away in a hospital in Delhi. After a week allegedly raped by a gag of men of the upper caste. However, the district authorities cremated her in the middle of the night in her hamlet, which led to claims of a cover-up and considerable criticism of the Yogi Adityanath government.
While Mr. Kappan went to report about this incident, sedition charges were brought against him under the strict anti-terror law UAPA. The Enforcement Directorate filed a money laundering case against him in February 2022. They alleged that he had received funds from the outlawed People's Front of India.
Supreme Court
The case took many twists and turns. Ultimately, the Supreme Court granted him bail in September of last year. It said that there were no official charges had been brought against him & that a document found by the state police under the name "Toolkit" solely called for justice in the rape case.
After three months, he was granted bail in the charge of money laundering. Apparently, number of inefficiencies in the bureaucracy prevented his release.
Family and friends
The UP government tried its ways and means to tighten up the noose for the journalist, but truth & his family and friends never left him.
Till the end the police alleged that he had connections with the members of the outlawed Popular Front of India and its Campus Front of India student branch. However, Mr. Kappan has disavowed any connection in or sponsorship of terrorism. He claimed he was traveling to Hathras to conduct journalistic research.
ALSO READ: Siddique Kappan's wife writes to CJI seeking immediate release