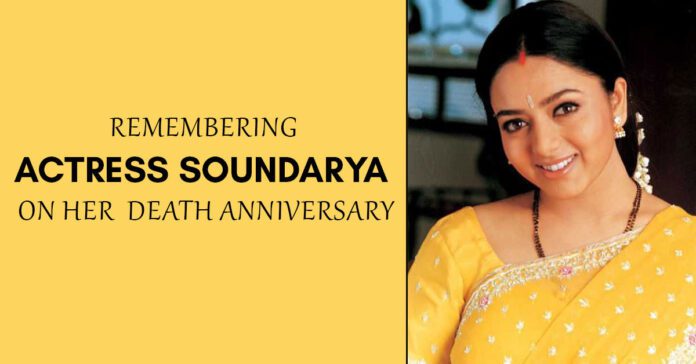 Sowmya Satyanarayan, better known as Soundarya was an Indian actress who worked in many South Indian films and PAN Indian films remembering her on 19th death anniversary today. She hailed from a Kannada Brahmin family.
Soundarya was born on 18 July 1976 in Bengaluru. Soundarya's father is a south Indian script  writer and producer. She was offered a film because of her charming and attractive face in 1992 and she had to drop out of MBBS to star in her first film in Kannada. In just 12 years she made more than 100 films and most were box office hits. Just like all other actors and actresses even she too had hits and flops in her film bank. She was down to earth and never took her fame to head.
Soundarya Political career
Soundarya got married in 2003, and later entered into politics. She died in 2004 in a flight mishap. While travelling in a 4-seater plane to Karimnagar for BJP campaign. The aircraft took off and within few minutes it caught fire when it reached an altitude of 100 feet. Consequently, the aircraft crashed and and instantly everything burned into ashes.
It is rumoured that the day before her fatal death, she had spoken to Tamil director RV Udayakumar, and reviled that she was going to be a mother soon.
She made her debut in Bollywood movie 'Sooryavamsham' which is released in 1999. That was her first and last Hindi film and she was co-starred with Amitabh Bachan. Since she was not fluent in Hindi, actress Rekha dubbed the dialogues for her.
Her last film was 'Apthamitra' which was released in 2004. She acted in many languages including Telugu, Hindi and Tamil and received many awards in her film career like Nandhi awards, film fare awards.
ALSO READ: Telangana remembers Prof Jayashankar on his death anniversary