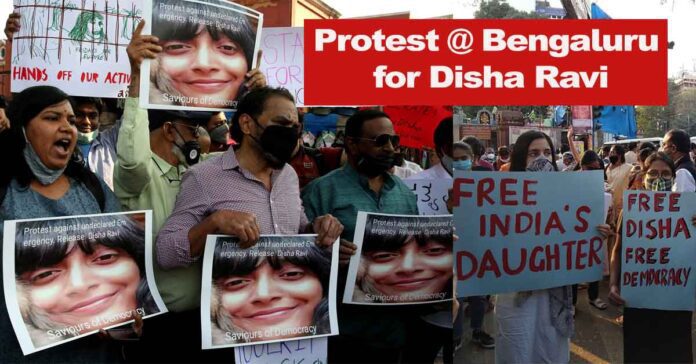 Disha Ravi, a 21-year-old Bengaluru activist, was charged with sedition by the Delhi Police. A day after her arrest Bengaluru based activists staged a protests in solidarity with her in the city.
Disha Ravi denied being part of any conspiracy and said "I was just supporting farmers". She broke down in the court.
The protest was a low key one which took off in the evening at Mysore Bank Circle. Very soon a teeming crowd of activists who accused the Delhi police of targeting Ravi.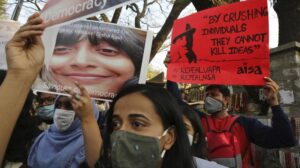 Young people carrying placards saying "Free India's Daughters" and "Free Disha, Free Democracy", among many others, filled Bengaluru's streets on Monday, adding more weight to the demand for Disha's immediate release.
Meanwhile, Bangalore police officers confirmed to that Delhi Police had informed "a judicial officer" of the arrest.
A 21-year-old climate activist, Disha Ravi, had come under the scanner in recent days over a toolkit on farmers' protest that was shared by international climate activist Greta Thunberg, who said it could help the ongoing protest
ALSO READ: Who is Disha Ravi? Know how this 21-yr-old activist is linked to Greta Thunberg
Pro-government Twitter handles and few Union ministers alleged that the toolkit edited by the activist was a proof that it is a global conspiracy against India. Due to the allegation, the Delhi Police on 13 February arrested Ravi from Bengaluru on charges of "sharing and spreading" the toolkit.
ALSO READ: Disha Ravi 21 yrs old climate activist, 'picked up' from Bengaluru in Greta Thunberg 'toolkit' case
The Delhi Police issued a statement in which it claimed that Ravi was a "co-conspirator". The Delhi police has claimed that she has collaborated with pro-Khalistan Poetic Justice Foundation to spread disaffection against the Indian State." in the process of document formulation.
ALSO READ: Non-bailable warrant against activist Nikita Jacob in 'toolkit' case