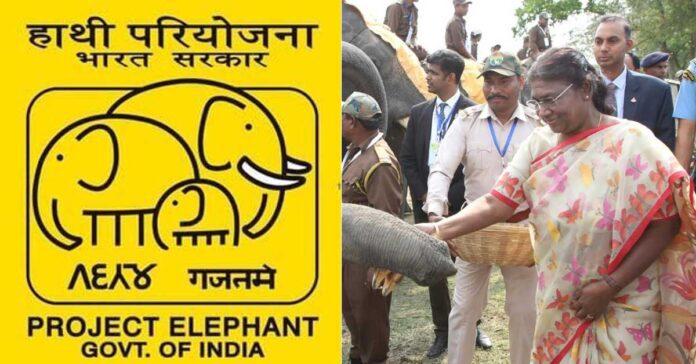 On April 7, 2023 President Smt. Draupadi Murmu inaugurated "Gaj Utsav" at Kaziranga National Park, Assam to commemorate 30th anniversary of Project Elephant a flagship conservation initiative of Asiatic Elephants launched by Government of India in 1992.
What is Project Elephant?
In 1992, Ministry of Environment & Forests launched 'Project Elephant' to provide financial & technical support to states to conserve Elephants. It aims to ensure long term survival of population of Elephants in their natural habitats by protecting not only them, but also their habitats and their migration corridors. The then population of Asiatic Elephants was only around 15000 in India.
Is Elephant legally protected?
Today, only 3 living species of Elephant do exist on the Earth – African Bush Elephant, African Forest Elephant & Asiatic Elephant. Our Asiatic Elephant (Elephas maximus) is unfortunately an endangered species as per IUCN.
Today, Asiatic Elephant is Schedule I Species as per Indian Wild Life Protection Act 1972 & CITES (Convention on International Trade in Endangered Species). In 2020, Elephant is declared as our 'National Heritage Animal'.
Why Elephant should be protected?
Elephants are keystone species. They modify and maintain physical environment. Thus act as ecosystem engineers. They create gaps in forests and open up dense woodland canopies to a variety of plant species. Elephants aid in massive seed dispersal. They can dig water holes deep enough to tap underground water sources. Their dung fertilizes the soil with nutrients. Elephant Reserves are huge Carbon Sinks.
Not only ecological importance, Elephant has huge cultural significance. Elephant symbolizes wisdom. In Hinduism, Elephant headed Lord Ganesh is the God of Knowledge. Buddha (the venerated) is often depicted as an Elephant. They are important part of temple rituals in South India (Ex: Thrissur Pooram festival)
What is the impact of Project Elephant till now?
Today India is alone home to 60% of Asiatic Elephants, even though there are 12 other Asiatic Elephant range countries in Asia. As per Elephant Census 2017, India has approx. 27000 Asiatic Elephants. Today we have, 33 designated Elephant Reserves (ER) spread across 14 states. Now, Government of India is celebrating 30years of Project Elephant as "Gaj Utsav".
Does this mean Project Elephant is a success?
No. Many concerns are associated with conservation of Elephants in our country.
According to Wild Life Protection Act of 1972, a Protected Area can be a 'national park', a 'wildlife sanctuary', a 'conservation reserve' or a 'community reserve'. In the eyes of above law, an Elephant Reserve is no different from Forest Land or Reserve Land. Activities prohibited in Protected Areas like Mining, Oil & Gas drilling, construction of dams etc are permissible in Elephant Reserves.
Today, rampant & illegal coal mining is prevalent in many Elephant Reserves. Dehing Patkai ER in Assam, Hasdeo Aranya (Lemru ER) Chhattisgarh, Talabira ER in Odisha are a few examples. In November 2020, Uttarakhand wild life board de-notified Shivalik Elephant Reserve to expand Jolly Grant Airport in Dehradun.
In 2019, Elephant Cell under Project Elephant formed a committee to prepare a 'National Elephant Action Plan' to frame time bound strategies to conserve Elephants. The action plan is still not ready, even after 5 years.
In 2020, on World Elephant Day (Aug 12) Indian Government launches a national portal called 'Surakshya' to collect real time information on Human Elephant conflicts. Just like the action plan, the portal is still not active.
Project Elephant budgetary allocation has remained around ₹30-35 crores on average for years now. In FY 2022-23, ₹35 crores are allotted to Project Elephant. In effective it is just ₹09crore rupees per year per reserve whose average size is 2400 Sq Km. Such low costs serve no effective purpose.
Encroachments and industrial activities in Elephant Reserves led to rise in Human Elephant Conflicts. We lost 310 elephants due to rail road accidents from 1987-2019.
Not being "Protected Areas", human activity is allowed in Elephants Reserves. Thus Elephants are poached for their tusks (Ivory).
When our Gaj can have a real Utsav?
Indian Government needs to notify Elephant Reserves under either Wildlife Protection Act 1972 or Environment Protection Act 1986. Avoiding unnecessary diversions in Elephant Reserves can reduce Human Elephant Conflicts. Any decision to protect our Heritage Animal must also be accompanied by considerable financial support.