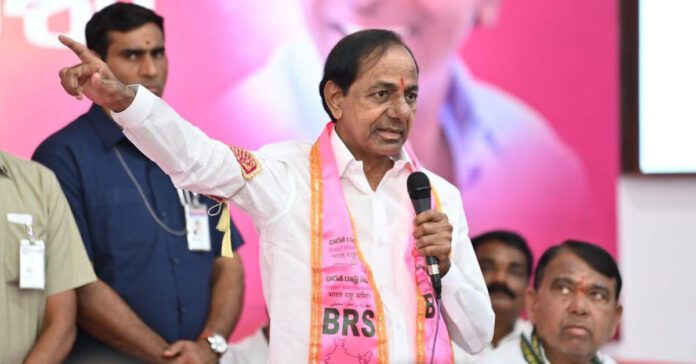 Telangana CM KCR on Thursday, April 27, said that the Bharat Rashtra Samtihi (BRS) would be elected to power for a third consecutive term with more than 100 seats in the next Assembly elections in the State.
On 27 April, BRS party Formation Day celebrations at Telangana Bhavan in Hyderabad. CM KCR hoisting the BRS flag at Telangana Bhavan. The meeting was attended by 300 BRS leaders, including ministers, MPs, MLAs, and MLCs. On this occasion, CM KCR gave direction to the delegates on the priorities and future goals of BRS.
KCR said while addressing party leaders BRS won 63 seats in the first assembly election and 88 seats in the second assembly election. The BRS party will win more than 100 in the next assembly election.
According news sources, KCR stated that retaining power was not a big challenge and priority would be winning more seats. He also recalled the sacrifices and difficulties faced in achieving a separate Telangana state. And he claimed that statehood was attained in political terms with minimal loss. Continuing the spirit, we are moving forward with the 'Ab Ki Baar Kisan Sarkar' slogan to put the nation on the path of development and progress.
The Telangana state government is implementing an action plan to sustain agriculture and the welfare of farmers. The state has rapid growth in every sector like electricity, roads, paddy procurement, agriculture, livestock and fisheries. He also said Andhra Pradesh per capita income of Rs.2,19,518 which is less than Telangana per capita income. 17 other States too had a per capita income much less than that of Telangana.
ALSO READ: KTR to party leaders, take KCR's achievements and Modi's failures to people