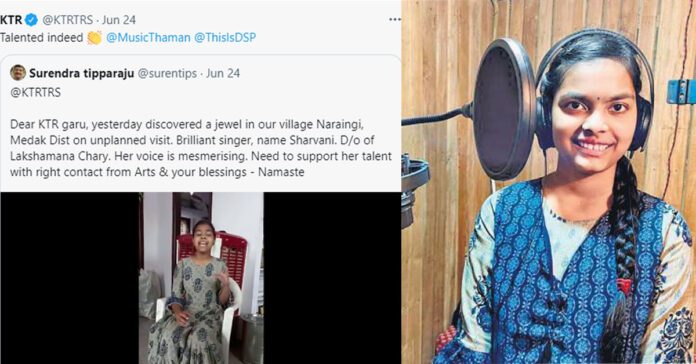 Sharvani, is a 15 year-old girl from Medak. She is the latest Twitter sensation from Telangana. This girl is delighted to live her life or begin to live a life of her dreams.
This has been possible after she came to limelight. KTR, Minister for Urban Development shared her song on Twitter, a week ago. Furthermore, he added a comment 'Talented indeed" and tagged music composers Thaman and Devi Sri Prasad.
Talented indeed 👏 @MusicThaman @ThisIsDSP https://t.co/auxEA2j0IS

— KTR (@KTRTRS) June 24, 2021
Very soon the video went viral and people began to listen to her song. Moreover, Thaman said "The girl is exceptionally talented. We have many ongoing and upcoming songs, We'd be delighted to offer her an opportunity, whenever we have one"
Ever since, Sharvani became the sweet heart of the people, she is very happy. "I got motivated after KTR sir tagged Thaman sir and Devi Sri Prasad sir. I am happy that they acknowledged my work. I hope they support my talents and help me reach new heights".
Shravani is a student of the CK Ramachary Academy of Music. She is an intermediate first year student in Medak. She wants to compose songs in praise of Telangana and also sing them.
ALSO READ: Deepika Kumari wins three Gold Medals in Archery World Cup