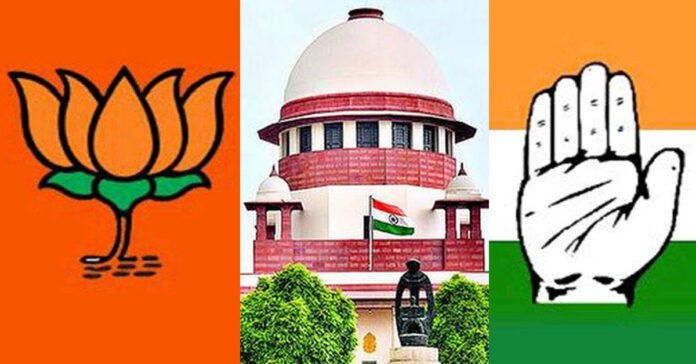 Supreme Court imposed a fine on the political parties. The parties include the BJP and the Congress. The fine is imposed for failing to disclose the criminal records of their candidates.
The top court also said that the criminal cases against the MLAs and MPs cannot be withdrawn without the approval of the High courts.
The apex court feels that it is big leap to decriminalize politics. Furthermore, the Court said that Criminal records of the poll candidates should be published within 48 hours of their selection.
The Supreme court has made move to stop the state governments from misusing their powers. Hence, it said that criminal cases against MLAs or MP's cannot be withdrawn without the approval of the High Courts.
In Feb 2020, the top court said that the candidates must upload their details within 48hrs of their selection or two weeks before the first date of filing nomination papers.
However, the court has limited this to only 48 hours. This ruling came into being during the Bihar elections, but came into implementation now.
Meanwhile, the SC has been hearing petitions to suspend the symbols of political parties that do not disclose criminal backgrounds of their candidates.
The order given by the SC can be used as contempt to court proceedings against the political parties for not obeying them.
The order affirmed that all political parties had to explain why they chose candidates with criminal cases. It has also asked the parties to disclose details of the cases on their party website along with the reasons for selecting such candidates.
Soon after the verdict was given, the election commission directed the political parties to publish this information on candidates in the newspapers.
ALSO READ: Why Teenmar Mallanna did not appear before the Investigation Officers