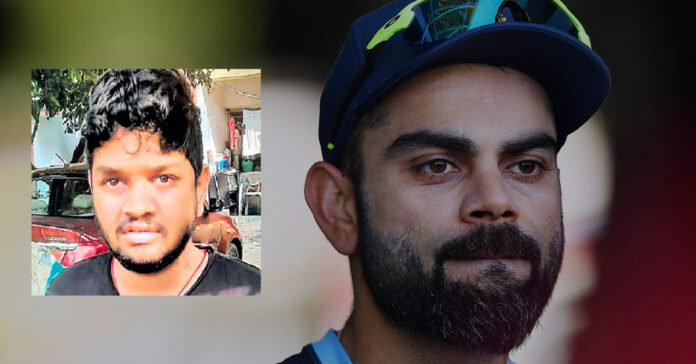 The young man who sent rape threats to Virat Kohli's nine-month-old-daughter, Ram Nagesh is a graduate from IIT Hyderabad. He has a history of online trolling using various identities. However, his family and friends know him to be a diligent topper planning to pursue his higher studies in the US. A new report came to light that Ram Nagesh is partially Blind.
A Software Engineer
23 years old Ram Nagesh Srinivas Akubathini, is a software engineer who graduated from IIT Hyderabad. He was working with a well known food delivery app in Bengaluru until a month ago. He quit his job to prepare for a master's degree in the US.
Diligent and Topper
People close to Ram Nagesh reportedly said that he is a class 10 topper, who studied hard, even late in the night. He mostly kept to himself but shared his interactions online.
Presently, he is in the custody of Mumbai Police after his arrest in Hyderabad on Wednesday.
Passionate about Cricket
An anonymous source hints that Ram Nagesh is very passionate about cricket and had been upset after India's defeat in back to back T20 World Cup matches. First to Pakistan and then New Zealand.
He followed an account called 'Gappistan Radio'. This account tweeted against Virat Kohli. Subsequently, it led to a Twitter war between the fans and the haters.
After he sent the threat
According to media sources, Ram Nagesh tweeted in a haste but soon realized his mistake. After threatening the cricket captain's baby daughter, he allegedly deactivated the account in the morning. By the time he deleted two more accounts which he used for trolling earlier, Virat Kohli's manager had already complained to the Mumbai Police cyber Cell and an FIR was filed.
However, when his tweet went viral, Ram Nagesh allegedly changed his Twitter handle @ramanheist and pretended to be a Pakistani user @criccrazyygirl. But the fact-check websites tracked down his handle. He also used another handle, @pellikuthuru, indicating that the twitter handle belonged to a Telegu-speaking person.
Partially Blind
Srinivas, Ram Nagesh's father said that "The tweet was accidental when his phone slipped from the hand and fell, this could be possible as Ram Nagesh is partially blind. He has suffered an eye injury in an accident. After consulting several doctors and through a surgery his eyesight was partially restored", reported by The Quint.
Family Background
As per media reports, Ram Nagesh's father works in an ordnance factory at Sanga Reddy in Medak district. He has a younger brother. They belong to a upper-middle class family. However, his family did not know of his trolling activities.
Meanwhile, his family claims that he posted the rape threat "accidentally". He "must have mistyped after removing his lenses and he immediately deleted the post"